Yvette Prieto Jordan
Meet pretty Yvette Prieto Jordan; she is the second wife of former NBA legend Michael Jordan. Michael previously married Juanita Vanoy on September 2, 1989.
RELATED STORY: JERRY KRAUSE'S WIFE THELMA. KRAUSE
Juanita (b. June 13, 1959) and Michael had three children; Jeffrey born on November 18, 1988; Marcus James born on December 24, 1990, and daughter Jasmine Mickael born on December 7, 1992.
They divorced on December 29, 2009.  Two years prior to that Jordan and Yvette a Cuban model for Alexander Wang met each other, they moved in together in 2009.
Yvette
Yvette Prieto now Yvette Jordan was born on March 26, 1978. She is one of the children born to Carlos Manuel Prieto and Alina Prieto (Ortega). Her brother Carlos Prieto Jr. owner a sneaker store in Florida.
Michael and Yvette announced their engagement in 2011; they eventually tied the knot in April  2013.
At that time, 50-year-old  Michael Jordan, and his 35-year-old model-fiancée, Yvette Prieto, made it official with a wedding in Palm Beach, Fla., on Saturday, April 27, 2013; with some of the top sports athletes in the world.
Michael Jordan and his new wife Yvette invited another 1,500 to join them for the reception at the Bears Club, a Jack Nicklaus-designed golf course community in Jupiter, Fla., where Jordan recently built a 38,000-square-foot home.
"They've been planning for months and months," says a source of the nuptials. "He wanted to give Yvette everything she's ever wanted."
Michael, now the owner of the Charlotte Bobcats, proposed over the Christmas holidays in 2011. His Wedding Tent was 40,000 sq ft, 5000 sq ft larger than his 35,000 sq ft home in the elegant and classy Bears Club in Jupiter, Fl.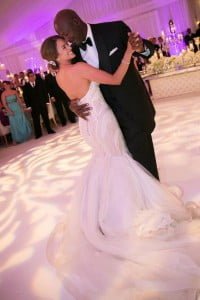 They applied for their wedding license in March at the Palm Beach County courthouse.
On Friday afternoon, they were spotted attending their rehearsal at the church.
Furthermore, their beautiful twin daughters Victoria and Ysabel were born in February 2014.