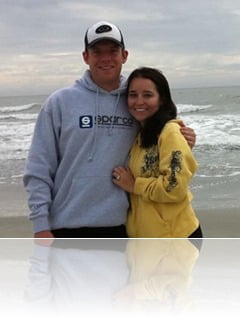 Meet Megan Mayhew, she is not a familiar NASCAR WAG, her husband Regan Smith just won his first race at the Talladega Superspeedway in Talladega, Alabama.
29-year-old Regan Smith from Cato, New York. In 2002 he began his career in NASCAR in the Craftsman Truck Series, moving to the Busch Series the following year.
in 2008 he was named the 2008 Sprint Cup Series Rookie of the Year, won his first race at the 2011 Showtime 500 (Darlington), this year Smith 2013 made his comeback to the Nationwide Series, driving the No. 7 for JR Motorsports, on May 5th Regan won the Aaron's 312 at Talladega, and fortunately he has that special lady to celebrate this second win with, his beautiful wife Megan Mayhew.
27-year-old Megan Elizabeth Mayhew aka Megan Mayhew Smith  was born on December 17, 1985 in North Carolina, before getting married to her NASCAR stud Mrs. Mayhew worked as a mathematics and science teacher in the North Carolina public school system; Megan graduated from the University of North Carolina at Charlotte.
The couple got married on Saturday, Nov. 26, 2011 at the United Methodist Church in Palm Coast, Florida, followed by a reception at the the Palm Coast Hammock Beach Resort. Megan and Regan moved to Denver, CO after  they got married, last year they were involved in March, 2012 when they were driving to nearby ski slope with some friend and Regan lost control of his truck after hitting a patch of ice near his mountain home in Evergreen, outside Denver,luckily nobody was hurt.
Photo Credit: Savor Photography