Meredith Chisenhall
Meredith Chisenhall is the lovely wife of six years of MLB player, Lonnie Chisenhall. Her 28-year-old hubby, a third baseman-turned-right fielder for the Cleveland Indians, has certainly surprised many.
Meredith's fella, went 1-for-4 and blasted a three-run homer on Friday, powering the Indians to a 6-0 victory over the Red Sox in Game 2 of the ALDS. Will Chisenhall continue to swing a hot bat this postseason? or would he come to a halt as we've seen in the past?
Chisenhall played in 126 games for Cleveland in 2016, slashing .286/.328/.439 primarily against right-handed pitching. For his major league career, which has now spanned parts of six seasons, Chisenhall has slashed a paltry .237/.289/.368 against lefties.
The North Carolina native was drafted by the Pittsburgh Pirates in the 11th round of the 2006 Major League Baseball Draft but instead opted to attend the University of South Carolina.
Chisenhall got charged with breaking into a dorm room and stealing electronic equipment which resulted in him getting kicked out of the team in his freshman year.
He then chose to transfer to Pitt Community College. Lonnie was drafted by Cleveland Indians 29th overall in the 2008 MLB Draft. He spent the two following years playing with the AA Akron Aeros. 2011 saw him making his MLB debut after being promoted from the Class AAAColumbus Clippers.
Meredith
Aside from her MLB career, Lonnie is also a family man. He has been married to smiley blonde, Meredith Chisenhall for the past blissful years.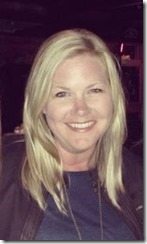 Meredith who is active on Twitter, tweeted the photo below and wrote on 20 Nov. 2015, "Happy anniversary @BIGLON8 you're the best baby daddy around #5years&counting"
That would mean the couple tied the knot on November 20th, 2010.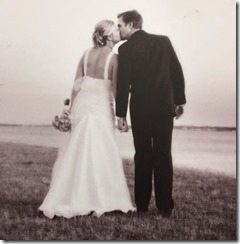 Before becoming Ms. Chisenhall, the blonde went by Meredith Lawrence. According to her Facebook page, she is originally form Morehead City, North Carolina and is listed as working at Pitt County Schools.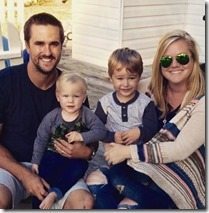 We believe now, the blonde is a full time wife and mommy to her two adorable sons. Life for Meredith Chisenhall now consists of attending all the MLB games she can and do what other MLB Wags do.
You can also check her out on Facebook here.