Katie Miller
Katie Miller is the proud MLB wife of Andrew Miller. Her man and baby daddy has been dominating the postseason, reports say.
But if we were to ask what's the best part of being in Miller's shoes, he (for his sake) would probably say, being married to pretty Katie Miller. Alright, so we may not know what his exact answer would be, but we are pretty sure he'd had to mention Katie for being one very supportive wife.
In the past few years the couple has had to move from Detroit, Boston, Baltimore, New York, and now current location, Cleveland. Isn't she a saint?
Katie Miller was born February 10, 1985. The blonde certainly knows a thing or two about competitive sports. She attended Duke University where she played for the female soccer team.
Her hubby was born Andrew Mark Miller on May 21, 1985. The 31-year-old has played in the past for the Detroit Tigers, Florida Marlins, Boston Red Sox, Baltimore Orioles, and New York Yankees.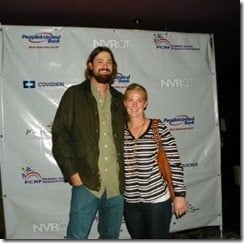 Miller who currently plays for the Cleveland Indians attended the University of North Carolina at Chapel Hill before the Tigers drafted him. Primarily as starting pitcher early in his major league career, Miller converted to full-time relief in 2012 while pitching for Boston.
The Red Sox traded Miller to the Orioles in 2014, and Miller signed as a free agent with the Yankees after the season. The Yankees traded Miller to the Indians during the 2016 season.
Miller is the recipient of the 2015 American League Reliever of the Year Award. He was selected as an MLB All-Star for the first time this year.
When not being a famous MLB player, Andrew spends time being a hubby and daddy to the couple's son, Max.
As for Katie Miller, the now seasoned MLB wag, seems to enjoy getting involved in whatever team events, her hubby is playing for. Back in 2012, she participated in the Runway charity fashion show benefitting the Red Sox Foundation.