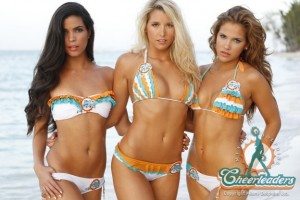 Well who ever thought Cheerleaders are only meant to cheer on the field for football games were surely mistaken! The hot girls from the Miami Dolphins selective squad sure make that very clear! This girls definitely know how to shake more than their pom poms!
It seems like it's become a bit of a tradition for this girls to choose a song and make a hot video out of it. Since last year's the NFL squad covered the Carly Rae Jepsen song "Call me maybe" they made it clear their swimsuit calendar is one of the hottest out there! And this year is no exception! What a great idea right?? Who better to dance on skimpy little outfits than cheerleaders!
The 2013 song the squad chose for their sizzling video is "22" by none other than Miss Taylor Swift! The girls are sure working hard shooting under the sun for their most expected calendar and this year's exotic location is the Dominican Republic.
Can you believe this epic squad has been around since the teams inception in 1966 and made their debut back in 1978! They were known as the Dolphins Dolls back then but each and every one could be easily called a doll! The squad consists of 30 gorgeous ladies but not all appear on the video making some a little sad to miss their favorite! Do you have yours??
The ladies must be proud to set some healthy competition with other professional NFL squads since the The New Orleans Saints cheerleaders have also released a "22" video following on their footsteps!
Have you seen the video of the Miami Dolphins Cheerleaders?? Well just in case, take a look!
You can follow them on twitter here and check them out on Facebook here.