Mallory White is the young, beautiful, and amazing wife of NFL player Mike White, the quarterback currently signed by the New York Jets, who also played with the Dallas Cowboys and college football at the University of South Florida and Western Kentucky University.
Mike White Family
6'5 Mike White was born on March 25, 1995, in Pembroke Pines, Florida, to Mike White Sr. and his wife Annemarie White, also proud parents to Mike's younger sister Taylor White, who graduated with a Bachelor of Science in Health Science from the University of North Florida and is a genetic counselor assistant in the oncology and hematology department at UF Health Hematology & Oncology Jacksonville.
Mike White College
After Mike graduated from NSU University School in Fort Lauderdale he attended the University of South Florida where he completed 215-of-417 pass attempts for 2,722 yards with 11 touchdowns and 16 interceptions and was awarded the Frank Morsani Leadership Award his first year.
He transferred to Western Kentucky University after his sophomore year, but due to NCAA transfer requirements had to sit that season. In 2016, White completed 280 of 416 passes for 4,363 yards and 37 touchdowns in 14 games. He was named Conference USA Offensive Player of the Week (Sept. 1, 2016), Davey O'Brien Award "Great 8" (Sept. 1, 2016), Manning Award "Star of the Week" (Sept. 1, 2016), 2016 Conference USA Second Team and Conference Newcomer of the Year.
In his final year, Mike completed 368 of 560 pass attempts for 4,177 yards and 26 touchdowns in 13 games. He was named team captain, the 2017 Conference USA Preseason Offensive Player of the Year, Conference USA Offensive Player of the Week (Nov. 17, 2017, 2017 Conference USA Second Team.

Mike White Cowboys
The Dallas Cowboys selected Mike White in the 5th round (171st overall) during the 2018 NFL draft.
He was invited to the 2018 Senior Bowl on November 30, 2017.
White signed his rookie-level contract with the Cowboys in May 2018.
The Cowboys named him their third-string QB.
He was waived on August 31, 2019.
Mike White NY Jets
Mike White signed with the New York Jets practice squad on September 25, 2019.
Signed a reserve/future contract with New York on December 30, 2019.
He was waived by the Jets on September 5th, 2020.
On September 6, 2020, was promoted to the practice squad.
He joined the active roster on September 12, 2020.
The Jets waived White on October 1, 2020.
On October 5th, 2020, Mike re-signed to the practice squad.
On October 10, was elevated to the active roster and reverted to the practice squad the next day; the same thing happened on September 17, 2020.
White was once again promoted to the active roster on November 21, 2020, and waived two days later.
On January 4, 2021, Mike White re-signed a  reserve/future contract with the New York Jets.
Nike White finally made his NFL debut on October 31st, 2021, Week 8, against the Cincinnati Bengals,  the Jets beat Joe Burrow's team 34-31.
During that game, Mike White completed 37-of-45 passes for 405 yards, three touchdowns, and two interceptions.
Mike White Net Worth
The New York Jets Quarterback mike White has a net worth estimated at $2 million. Throughout his four seasons in the NFL, Mike has earned $2,090,813.
Mike White Contract & Salary
Mike White agreed to a one-year, $850,000 contract with the New York Jets on January 4, 2021.
Mike White signed his first NFL contract with the Dallas Cowboys on May 12, 2018, the four-year, $2.67 million contract included a signing bonus of $217,553.
Mike White Wife
Mike White's Wife is Mallory White; they met while they attended the University of South Florida, they started dating in June 2015. Mike and Mallory announced their engagement on December 29, 2017.
Mike and Mallory got married on April 6, 2019, at the Innisbrook Country Club and Resort in Tampa, Florida.
Mallory White gave birth to twins, Millie and Maddox in September 2021.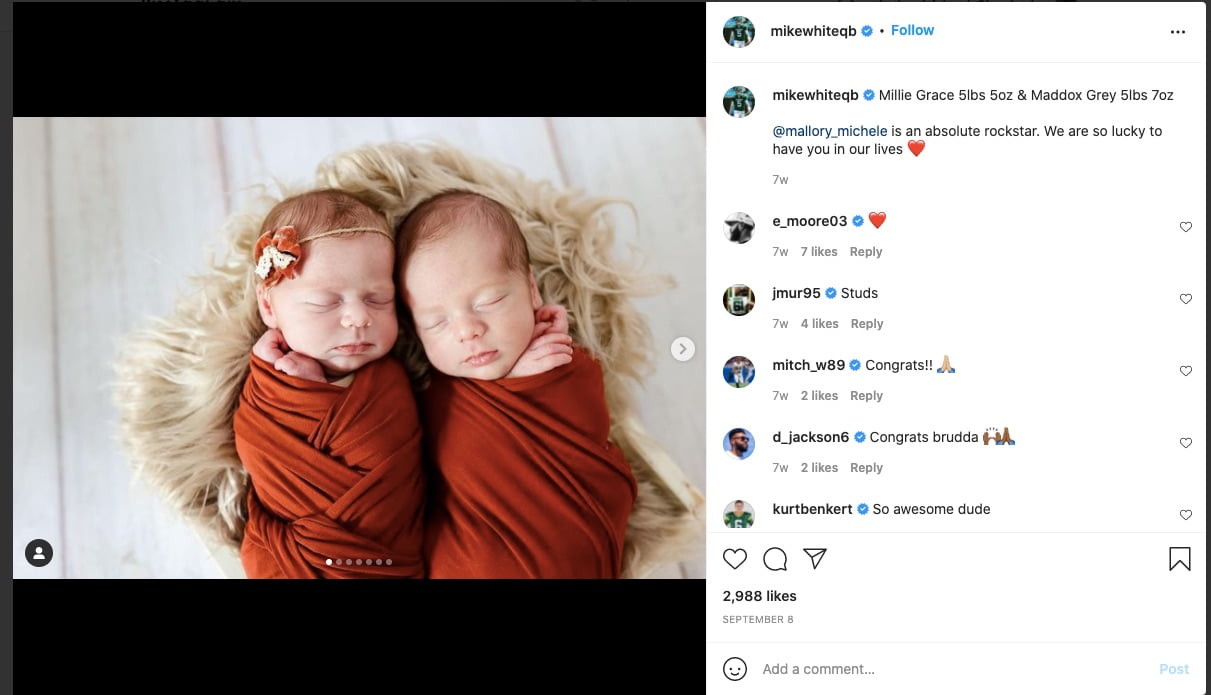 Mallory White
Pretty Mrs. Mallory White, the wife of Jets QB Mike White was born Mallory Michele Booth on July 15, 1994. She is the daughter of Michael Booth and Kimberly Cumino Booth. Mallory has one older sister, Jess Booth, aka Jess Schram since her 2019 wedding to Peter Schram. Jess graduated from the University of Tampa.
Mallory White graduated from the University of South Florida, where she was also a member of the cheerleading squad.