Meet Kelly Stafford
Kelly Stafford is NFL  player Matthew Stafford's wife, the quarterback currently playing for the Los Angeles Rams who previously played with the Detroit Lions. Before the NFL, Stafford played college football for the Georgia Bulldogs at the University of Georgia.
Matthew Stafford Parents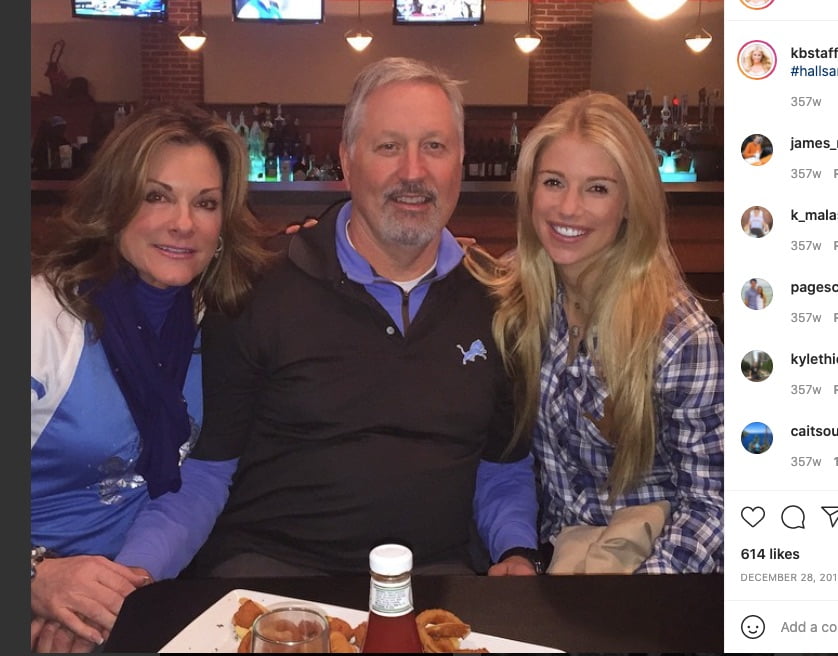 Matthew Stafford was born on February 7, 1988, in Tampa, Florida one of the children born to Margaret and John Stafford. Matthew's mom Margaret was born Margaret Christian on April 30, 1957.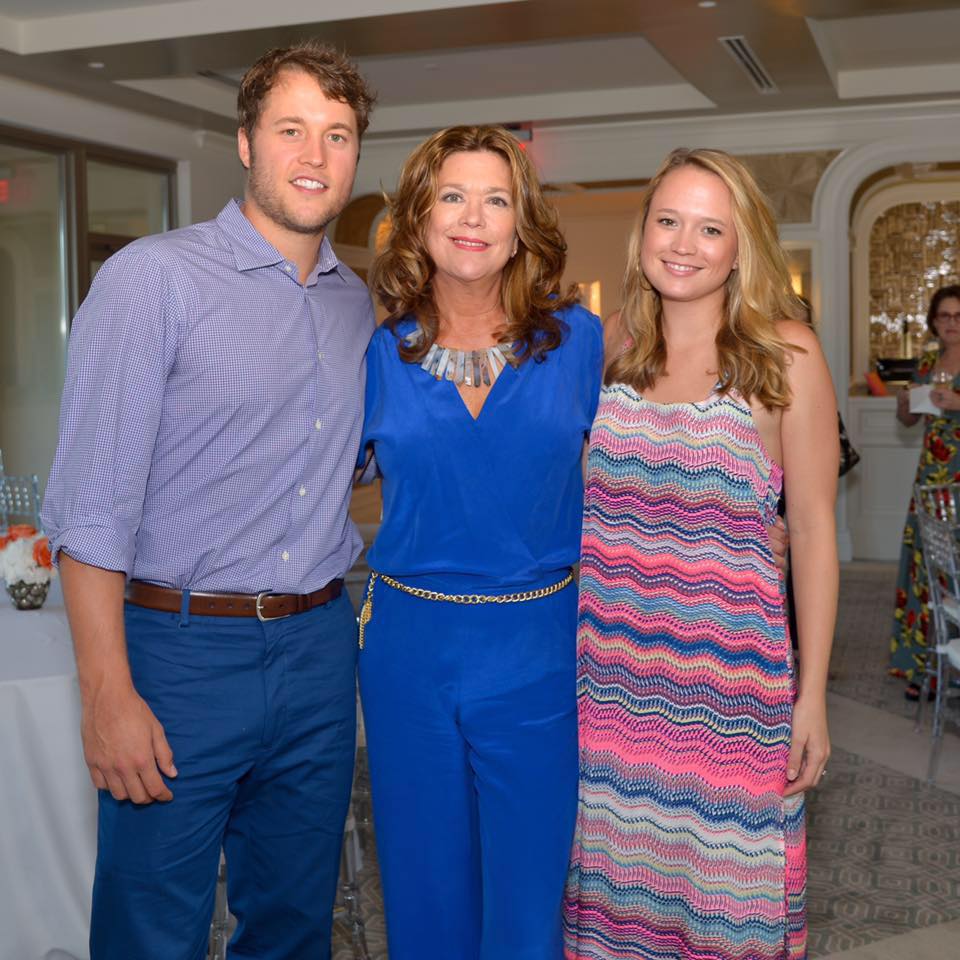 His dad John Stafford studied at Florida State Florida and the University of Georgia. he is the director of strategic relations for Blue Slate Solutions in Dallas, Texas
Matthew Stafford Sister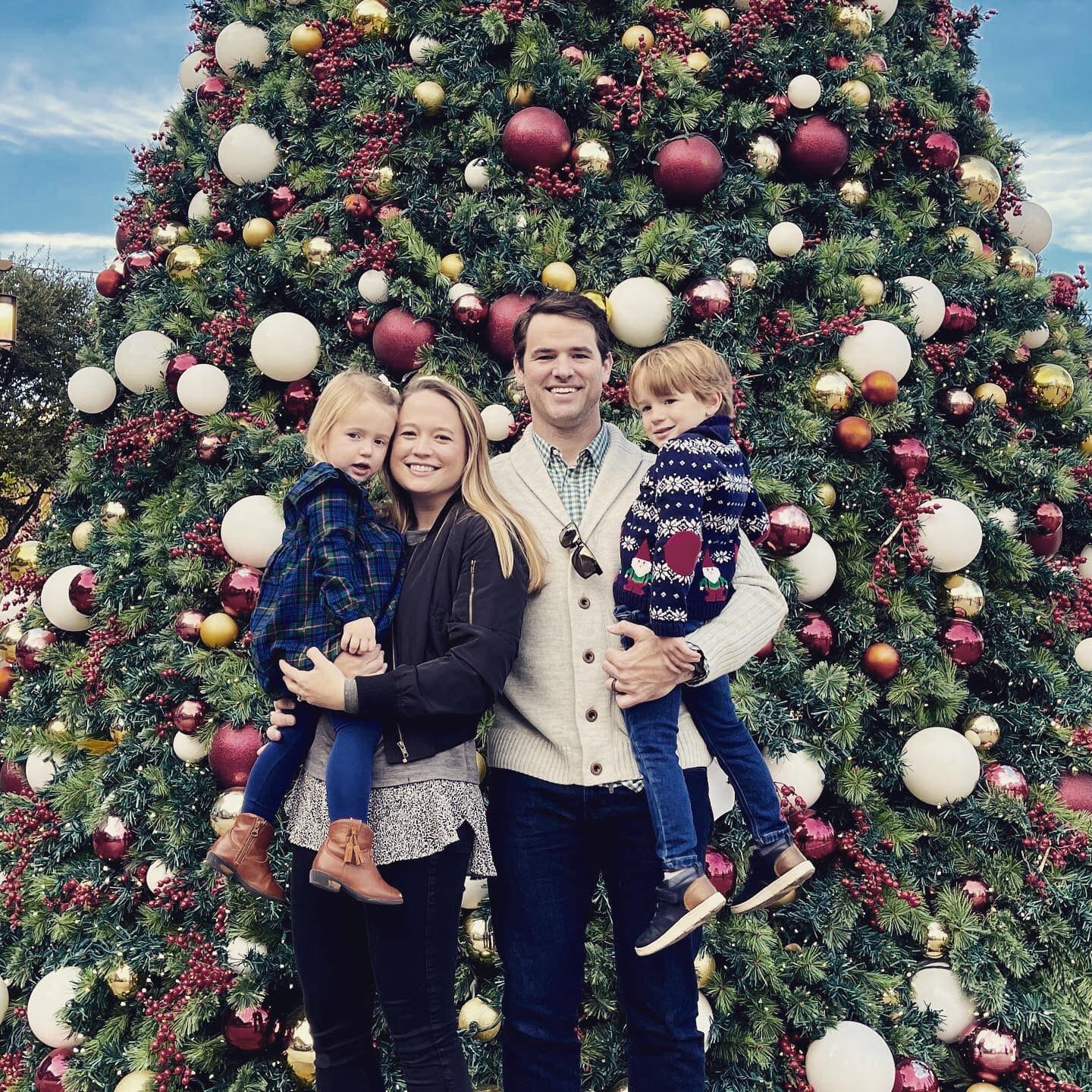 Matthew Stafford's pretty sister is Page Elizabeth Stafford born onSeptember29, 1986. Like her dad and younger brother, Page Stafford also attended the University of Georgia, where she graduated in 2009, with a Bachelor of Arts in Print Journalism, English, and Literature.
Page Stafford now Page Stafford Clark is married to Dawson Clark, father of her two adorable children; she is an account supervisor at HCK2, before that she was the marketing manager for Omni Forth Worth Hotel and senior account exec at Forte Marketing.
Read: Odell Beckham Mother Heather Van Norman
Matthew Stafford Georgia
Mathew Stafford graduated from Highland Park High School after his family relocated to Dallas. In January 2006 he enrolled at the University of Georgia, that first season with the Bulldogs he completed 135 of 256 passes for 1,749 passing yards and seven touchdowns. Stafford was twice named the SEC Freshman the Week, National Freshman of the Week by Rivals.com, recipient of the University of Georgia's 2006 Offensive Newcomer of the Year Award, named into the 2006 SEC Coaches' All-Freshman Team, and Offensive MVP of the 2006 Chick-fil-A Bowl.
In 2007, he completed 194 of 348 passes for 2,523yards and 19 touchdowns, 10 interceptions. In his final season at Georgia, Matthew completed 235 of 383 passes for 3,459 passing yards, 25 touchdowns, 10 interceptions, plus completed 55 attempts for 40 rushing yards and one touchdown. He was named All-America in 2008 by Pro Football Weekly, Second-team All-SEC in 2008, and Most Valuable Player of the 2009 Capital One Bowl.
Matthew Stafford  Height
Matthew Stafford stands at 6'3 (1.91cm),  he weighs 100kg (220 lbs), he has an arm length of  33 1/4 in., 10 in hand size.
Matthew Stafford NFL Career Timeline
On April 25, 2009, Matthew Stafford was selected first overall by the Detroit Lions during the 2009 NFL draft.
He signed his contract with the Lions on April 24, a day before the draft.
On September 7, 2009, he was named the Lions' starting quarterback.
On November 24, 2009, he was named Pepsi Rookie id the Week and NFC Offensive Player of the Week.
He suffered a minor knee injury and was placed on injured reserve on December 24, 2009.
On September 12, 2010, he injured his shoulder during a game against the Chicago Bears.
After returning to the field on Week 8, Stafford re-injured his right shoulder in Week 9 against the Jets.
He underwent surgery on his throwing shoulder, clavicle shaving, and an AC joint repair on January 22, 2011.
On September 25, 2011, Stafford was named FedEx Air NFL Player of the Week.
On November 13, 2011, Matthew was fined $7,500, for his involvement in a brawl with cornerback D.J. Moore.
He throw for 5,000 passing yards in a season on January 2, 2012, along with Drew Brees and Tom Brady.
On March 25, 2012, Matthew was named the 2011 Pro Football Weekly Comeback Player of the Year, AP Comeback Player of the Year, and NFL Alumni Quarterback of the Year.
He re-signed with the Detroit Lions on July 7, 2013.
He was included in the 2015 Pro Bowl on January 19, 2015.
On January 25, 2015, Stafford was named Pro Bowl Offensive MVP.
On December 12, 2016, Stafford suffered an injury on his middle finger in Week 14.
He signed a contract extension with the Detroit Lions on August 28, 2017.
He was placed on injured reserve on December 18, 2019, after being diagnosed with non-displaced fractures in his upper thoracic spine.
On August 1, 2020, he was briefly on the reserve/COVID-19 list due to a false-positive test.
On March 18, 2021, Matthew Stafford was traded to the Los Angeles Rams.
On September 13, 2021, Matthew was named NFC Offensive Player of the Week.
On September 26, 2021, Stafford earned his NFC Offensive Player of the Week recognition.
LA Rams QB
Matthew Stafford has been  L.A Rams quarterback since the 2021 season. In March 2021, Stafford was traded to the Rams by the Detroit Lion in a deal that included Jared Goff, 2021 third-round pick, and two first-round picks in 2022 and 2023.
LA Rams QB History
1937-38 Bob Snyder
1939-1942 Parker Hall
1944 Albie Reisz
1945-1952 Bob Waterfield
1953-1955, 1957 Norm Van Brocklin
1956, 1958-1960 Bill Wade
1961-1962 Zeke Bratkowski
1963 Roman Gabriel
1964-65 Bill Munson
1966-1972 Roman Gabriel
1973 John Hadl
1974 -75 James Harris
1976-1979, 1981 Pat Haden
1980, 1982-1983 Vince Ferragamo
1984 Jeff Kemp
1985 Dieter Brock
1986 Steve Bartkowski
1987-1993 Jim Everett
1994-1994 Chris Miller
1996-1998 Tony Banks
1999-2001 Kurt Warner
2002-2009 Marc Bulger
2010-2012 Sam Bradford
2013 Kellen Clemens
2014 Austin Davis
2015 Nick Foles
2016 Case Keenum
2017-2020 Jared Goff
Matthew Stafford NFL Stats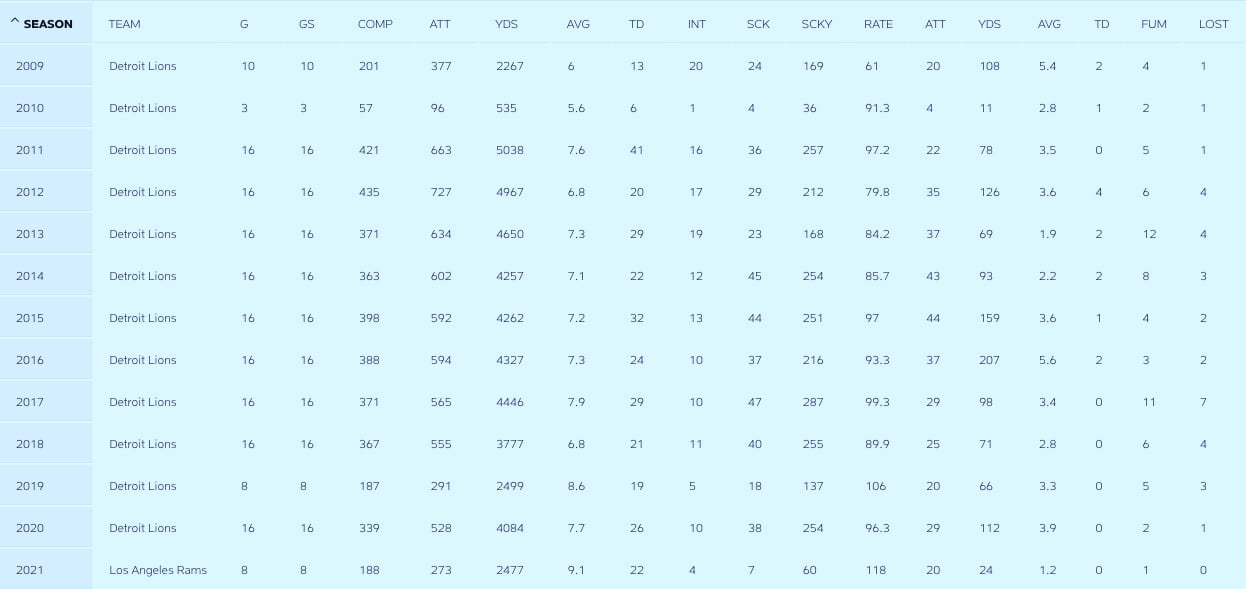 Matthew Stafford Net Worth
LA Rams QB Matthew Stafford has a net worth estimated at $80 million according to Celebritynetworth.com. Backin July 2018, Forbes reported Matthew Stafford had a net worth estimated at $59.5 million.
In addition his NFL salary, Matthew Stafford earnes around  $5 million from his endorsement deals with Panini, St. Joe's Hospital, PepsiCo, Fanatics, Ford Motors, Blue Cross/Blue Shield, and Nike.
Matthew Stafford Contract & Salary
Matthew Stafford has an annual salary of $9,500,000; in 2021, he also earned $10 million (roster bonus), $500,000 (workout bonus), and cap hit of $20 million.
The Rams absorbed two-year, $43 million remaining of Matthew's contract with Detroit. Stafford signed a 5-year, $135 million contract with the Detroit Lions on August 28, 2017; the deal included a signing bonus of $50 million, and an annual salary of $27 million.
In July 2013, he signed a three-year, $53 million contract extension with the Lions that included a signing bonus of $27,500,000, and a salary of $17,666,667.
In April 2009, Matthew signed a six-year, $72,000,000 contract, $41.7 million in guaranteed money, and an annual salary of $12 million with the Lions.
Matthew Stafford Wife Kelly Stafford
Matthew Stafford has been off the market for quite some time, his wife formerly known as Kelly Hall now Kelly Stafford has been part of his life since he was a QB at Georgia and Kelly was a cheerleader; they started dating in college and the rest, as you all know, is history.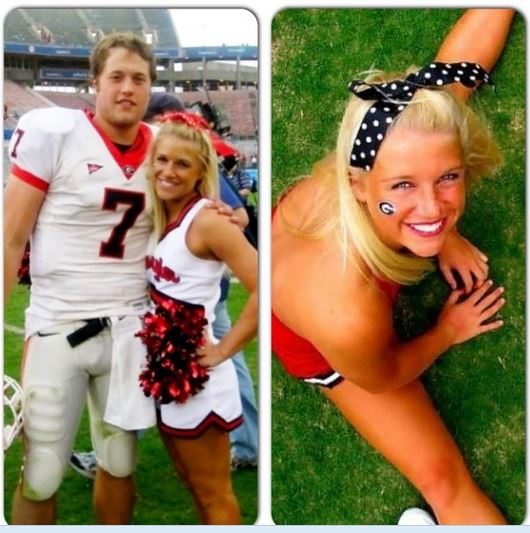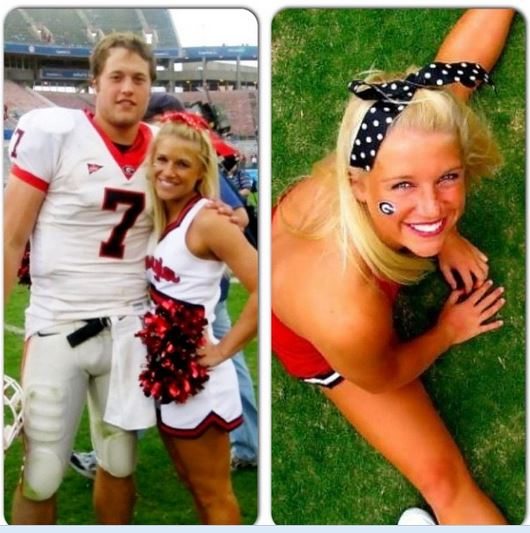 Kelly Stafford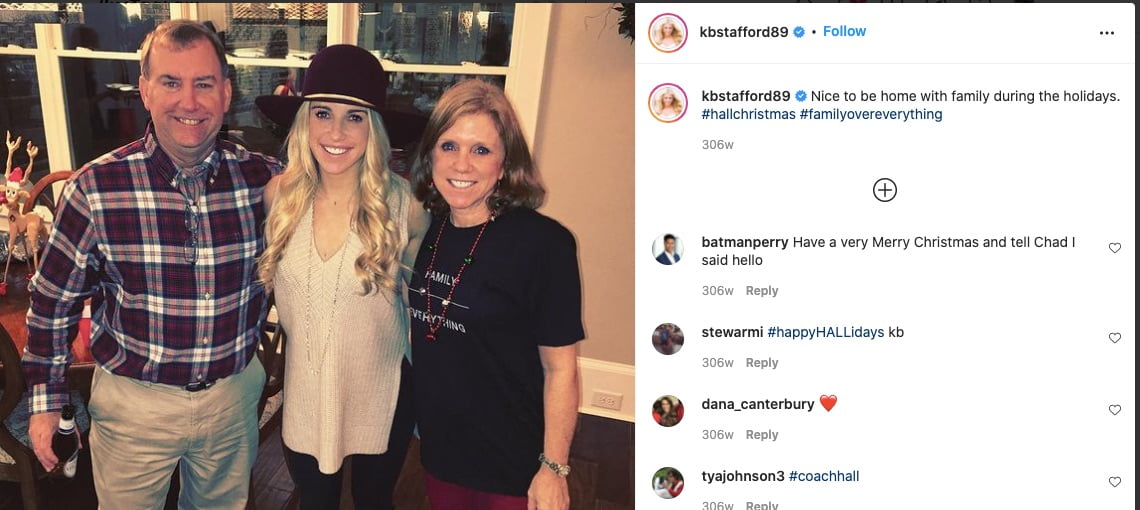 Pretty Kelly Stafford born on August 2, 1989, is the youngest daughter of Jay Hall and Leslie Hall, who are also the proud parents of Kelly's older siblings Jennifer and Chandler "Chad" Hall.
Kelly's mom Mrs. Leslie Hall (nee. Wright) graduated from North Springs High Schooland the University of Georgia. She worked as a health and physivca; education teacher at Holcomb Bridge Middle School and North Springs High School.
Her dad, Mr. Jay Hall married to  his loving wife since July 10, 1982, grew up in Sandy Springs where he attended North Springs Charter School of Arts and Science, before he attended the University of Georgia.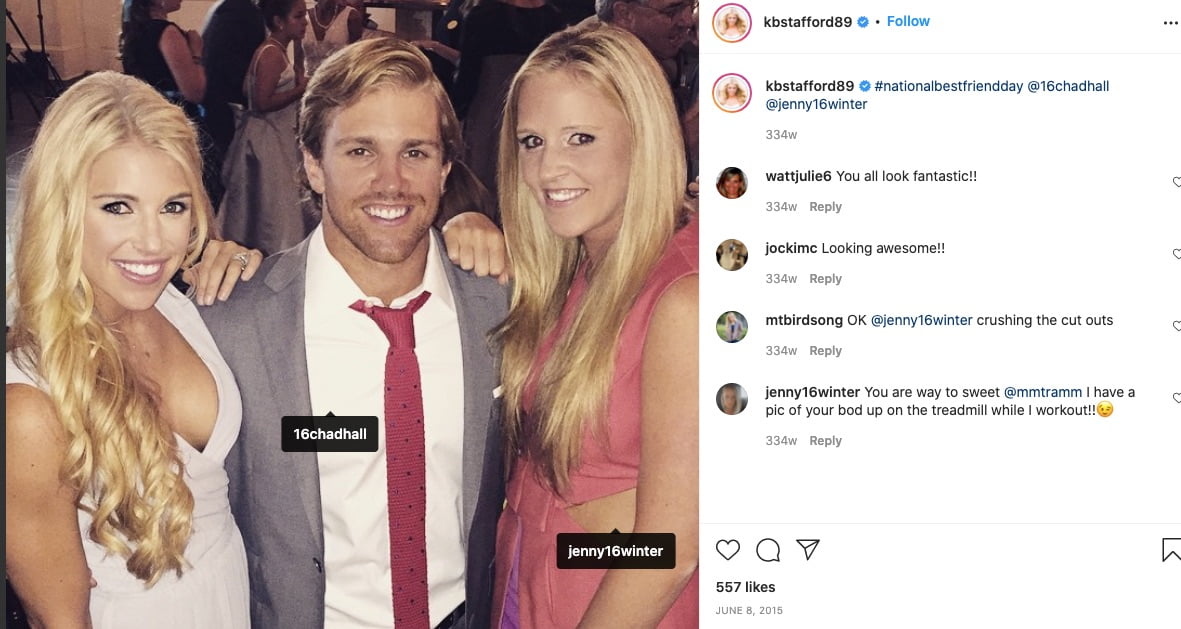 Kelly's brother Chad Hall a former NFL wide receiver born on May 23, 1986, played for the Air Force Falcons at the United States Air Force Academy before joining the Philadelphia Eagles in 2010; two years later he joined the San Francisco 49ers, Kansas City Chiefs in 2013, and the Jacksonville Jaguars in 2014.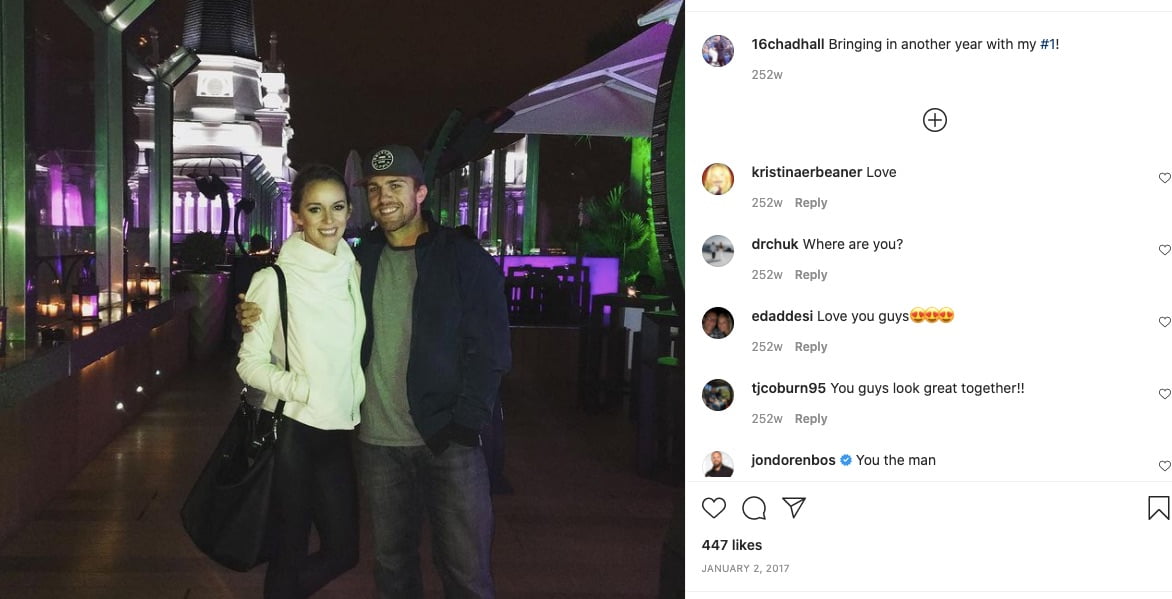 After his retirement, Chad Hall joined the Buffalo Bills' coaching staff as their offensive assistant, since 2019, Hall has been a wide receivers coach for the Buffalo Bills. Chad and his pretty wife Rose Hall have one adorable daughter, Penelope, and another baby on the way.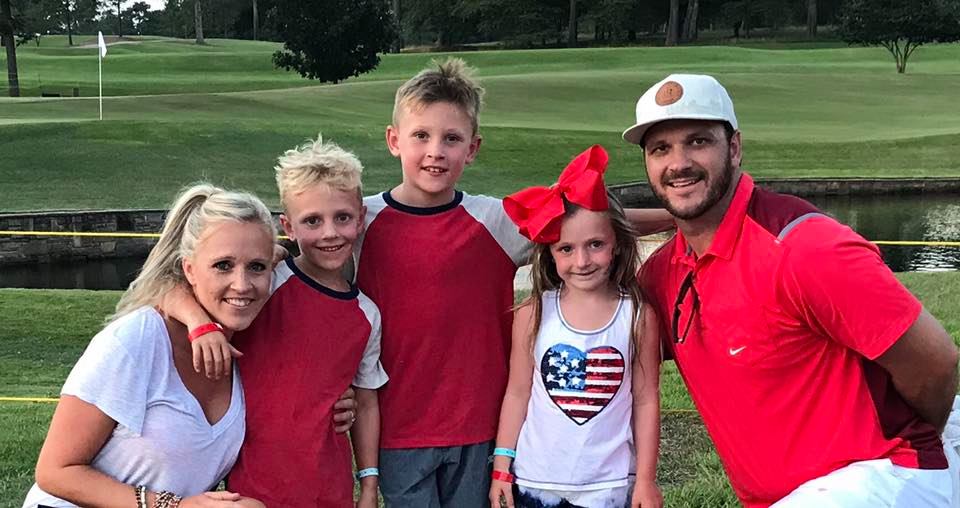 Kelly's sister Jenny Hall, Jenny Hall Winter (since her marriage to Brian Winter), graduated from Wesleyan School and Florida State University; she was an account executive for The Beam Team. Jenny and her husband reside in Georgia with their three wonderful kiddos.
Kelly and Matthew Staffiord went on their first date on February 17, 2009, they started dating in November 2009. He asked her to marry him on March 3, 2014.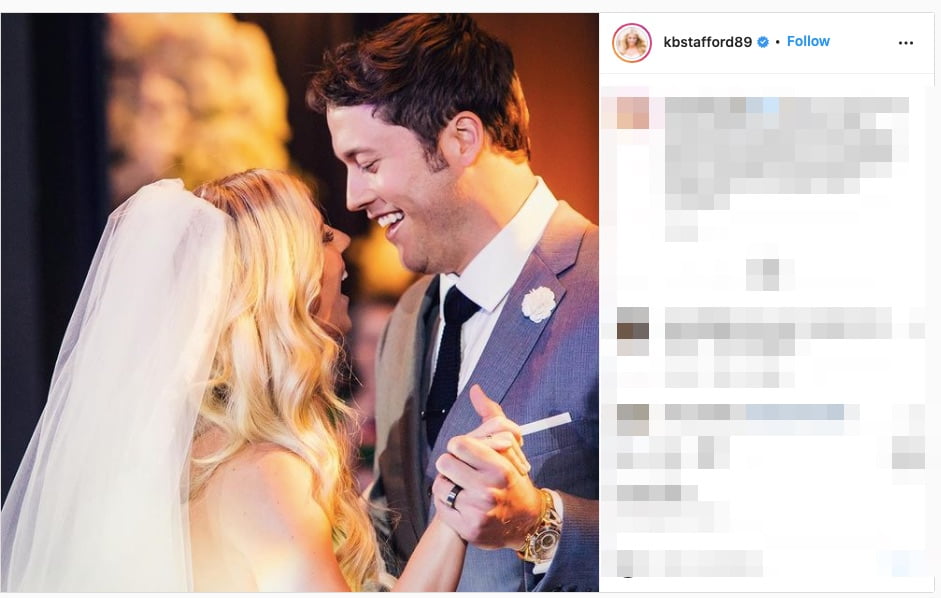 After one-year engagement, the big day finally came! Matt Stafford and Kelly tied the knot on April 4, 2015, in Georgia where the newlyweds met while he was the Bulldogs' quarterback and Kelly a talented, energetic, and beautiful cheerleader.
Kelly and Matthew Stafford have since welcomed four beautiful daughters; twin girls Sawyer and Chandler born on March 28, 2017 and Hunter Hope born on August 16, 2018, and Tyler Hall Stafford born on June 26, 2020.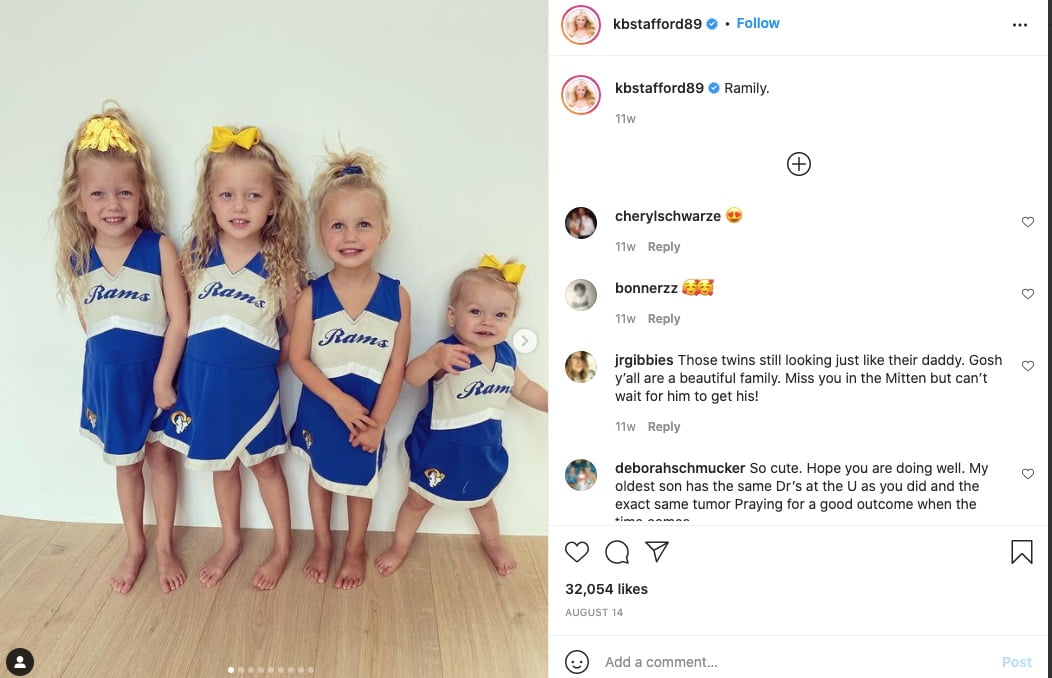 On April 3, 2019, Kelly revealed she experienced severe bouts of vertigo and later underwent an MRI that showed she had a benign tumor in the brain, called an acoustic neuroma.
On April 21, 2019, Kelly underwent a 12-hour surgery to remove her tumor.
Follow Kelly Hall on Twitter here.
Read: Aaron Donald Wife Erica Donald