Meet Tammy Reid
Tammy Reid is the lovely wife of NFL coach, Andy Reid. Her husband is the head coach for the Kansas City Chiefs. He previously worked with the Philadelphia Eagles, Green Bay Packers.
Andy Reid
6'3 Andy Reid was born Andrew Walter Reid in Los Angeles, California; one of the children born to Walter and Elizabeth Reid. Walter Reid was a scenic artist in Hollywood, he designed backgrounds, for television, film, and stage shows; his wife Elizabeth Reid (nee. Leon) was a radiologist. In addition to Andy, Walter and Elizabeth had an older son, Reggie, 10 years older than the NFL coach.
Andy Reid's son Britt who also works with the Kansas City Chiefs believes his paternal grandparents passed their genes to his dad, uses Walter's artistry and Elizabeth's cleverness in his training techniques.
"That's two drastically different people," said Britt, who coaches outside linebackers. "My dad is actually a great artist himself. He can do caricatures — I mean, a lot of stuff. Carvings, stuff like that. Of anybody. He'll just whip them up. So he's got that side, then he's got that intellectual side that his mother passed along, the more refined, calculating side. I think that serves him well, in this business especially."
Andy graduated from John Marshall High School, he attended Glendale Community College before transferring to Brigham Young University, from where he graduated in 1981.
Andy Reid Past Teams Coached
Reid arrived as the head coach of the Chiefs just days after being fired by Eagles owner Jeffrey Lurie following the 2012 season. Andy Reid was the head coach of the Philadelphia Eagles, from 1999 to 2012.
From 2001 to 2012, he was also the Eagles' executive vice president of football operations, effectively making him the team's general manager. Reid led the Eagles to five NFC championship games, including four consecutive appearances from 2001-2004, and one Super Bowl in 2004.
Prior to signing with the Eagles in 1999, he was an assistant offensive line & tight ends coach for the Green Bay Packers from 1992to 1996.
His coaching career started as a graduate assistant at BYU his alma mater in 1982; a year later he became the offensive line coach for San Francisco State and held the same position at Northern Arizona in 1986.
The following year was an offensive line coach at UTEP and from 1989 to 1991 did the same job for the Missouri Tigers at the University of Missouri; after that ended he started a coaching career with the big guys in the NFL.
Andy Reid Punt Pass and Kick
Kansas City Chiefs head coach was just 13, competing in a punt, pass and kick competition on December 13, 1971. We couldn't really find Andy's height at the time, but he looked enormous in comparison to the rest of the kids in the competition.
How Old is Andy Reid
NFL coach two-time Super Bowl winner Andy Reid is 62 years old, he was born on March 19, 1958, in Los Angeles, California. He has a coaching experience of 15 years, he is currently on his eighth season with Clark Hunt's team, The Kansas City Chiefs.
Andy Reid Salary & Net Worth
According to Celebrity Net Worth, Andy Reid has a net worth of $25 million, as of 2020. He signed a five-year contract with the Kansas City Chiefs in January 2013, worth $40 million that included several bonuses. Subsequently in November 2020, signed a contract extension with the Chiefs.
From 2011 to 2013, Reid had an annual salary of $5,500,000 million;  he made $7,500,000 between 2013 to 2017. Reid's current annual salary is $10 million.
Andy Reid Playoff Record
Andy Reid's playoffs record is 20-18, his teams have made it into 19 playoffs; has 196 total wins, a record of 185-120-1  during the regular season, and an 11-13 postseason record
Andy Reid Wife
Before becoming a football coach, the Los Angeles native played college football at Brigham Young University. That's where he and Tammy Reid met. The two bumped each other in a physical education class while attending BYU.
Tammy Reid
Tammy Ann Reid was born on November 6, 1959; she and her hubby were college sweethearts till they tied and Andy's career began to develop in the NCAA ranks. As the wife of a football coach, you need to take things as they come.
After 14-years in Philadelphia, the couple moved to Kansas City in 2013 so Andy could pursue a career as head coach for the Chiefs and making Tammy Reid the Chiefs' first lady.
For years, at the end of every season, Tammy Reid and her family take a much-needed vacation to regroup as a couple. Following the death of Garret, Andy labeled the couple as "empty nesters."
When she's not busy at home, Tammy Reid and her husband take time to help domestic violence victims. Their work began when Reid was the head coach in Philadelphia.
Andy Reid Children
Tammy Reid is the mother of the couple's five children. She gave birth to sons Garrett, Britt, and Spencer, and daughters Crosby and Drew Ann. According to the media, each child was born in a different state!
In a 2007 interview, Andy and Tammy spoke about the family struggles with drug addiction. Earlier that same year, sons  Garrett and Britt were arrested in separate driving incidents. While Garret was arrested for drug possession, Britt was was held on drug and weapon offenses.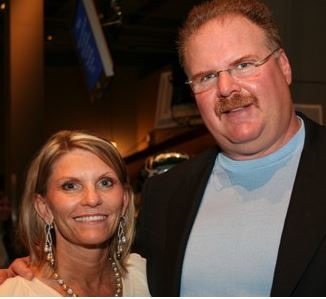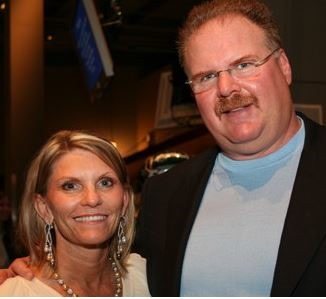 Andy Reid Son Garrett Reid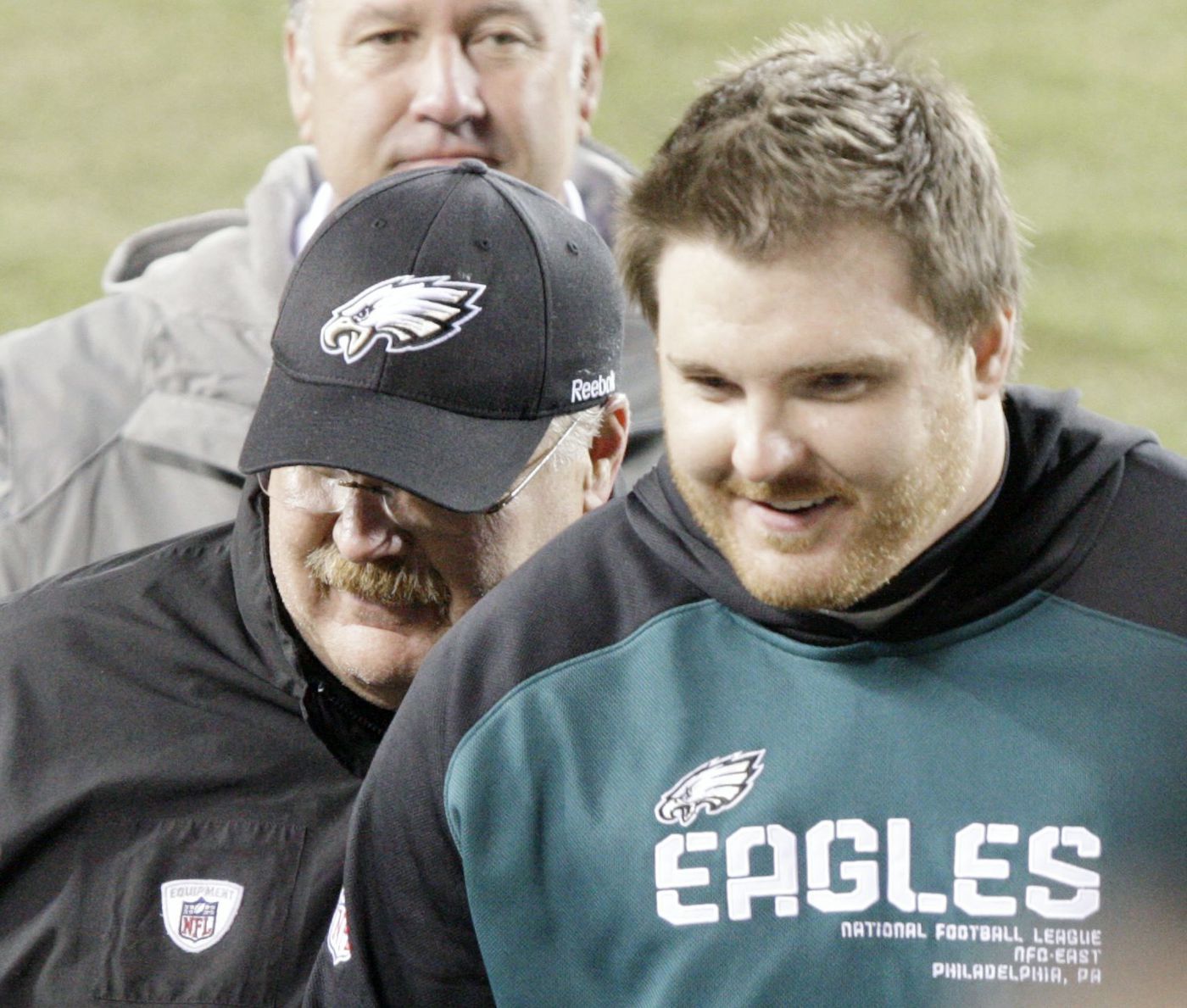 Garrett Reid was born on April 13, 1983, in Provo, Utah; he was 19, when he died on August 5, 2012. Garrett was found in his room at training camp at Lehigh University. The cause of death was said to be a overdose.
At the time of his death, Garrett Reid was assisting the Eagles strength and conditioning coach during training camp. He had a previous arrest in 2007, when he was speeding and crash with another vehicle that left the driver injured.
200 pills and an undisclosed amount of were found inside his car by the police; he tried to smuggle prescription pills into jail when he surrendered to begin his sentence.
"I liked being the rich kid in that area and having my own high-status life," Reid told a probation officer, according to court testimony in November 2007. "I could go anywhere in the 'hood. They all knew who I was. Enjoyed it. I liked being a drug dealer."

"Don't want to die doing drugs. I don't want to be that kid who was the son of the head coach of the Eagles, who was spoiled and on drugs and OD'd and just faded into oblivion." Garrett told the judge at his sentence hearing.
Andy Reid son Britt Reid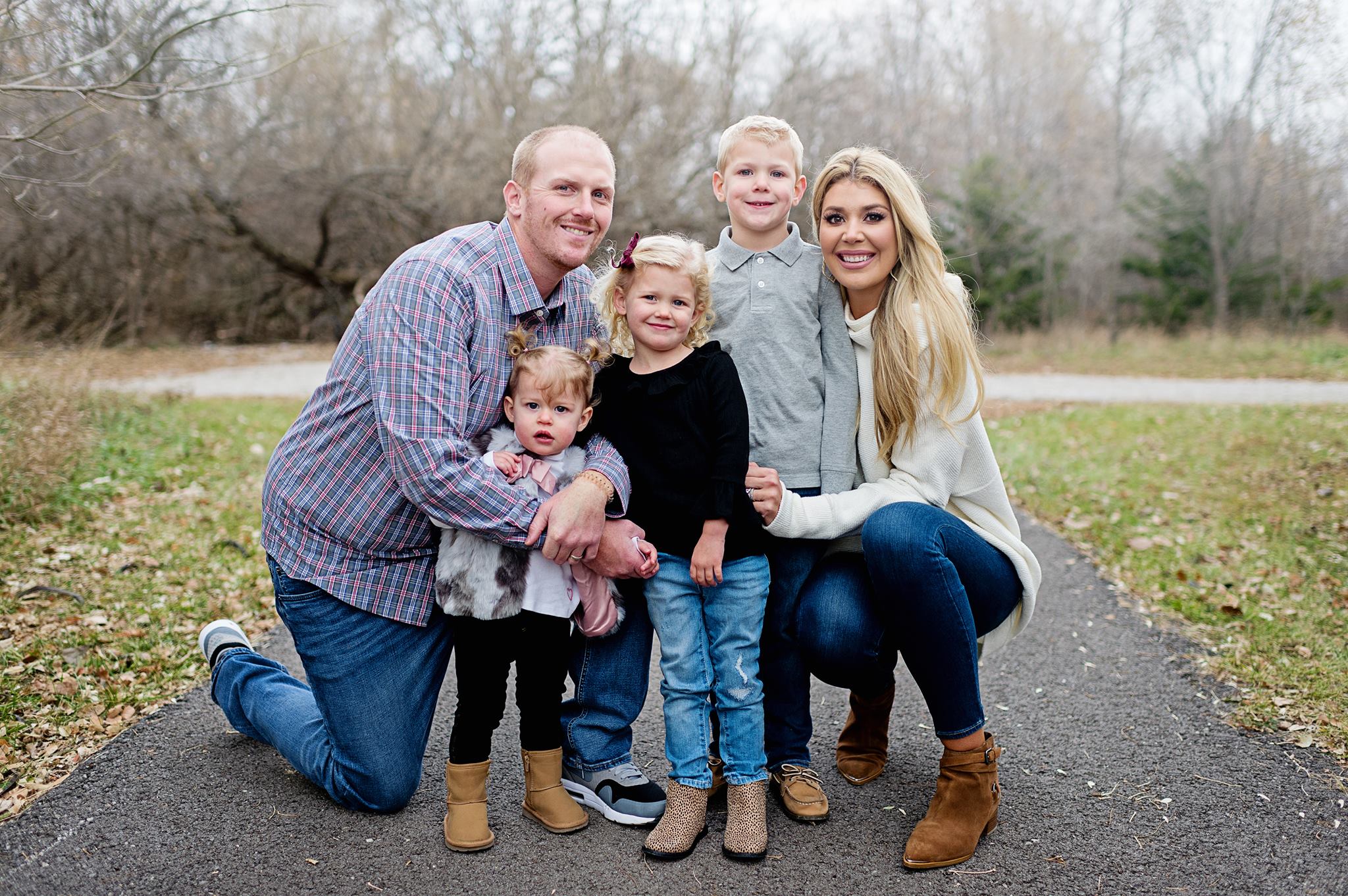 Born Britt Eric Reid on April 28, 1985, in San Francisco, California, Andy Reid's son is currently the linebackers coach for the Kansas City Chiefs. He initially joined the Chiefs in 2013, along with his father, firstly working as a defensive quality control coach, later Assistant Defensive Line Coach, Defensive Line Coach in 2016, and eventually linebackers coach in 2019.
Britt Reid started his coaching career as an assistant offensive line coach at St. Joseph Prep back in 2008; a year later was the training camp coordinator intern with the Philadelphia Eagles and a graduate assistant at Temple from 2011 to 2012.
He graduated from Harrington High School and Temple University with a bachelor's degree in communications. He and his wife Kristen Nordland married on July 6, 2016. Kristen Reid momma of a handsome boy Maverick and two beautiful daughters Somers and Saylor; she graduated from Temple University, she is a makeup artist at Seint Beauty.
On February 4, 2021, just three days before the Super Bowl, Britt Reid was involved in a multi-vehicle crash Thursday night that left two children injured. According to the statement by Tod Palmer.
"While attempting to get the vehicle running again, a white Dodge Ram Laramie Sport pickup truck traveling on the entrance ramp — which Britt Reid admitted to police he was driving, according to a search warrant — struck the left front of the stranded Impala.

"The driver of the stranded vehicle was inside the car at the time and wasn't injured, but the Ram truck continued forward and also struck the right rear of the Traverse.

"A 5-year-old child in the backseat of the Traverse suffered life-threatening injuries and a 4-year-old, also in the backseat, suffered non-life-threatening injuries, according to KCPD.

"Both children were transported to a local hospital for treatment. An adult passenger in the front seat of the Traverse was not injured in the crash. Reid received non-life-threatening injuries, investigators said."
Andy Reid son Spencer Reid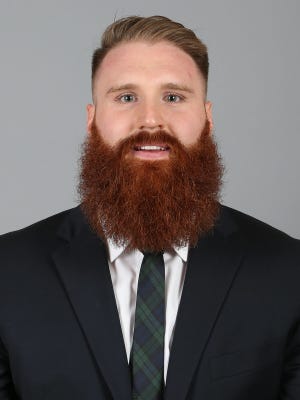 5'10 Spencer James Reid born on June 16, 1992, is a former running back at Temple Univerity, and linebacker and running back at Harrington High School. He also attended the University of Utah, from where he holds a degree in kinesiology. Spencer is the  Assistant Strength and Conditioning Coach Colorado State under coach Steve Addazio, he previously held the same working position at Boston College under coach Scott McLafferty.
"As a player, I loved the camaraderie, I loved that side of it," he said. "Being able to get better, stronger, faster, more explosive. I thrived on it, and it was just what I gravitated towards. So, it was an easy transition for me. I knew I could still have time with my family and not have those long, long hours."
Spencer also worked with the Kansas City Chiefs as an intern in the strength and conditioning program in 2018. After he graduated from Temple, the youngest Reid served a two-year mission for the Mormon Church in Fresno, Cali.
Andy Reid daughter Crosby Reid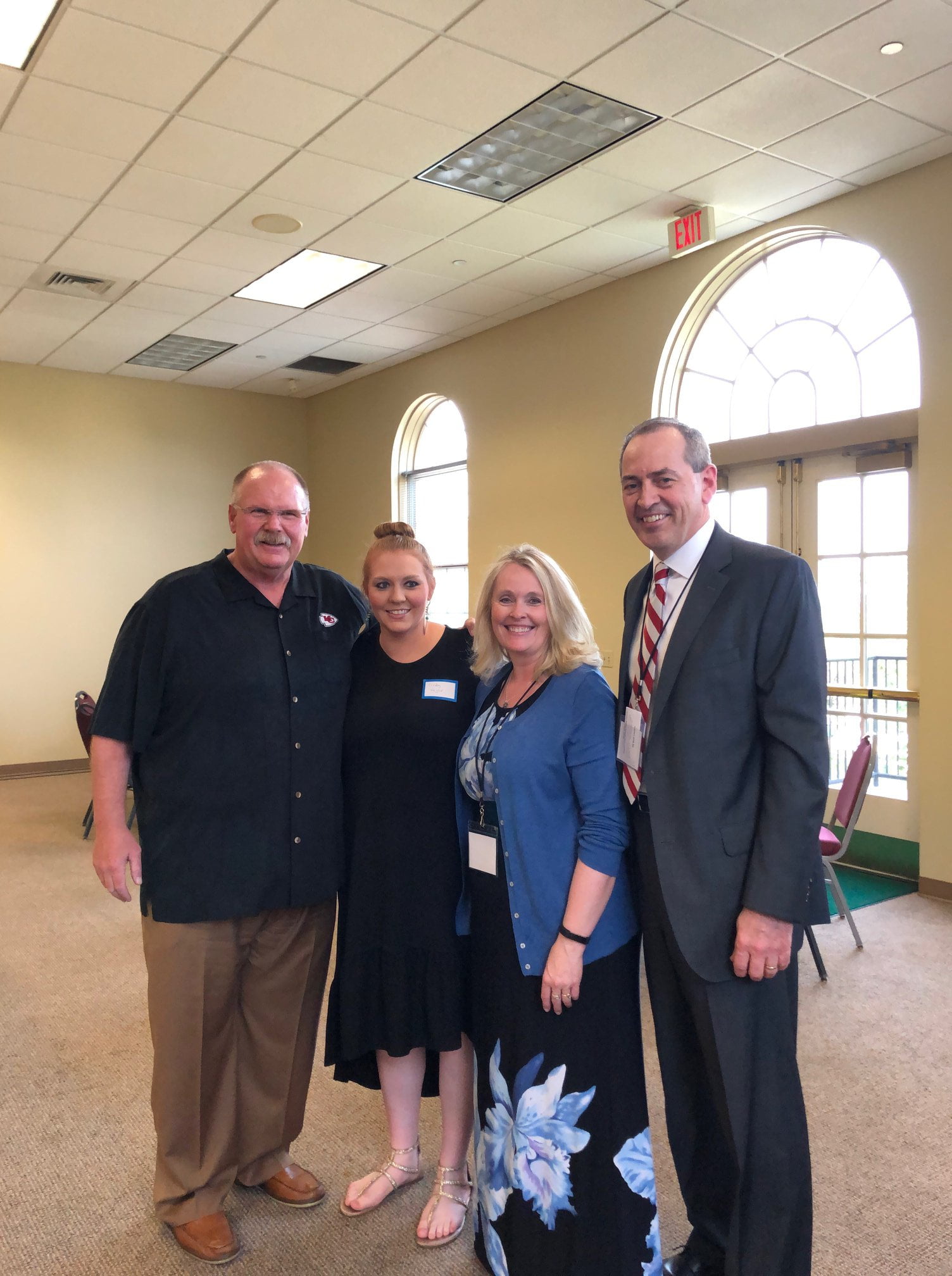 Crosby Lea Reid now Crosby Naylor was born on March 17, 1988. Back in December 2019, she sang the national anthem, before the game against the Los Angeles Chargers, Kansas City rapper Tech N9ne joined her in the drums
When her father and the Kansas City Chiefs, Crosby along with her husband and the rest of her family were by Andy's side, they all took some time to remember the member of their family missing, her brother Garrett.
"It was a moment with our family where we all got to cry and really feel my brother looking down on us," Crosby told The Philadelphia Inquirer

"I felt his spirit there," Crosby said. "I knew he was there looking down and he was a part of the celebration with us."