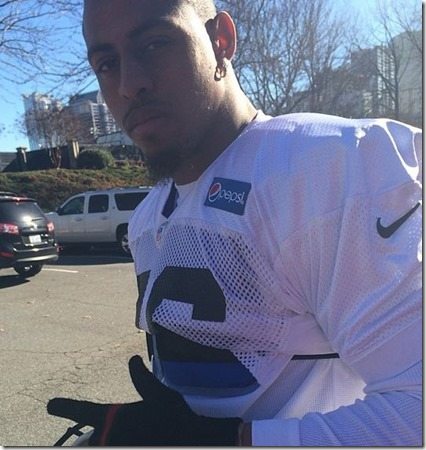 Did you hear about Carolina Panthers DE Greg Hardy being arrested for domestic violence charges involving his girlfriend? Who would be brave enough to go up-against the 6-4, almost 300 pounds, 25-year-old? Some news outlets have identified his girlfriend as a 24-year-old lady named Nicole Holder, no picture of her has been released. And in all truth she wouldn't look pretty.
Hardy has been dating Nicole Holder since September 2013 according to this site; but after the showdown its pretty safe to say they are both single now. Defensive end Greg, spent Tuesday night behind bars and was released on bond today. Hardy was charged with assault on a female and communicating threats.
The arrest warrant accuses Hardy of "grabbing victim and throwing her to the floor, throwing into a bathtub, slamming her against a futon, and strangling her."
But Hardy says he is innocent! His attorney told the judge the victim attacked him! Hardy who goes by the nickname "Da Kraken" got into a fight with his 24-year-old girlfriend at an uptown apartment on North Tryon Street across from the Belk Theater around 4:20 a.m. Tuesday, according to a Charlotte-Mecklenburg police report.
Interestingly enough, they were both intoxicated at the time of the incident. On the other hand his girlfriend's attorney said she has injuries "from head to toe." The judge expressed concerned for her safety and gave Hardy a $15,000 bond for assault on a female and $2,000 for communicating threats. Her statement is actually pretty terrifying, his girlfriends described her nightmare saying, according to a domestic violence protective order that Channel 9 obtained, she stated that
"Greg Hardy attacked me in his apartment. Hardy picked me up and threw me into the tile tub area in his bathroom. I have bruises from head to toe, including my head, neck, back, shoulders, arms, legs, elbow and feet. Hardy pulled me from the tub by my hair, screaming at me that he was going to kill me, break my arms and other threats that I completely believe. He drug me across the bathroom and out into the bedroom. Hardy choked me with both hands around my throat while I was lying on the floor. Hardy picked me up over his head and threw me onto a couch covered in assault rifles and/or shotguns. I landed on those weapons. Hardy bragged that all of those assault rifles were loaded. Landing on those weapons bruised my neck and back. Hardy screamed for his administrative assistant (Sammy Curtis) to come into the room and hold me down. Hardy and Curtis then took me into the living room area. I wasn't nearly strong or fast enough to escape. I begged them to let me go and I wouldn't tell anyone what he did. They took me out into the hall, pushed me down and went back inside his apartment. I crawled to the elevator and ran into CMPD."
Who wouldn't be scared after that episode? Hardy who was an Outstanding Prospect in the 2010 Draft will be paid $1.3 million after attending all of the team's voluntary spring workouts in the 2013 season. However he will have to say goo-bye to $17K to pay up his jail-bond.