Daniela Rajic
Meet Daniela Rajic; she is the longtime girlfriend of NBA player George Paul, the shooting guard for the Los Angeles Clippers. Paul who signed a contract extension with the Clippers in December 2020, previously played with the Oklahoma City Thunder and the Indiana Pacers.
Paul George is not married yet, but he is heading to the altar pretty soon! the lucky gal is Daniela Rajic, who has been his baby-mama and girlfriend since 2014, they have two beautiful daughters together.
Paul George
6'8 Paul Clifton Anthony George was born on May 2, 1990, in Palmdale, California, where he attended Pete Knight High School and later attended California State University in Fresno.
Paul George is the youngest child of Paulette and Paul George, Sr. He has two older sisters Portala and Teiosha George, both former college athletes.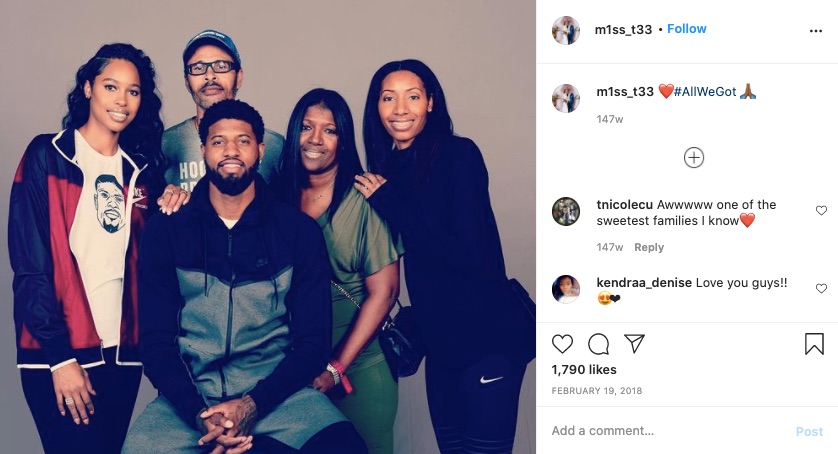 Paul George Parents
His momma Paulette grew up making quilts with her grandma and later designing clothes; she holds an M.F.A. from California State University Long Beach.
Momma George is a fighter, defeating death after suffering a stroke, pronounced death but pulled it through; she remained hospitalized for several months and confined to a bed for almost two years. The stroke left the left side of her body paralyzed.
Not much is known about Paul's dad Paul Sr. except that he was born in Crosby, Texas and now lives in Palmdale, Cali with his wife Paulette. He worked as a carpenter for a rim company and often took his son fishing.
Paul George Sisters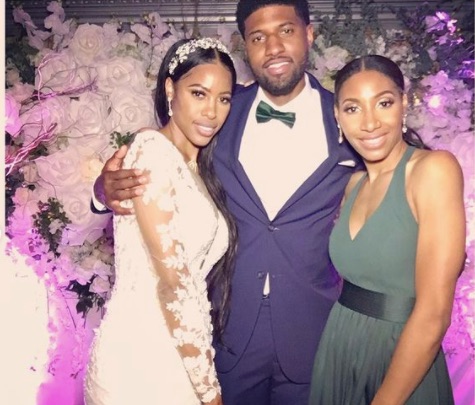 His partners in crime, best friends, mentors are without a doubt his sisters, Portala and Teiosha George.
Portala George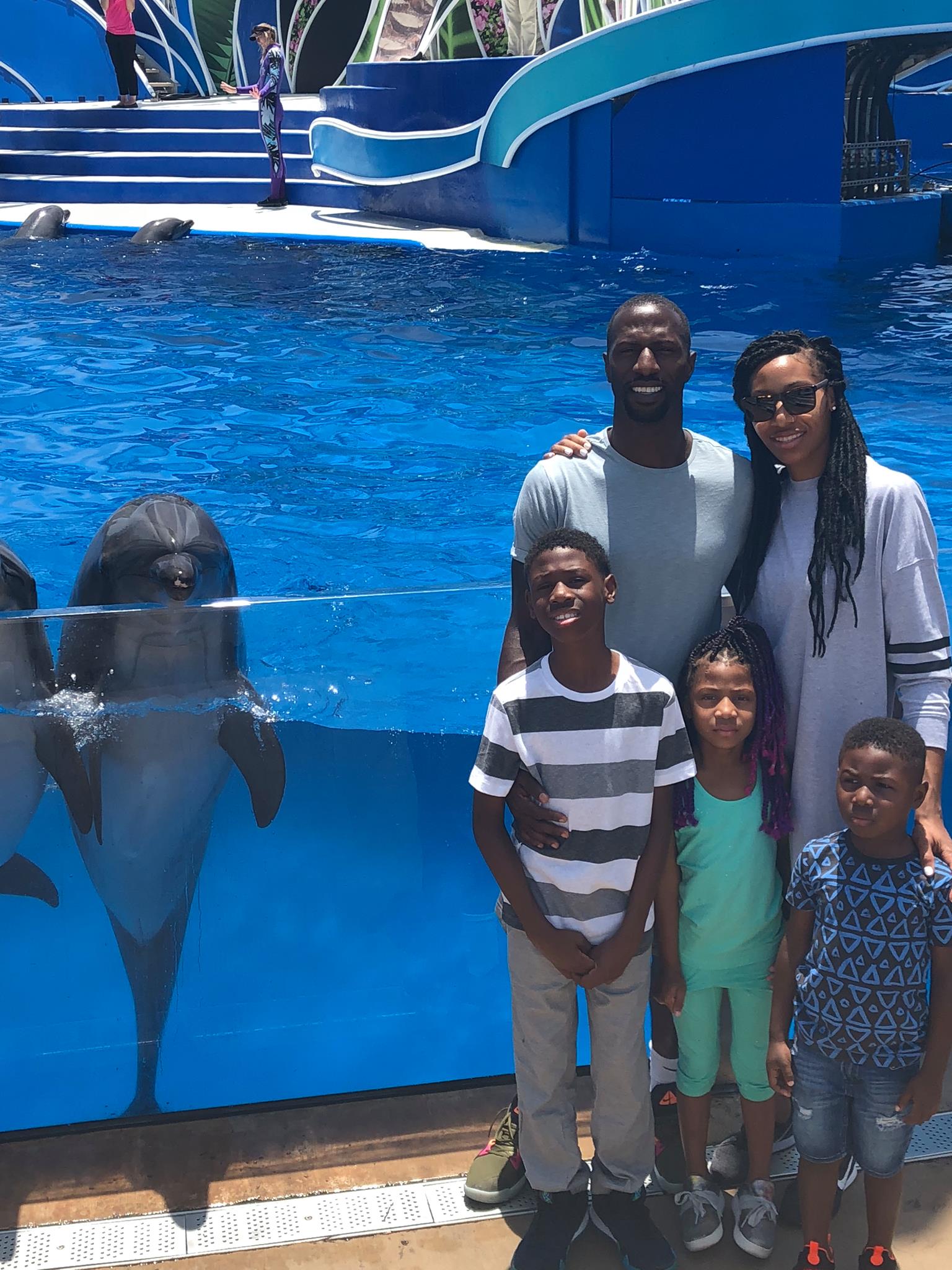 George's sister 6'1 Portala George was born on July 14, 1984; she played volleyball at Antelope Valley College and later at California State. Portala now Portala George Chambers is married to Adam Chambers father of her three lovely kiddos, Tyson, Devin, and Jayla.
Teiosha George
6'4 Teiosha George was born on September 24, 1985, in Pacoima, California. She attended Palmdale High School, where she was a four-year varsity basketball letter winner, earned three-time all-league honors,
In addition to basketball, Teiosha ran track.
She later committed to Pepperdine University, she played 108 games, recorded 943 points, averaged 8.4 points per game, rebounding at 6.1. After college Teiosha Paul played basketball overseas.
Teoisha is also a model.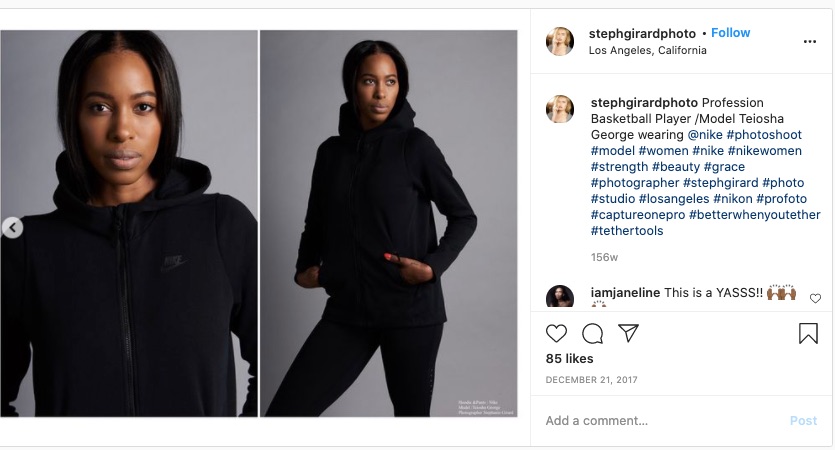 George recalled how tough his sister was with him on the court, at that time he was known as Teiosha's little brother.
"I would just swat all of his shots," she said. "He would get really frustrated, because we're both very competitive by nature. But, come on, I'm not going to let my little brother — who was shorter than me — beat me. There was a lot of back and forth."

"I had to try to beat her from the perimeter," he said. "She was strong, she was tall, and she knew what she could do."
Teiosha is nowadays married to Brandon Lincoln.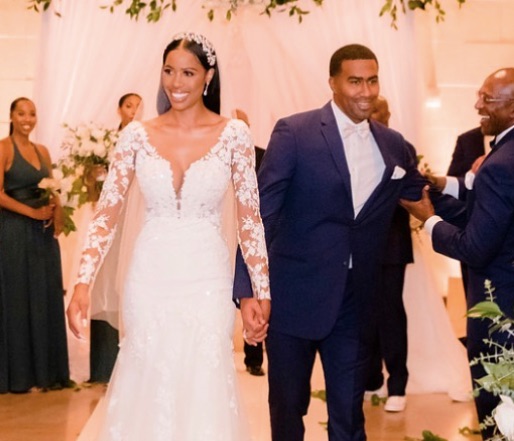 Paul George High School & College
Paul closed his senior year of high school at Pete Knights High School averaged 25 points, 12 rebounds, three steals per game, and three assists. He was named Antelope Valley Press Player of the Year and Golden League Most Valuable Player.
George decided to play at Fresno State now California State University, Fresno, over offers from Penn State, Pepperdine, San Diego State, and Georgetown.
He played two years at Fresno; his freshman year he averaged 14.3 points, a team-high 6.2 rebounds, 1.7 steals per game, and  2.0 assists.
Averaged 16.8 points, 7.2 rebounds, 3.0 assists, 2.2 steals, and 0.8 blocks per game his sophomore year.
He decided to skip his two finals seasons of college and enter the NBA draft.
NBA
Indiana Pacers
The Indiana Pacers selected him in the first round (10th overall) during the 2010 NBA draft. He signed his first NBA deal worth #3.9 million for two years on July 1, 2010.
He played with the Pacers for seven years. His stats from his time in Indiana.

Oklahoma City Thunder
The Indiana Pacers traded Paul in exchange for Domantas Sabonis and Victor Oladipo on July 6, 2017; made his debut with the Oklahoma City Thunder against the New YorkKnicks on October 19, 2017.
The stats of George's two-year deal in Oklahoma are:

Los Angeles Clippers
The Clippers traded the rights to swap two first rounds, five first-round draft picks, Danilo Gallinari and Shai Gilgeous for Paul George on July 10, 2019.
With the Clippers during his first season, Paul played in 48 games, averaged 21.5 points per game, 3.9 assists, 5.2 rebounds, and 1.4 steals.
George signed a four-year contract extension with the Clippers worth $190 million on December 10, 2020.
Who is Paul George Wife?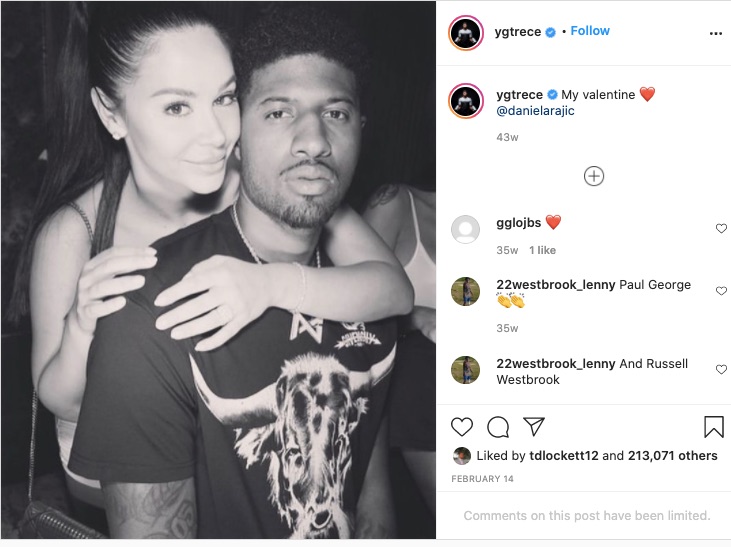 Although not his wife yet, Daniela Rajic has been his better half, since 2013. They have two children together, are engaged, but they haven't settled on a date for their wedding just yet.
Does Paul George Have a Kid?
Yes, he sure does, not just one kid, though but two! he and his fiancee Daniela Rajic have two amazing and beautiful daughters born in 2014 and 2018.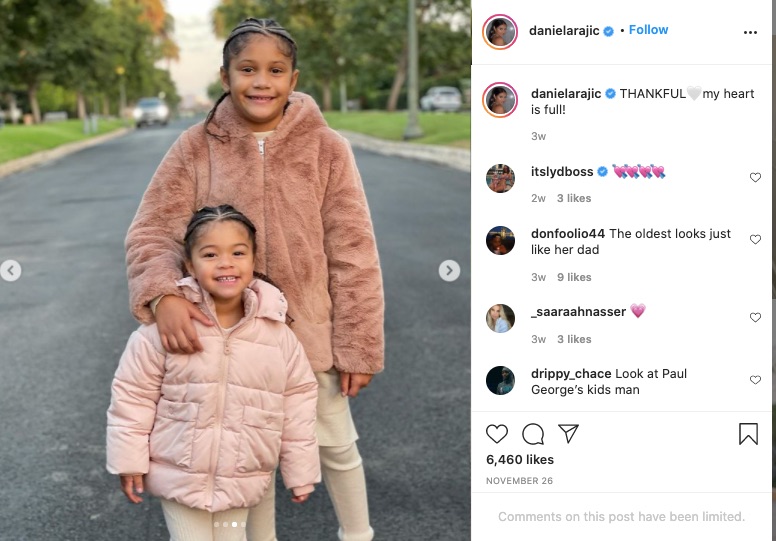 But things weren't easy at first for neither of them. Let's go back to 2014, when the world heard about Daniela expecting a kid and that Paul George was the father of that child.
At that time Daniela worked as a dancer at the Tootsie's Cabaret in Miami, and Paul denied the child was his; she sued him and things became messier.
Daniela filed a paternity suit against George in Manhattan Family Court and as expected media went crazy about it; there were also claims the NBA player offered her $1 million to have an abortion back then. He denied offering money.
After the paternity test result proved Olivia was George, he filed for full custody of his daughter; Daniela and Paul eventually settled on shared custody.
"They have reached a settlement with full joint custody and a financial package. They will be raising their daughter together. Paul George had always intended to do the right thing, and he is thrilled to have a daughter. The settlement is generous, the child is going to have a wonderful life, and both parents will be equally involved in bringing her up."
After that happened and for Olivia's well-being, they started to work on their relationship.
We are both very grateful for the opportunity to be joint parents to our beautiful daughter Olivia. While we have our separate lives, we are committed to providing her with all the support, nurturing and love she deserves."
Who is Olivia to Paul George?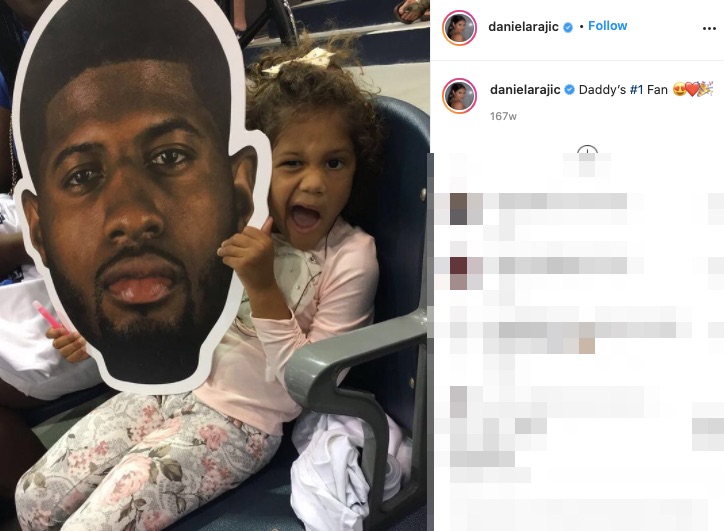 Olivia George is Paul and Daniela's eldest daughter, because George denied he was Olivia's father at the time, he couldn't enjoy Daniela's pregnancy by her side.
Fortunately, he made it up to her, they rekindled their relationship, gave little Olivia George a baby sister and soon they will exchange vows.
What Nationality is Daniela Rajic?
Born to Serbian parents Petar and Violeta Rajjic (nee. Vujovic); Daniela Rajic was actually born in Queens, New York on November 12, 1990.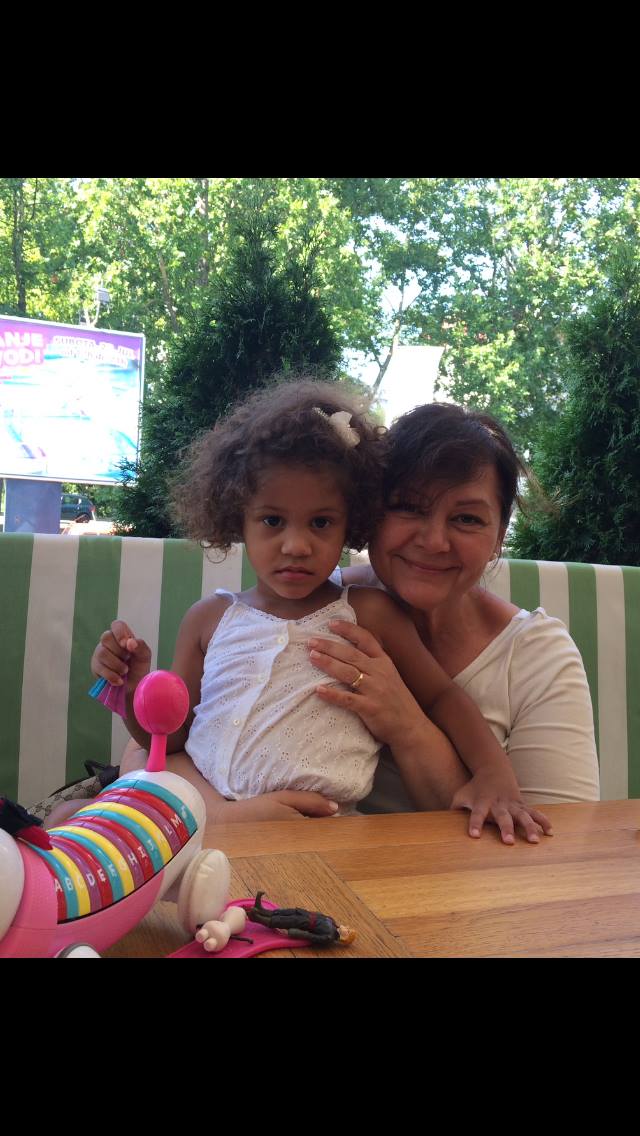 We can't say we are 100% certain, but it is possible that Daniela has two siblings, sister Kristina and brother Aleksandar Rajic., ages 28 and 31, respectively.
She attended the University of Miami, although it is unknown if she graduated.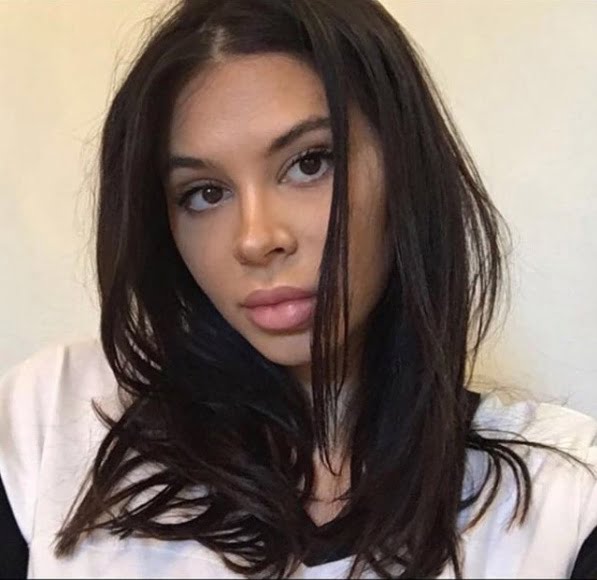 Daniela Rajic was living in Miami when she and George were reportedly an item for a short time during the summer of 2013, during that time, she found it she was pregnant.
She quit her dancing job at Tootsie and moved back to her family home in Queens, New York after she found out she was pregnant and moved to Brooklyn after she and George settled on shared custody of Olivia.
While waiting for the birth of her first daughter, Daniela flooded her social media account with pictures of her pregnancy and baby showers.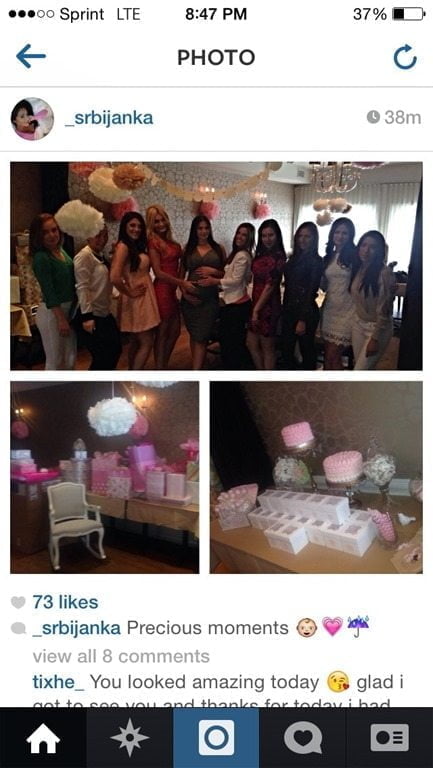 Posted pictures of her cute-little baby-girl born just hours before her daddy's own birthday.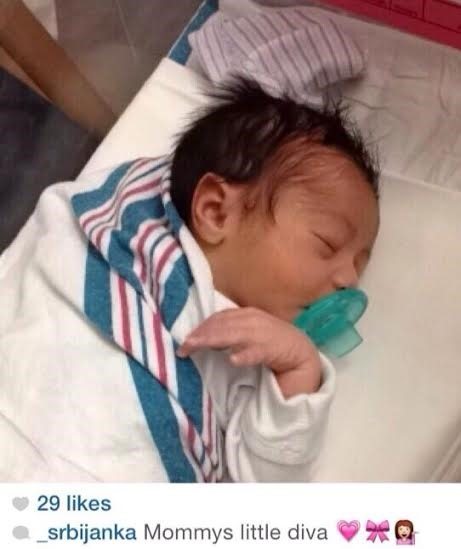 Previously romantically linked to rapper Lil Wayne, Daniela gave birth to her and Paul's beautiful daughter Olivia on May 1, 2014.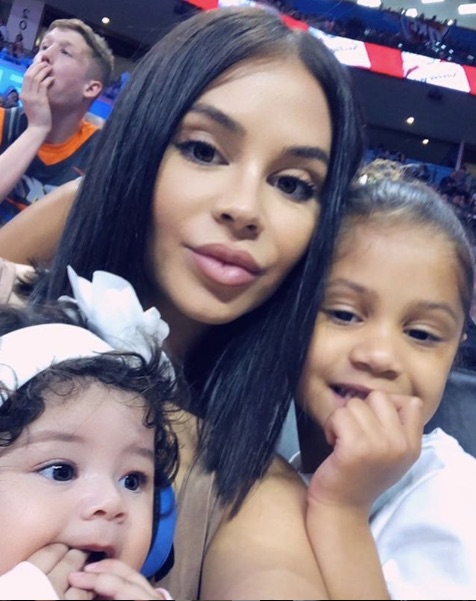 Their second daughter Natasha was born on November 4, 2018.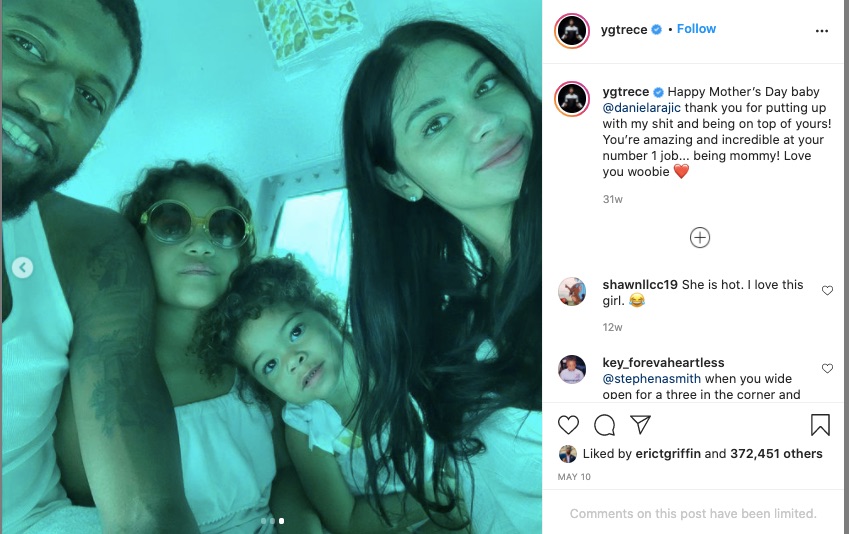 Paul and Daniela Rajic were on a trip to Punta De Mita, Nayarit, Mexico for her birthday, however; Paul had one more celebration during their trip.

On November 12th, 2020 Daniela's 30th birthday, Paul popped the question with a  3-carat radiant-cut diamond with a large round halo around $50,000-$55,000, according to WP Diamonds CEO Andrew Brown.
She thanked her fans on Instagram for their we-wishes.
"I want to thank everyone for all the love you've shown on our engagement!!!" Rajic posted Saturday to her Instagram story. "I haven't been able to reply to everyone but it hasn't gone unnoticed & I appreciate all of you!! I'm over the moon celebrating."
Daniela Rajic and Sarah Nasser
Daniela is close friends with PatrickPatterson's wife Sarah Nasser Patterson, who is in addition business partner of their swimwear line.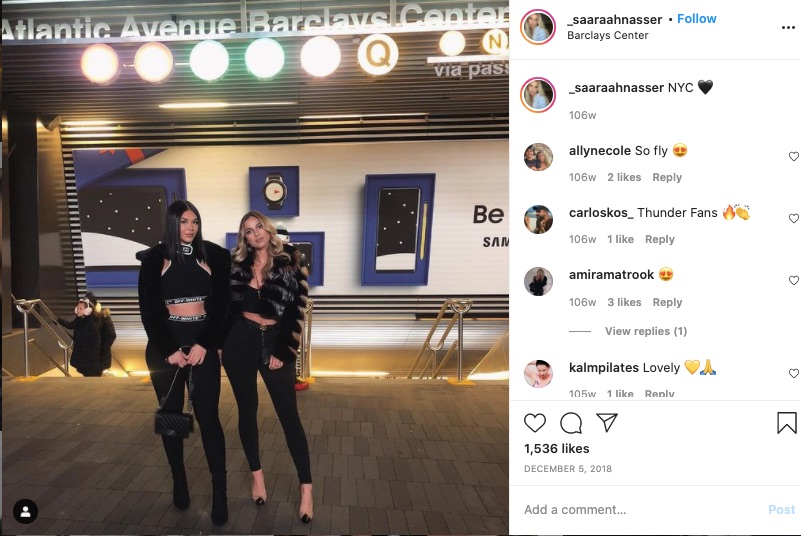 Their friendship blossomed when Paul and Patrick played together for the Oklahoma City Thunder; they couldn't see each other as often after the OKC Thunder traded Paul, luckily for Sarah and Daniela a month or so later Patterson signed a deal with the Clippers.
Paul George List of Girlfriends before Daniela Rajic
There are rumors that  George had sort of brief love encounters with Teanna Trump and Jessica Burciaga, no proof there, but we know for sure he dated Destiny Marie and also Doc Rivers' daughter Callie Rivers for nearly a year.
Paul George and Doc Rivers' daughter
I mean things couldn't be more awkward for Paul George when he signed a deal with the Los Angeles and he would be under the coaching of his former father-in-law Doc Rivers.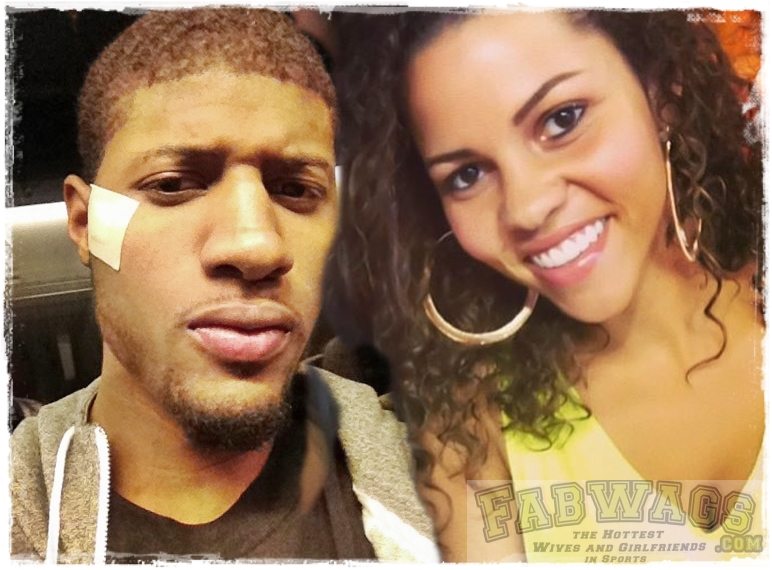 You may or may not know that Paul George dated Doc Rivers' daughter Callie Rivers until he allegedly cheated on her with Daniela.
That was back in 2013 when he and Callie were together and he met Daniela in Miami.
Callie is now married and raising a child with Steph Curry's brother Seth Curry. Callie is close friends with Kevin Durant's ex-girlfriend Cassandra Anderson.
Find Paul George's Girl Daniela Rajic on Instagram