Meet R.B Summitt
R.B Summitt is the ex-husband of legendary women's basketball coach, Pat Summitt.
Pat Summitt was the head coach of the University of Tennessee Lady Volunteer basketball team and is now "head coach emeritus." At the helm for 38 seasons, she is the all-time winningest coach in NCAA history for men's and women's teams. She is forthright, well-respected, ethical, and a winner who serves as a shining example in the sport of collegiate basketball.
On August 22, 2011, Summitt raised the bar on courage as she bravely revealed the toughest opponent she will ever have to battle, early onset dementia, Alzheimer's type.
Patricia Sue Head Summitt was born on June 14, 1952, in Clarksville, Tenn., the daughter of Richard and Hazel Albright Head. She was the fourth of five children – Tommy, Charles, Kenneth and Linda — and the first girl. She grew up on the family farm where she played basketball with her siblings.
Pat played at Cheatham County H.S. (Ashland City, Tenn.), 1967-70, where she was a four-year starter and was named as a TSSAA All-District 20 Tournament selection in 1970. At UT-Martin, 1970-74, she led the Lady Pacers to a 64-29 record.
She was the co-captain of the 1976 U.S. Olympic Team (silver medal), 1975 World Championship Team, 1975 U.S. National Team to Taiwan, 1975 Pan American Games Team (gold medal), and the 1973 U.S. World University Games Team (silver medal).
She graduated from Cheatham County High School, Ashland City, Tenn., 1970. Pat received B.S. in physical education from UT-Martin, 1974 and received M.S. in physical education from UT-Knoxville, 1975. As a head coach of the University of Tennessee, she has an overall record of 1,098-208 in 38 years, her international coaching record is 63-4 and a comined Record: 1,161-212.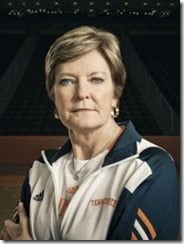 As for her personal life, she was married to R.B Summitt for almost 30 years. R.B Summitt and Pat divorced in 2008 following a 28-year-marriage. She filed the petition after the couple had been separated for several months, claimed irreconcilable differences.
R.B Summitt and Pat are the parents of adult son, Tyler, he is their only child and is also a basketball coach, having followed into his mother's footsteps.
The couple's only son, Tyler Summit resigned to his job as the Women's basketball coach at Louisiana Tech University after he admitted to an affair with one of his players. The 26-year-old is married to AnDe Ragsdale Summitt. You can read more about his wife below.
ANDE RAGSDALE SUMMITT COAH TYLER SUMMITT'S WIFE
Accoridng to his LinkedIn, R.B. Summitt served as the president of Sevier County Bank. He was named the director and appears in the Audit Committee Chair. R.B Summitt II retired in 2012 after 34 years with the company.
Before the couple went their separate ways, R.B. Summitt was a longtime fixture at games, a partner in the pursuit of women's basketball excellence.
R.B Summitt II is the son of late, Mae Kimbrough Summitt and Ross Barnes Summitt –who died in 2015 at age 99. His father had a total banking career stretched nearly 80 years with over 60 with Sevier County Bank where he served as Cashier, EVP, President, Director and Chairman of the Board.
R.B. Summitt II attended the University of Tennessee-Knoxville. He graduated Laude with a major in Microbiology and a minor in Phycology.
Aside to his tenure at Sevier County Bank, R.B. Summitt II also worked for Discover Life in America, Inc.; Summitt Family Investments; Covenant Health; the Tennessee Bankers Association; PHS, Inc; and the Tennessee Department of Financial Institutions.
You can find R.B Summit II on Facebook here.