German model Sarah Brandner began dating Bayern Munich midfielder Bastian Schweinsteiger in 2007. The leggy 5'11 blond has appeared in GQ Germany as well as the 2010 Sports Illustrated Body Painting Issue.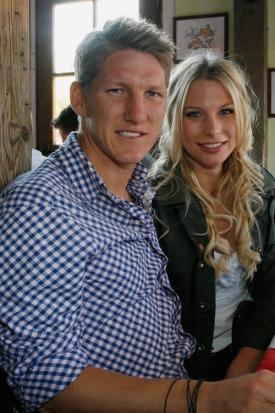 I'm sure you've seen her before as eye candy wrapped around her man's arm! They began dating when she was only 19. She was born 12 December 1988 in Munich, Bavaria, West Germany. The 24 year old attended Obermenzinger Gymnasium where she completed abitur- is a designation used in Germany for final exams that pupils take at the end of their secondary education, usually after 12 or 13 years of schooling- in 2010. She then started studying sociology and history of art at theLudwig Maximilian University of Munich, but ditched it for modeling.
And why wouldn't she! With her physique, at
180 cm Height
84 cm Bust
60 cm Waist
90 cm Hips
40/41 Shoe size
36 Dress
Blue Green Eyes
Blonde Hair
Her first modeling job was advertising photos for Stadtwerke München. Sara was featured in the 2010 Sports Illustrated Body Painting Issue, along with Abbey Clancy, Bethany Dempsey, and Melissa Satta. She has also done notable work for German magazine Bild, and GQ Germany.
The hot couple has maintained a very steady relationship for almost seven years and we can't forget Sara was named the second hottest Bundesliga WAG this year! The first place went for Maria Imizcoz-Javi Martinez' girl. Sara and soccer player man currently lives in Munich. Hoping to hear wedding bells soon???
Want to catch her live?? Well you get one shot on Saturdays game: Bayern Munich vs Borussia Dortmund. Sara is usually cheering her one and only midfielder, Bastian Schweinsteiger closely.
You can follow her on twitter here.