Tangie Griffin
It's our honor to introduce you to Tangie Griffin! She is the beautiful and proud mother of twin athletes; football player Shaquem Griffin a linebacker at the University of Central Florida and Shaquill Griffin, the 6'1″ cornerback for the Seattle Seahawks.
As you all probably know Shaquen two minutes younger than his identical brother Shaquill, was born with a condition that affected the normal and full development of the bones on his left hand, called amniotic band syndrome.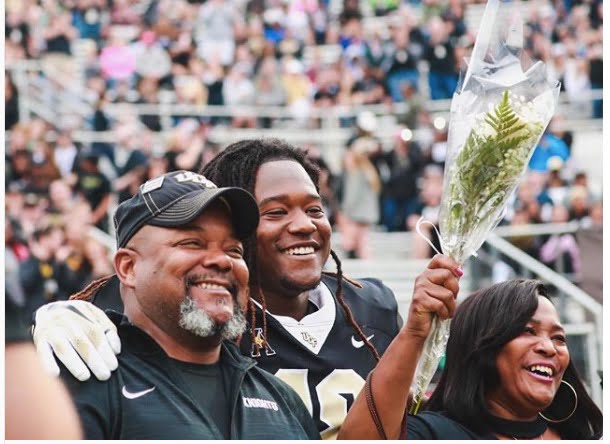 When Tangie Griffin was pregnant, an ultrasound revealed that a fibrous strand of the amniotic membrane had wrapped around Shaquem's left wrist. If left alone, the band would keep his left hand from developing. Doctors could try to move the band, but if they did, the band might wrap around the neck of one of the twins.

"I had a choice to say, 'Let's try it and pray everything is O.K.,' " Tangie says. "But in my mind, that is not an option at all." So Tangie and her husband, Terry, discussed how they'd parent a son with a malformed left hand or no left hand at all. Their conclusion? Treat him no differently than their other children. Never let him consider his condition a hindrance.
Shaquem was in pain.
Tangie reached the room, ready to rock her son back to sleep as she'd done many times before. This time, Shaquem shot past her and sprinted toward the kitchen. Tangie turned and ran.

"When I got into the kitchen, he had a knife in his hand," Tangie says. "He was getting ready to cut the digits off." Tangie took the knife away, brought a crying Shaquem back to his room and rocked him to sleep.
Surgery & Recovery
The next morning, Tangie took Shaquem to the doctor's office. He remembers dragging a red wagon through the office, and he remembers falling asleep. When he woke, the mass of tissue where his left hand should have been was gone.

The next day, the twins went to day care. Tangie warned Shaquem to keep his bandage clean. No football, she told him.

When she returned that afternoon, there was "blood all over his bandage. Everywhere," she says. "And he was holding a football." Says Shaquill, who is older by 60 seconds: "You could see this huge smile on his face."
Mom and nurse Tangie Lattimore Griffin graduated from Mainland High School in Daytona Beach, Florida. She works at Northside Hospital, prior to that she worked at Bayfront Health System.