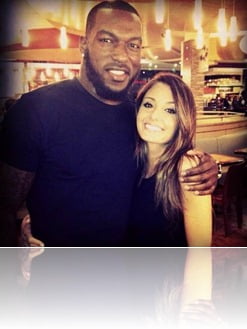 28-year-old Willis is one of the top linebackers in the NFL, earning a Pro Bowl invite in each of his first six seasons in the league. He is now engaged to girlfriend Shenae Saifi.
Patrick and Shenae got engaged on October 7, 2012. Apparently she is really religious. She liked to quote Joel Osteen her Twitter. But Patrick is also a spiritual person, so that could be something that draws this couple together.
It doesn't appear the proposal was over-the-top. Patrick proposed in the family living room with family around. He was wearing a white tee, shorts and sneakers. It seems that this couple is humble and low key.
The couple confirmed their engagement on Instagram and Twitter, followed by a bunch of fan and friends' messages. No wedding date is yet announced.
Patrick wrote on Twitter:
"My love n wife to be. @shenaesaifi thank you for loving me through our good and bad times. Love you."
And Shanae wrote:
"Loving you comes more natural to me than my own heartbeat. @patricklwillis Your my best friend."
They are trying to keep their personal lives private, maybe that's why on these Tweets they both put each other wrong Twitter names.
Lewis will play the last game of his 17-year career when his Baltimore Ravens face the 49ers in Super Bowl XLVII on Feb. 3 in New Orleans.
Follow Shenae by clicking here. Shenae's Twitter here.