Renée Bisciotti
Renée Bisciotti is the long time wife of self made billionaire and current Baltimore Ravens owner, Steve Bisciotti. The couple has been married for over three decades and together share two adult children. Meet the lovely Mrs. Bisciotti below.
Renee's husband is also known as one of the founders to one of the world's largest private staffing firms, Allegis Group. The Pennsylvania native who was born Stephen J. Bisciotti on April 10, 1960 –was raised by a single mother in Baltimore, after he and his older siblings lost their father to Leukemia when Steve was only eight.
Bisciotti attended nearby Salisbury State University, where he majored in liberal arts.
Accoridng to his Forbes profile, he spent a year working in the temporary help industry before cofounding Allegis, which now has 15,000 internal employees, 120,000 contracted workers and offices on four continents.
Since co-founding Allegis Group Ltd. in 1983 Steve serves as its Managing Director, Finance Director and HR Director. Mr. Bisciotti also served as the President of Maxim Healthcare Services, Inc. as well as the Chief Executive Officer of Aerotek Inc
The passionate Bisciotti, who at 57 is the third-youngest owner in the NFL (Kansas City's Clark Hunt, 52 and Washington's Daniel Snyder, 52), bought a minority interest in the Ravens from Art Modell in 2000, completing the purchase of the franchise on April 9, 2004.
Renee's hubby has an estimated net worth of over $3.2 according to The Richest.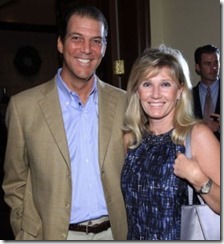 Renee Bisciotti is the former Renee Foote who was born May 08, 1959. The lovely blonde attended West Springfield High School in Springfield Virginia, from 1973 until 1975. Two years later, in 1977 she graduated from Wroxeter High School in Arnold, MD.
She went onto attend University of Maryland from 1977 until 1979. In 1985, she earned a BS in communications from Goucher College.
She and Steve Bisciotti became husband and wife in 1984. Since then, the two have welcomed two children. Renee Bisciotti is the proud mother of two sons, Jason and Jack.
Jason received a masters degree in business while Jack received a degree in sports and entertainment management.
Renee Bisciotti keeps a much lower profile than her hubby and not many more details are known about her.
Check her out on Facebook here.