Tia Santoro
Tia Santoro is the wife of former Knicks forward, Glen Rice. Her hubby is said to be 'almost broke.'
This is probably not the life Tia Santoro expected as an NBA wag. Tia's hubby officially retired in 2004 and new reports say he hasn't been able to find a job.
In a new low point. Reports say the 49-year-old is struggling to make child support payments. He had to get a lawyer in order to get hi child support payments reduced.
Rice, a three-time All-Star is the father of a child he fathered with Robin Duncan of Fort Lauderdale. Miss Duncan sued Rice with a paternity suit back in 2010.
Rice is said to have burned through his basketball income. The only way he is able to get money this days is from appearances, memorabilia signings and camp instruction.
Rice was the fourth player drafted in 1989 from the University of Michigan after winning the NCAA Championship. Accoridng to his website, since retiring from the NBA, he has represented the NBA and their programs in countries such as China, South Africa and the Philippines.
He played with the Miami Heat, Charlotte Hornets, Los Angeles Lakers, New York Knicks, Houston Rockets and lastly with the Los Angeles Clippers.
Prior to his NBA career, he became the all-time leading scorer at the University of Michigan, helping lead the Wolverines to an NCAA Championship in 1989.
Is hard to believe Rice, an NBA Champion, three time NBA All Star, 1997 All Star MVP, three point Contest Champion –could be facing money problems.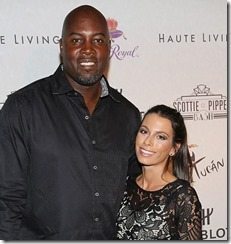 On the other hand, he has been luckier in the personal field. Rice was first married to Cristina Fernandez.
He tied the knot to lovely Tia Santoro earlier this year. Tia and Glen where in a years-long relationship before walking the isle.
Reports say the couple had a lavish ceremony in Miami. Tia Santoro is the mother of the couple's two children, including daughter Bella.
However, the couple has faced their fare share of drama. Accoridng to page six, at one point Tia had to be escorted by police while she was moving out from their home.
And that wasn't the end of it. In 2011 Rice had doubts of being the father of Bella, and filed for a paternity test.
Tia Santoro and Glen clearly put their differences aside and decided to join their lives forever on April 2016. Tia is the operations manager for her husband's company, Glen Rice Basketball
Glen has a total of five kids.