A.J. Preller
A.J. Preller, the Padres' general manager, has been suspended for a month without pay by the MLB. The enigmatic 38-year-old got the suspension in connection with the Drew Pomeranz trade.
MLB has announced Preller has been suspended for 30-days, for improprieties regarding the disclosure of medical information in regards to the Drew Pomeranz trade.
It appears someone reached out to the commissioner's office with a complaint and an investigation was launched.
This is not the first time he gets in trouble.  Preller was previously suspended by MLB, at one point while with the Rangers.
A.J. Preller has worked in baseball his whole life. He grew up on Long Island, a three-sport athlete at Whitman High, he was interested in baseball from an early age. For A.J., the team was the Yankees, and his interest clearly went deeper than the boxscore.
Preller became a first time manager and the second-youngest GM in the sport, in 2014. As you may imagine, the job is not given for your pretty face.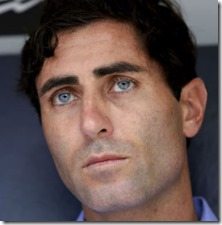 A.J. has worked his way up the ladder, starting with a Phillies ticket-office internship during his junior year at Cornell –from where he graduated summa laude in 1999. He then went to the Arizona Fall League to MLB headquarters in New York to baseball-ops for the Dodgers.
But it was in Texas, as an assistant GM to Daniels, that he made his name. Preller served as the senior director of player personnel, mainly it means, he circled the globe looking for talent. His territory included Japan, the Dominican Republic, Venezuela and other parts of Latin America.
During the Preller/Daniels tenure, the franchise was reportedly 'rebuilt' and made back-to-back World Series appearances in 2010-11.
Also with the Rangers he reportedly developed a reputation for being willing to push the envelope in regards to the rules. He was described as "eccentric,""in the shadows" and a "baseball rat."
It appears baseball is all Preller knows. We dare to say he has been so 'in it' that he hasn't dedicated much time to his personal life. We believe he is still single. He has however, showed a close relationship with his family. He thanked his parents for their support at a press conference back in 2014.
If in fact, he has yet to walk the isle, why do you think that is?
How bad do you think he blew it? Does he deserve the suspension?