Tia Shah
Tia Shah is the pretty girlfriend of NBA player, Michael Carter-Williams. Her NBA stud currently plays for the Chicago Bulls but did you know he was in a committed relationship with Tia? for those who didn't, below we tell you all about her.
Tia's beau Carter-Williams splashed onto the radar last year  The Hamilton, Massachusetts native who was born October 10, 1991 –was selected 11th overall by the 76ers in the 2013 NBA Draft.
In 2014 he was named NBA Rookie of the Year with the Philadelphia 76ers, then was traded to the Milwaukee Bucks in 2015. On October 17, 2016, Carter-Williams was traded to the Chicago Bulls.
His freshman year of high school he stood 5'9″ and played basketball at Hamilton-Wenham Regional High School; but after a growth spurt, he transferred to St. Andrew's in Barrington, Rhode Island and excelled as a three-year starter.
Carter-Williams who attended Syracuse University, helped the school to a final four appearance in 2013, his sophomore year.
As promised, meet the gorgeous brunette Tia Shah, below.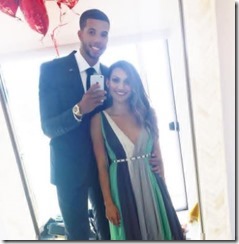 Pretty Tia, has been very vocal about the couple's relationship, tweeting on several occasions that she hates the long distance between them. The pair seem to enjoy regular boyfriend-girlfriend activities such as enjoying trips to Disneyland.
Tia Shah is a college student attending Sierra Canyon College in Chatsworth, CA. According to her social media info, Tia Shah is originally form Los Angeles, California. Her parents are Chrissy and Sundip Shah.
Her older sister, Tahnee Shah is a pastry chef who was diagnosed with a rare form of cancer at age 22. However, Tahnee tried cannabis after a friend suggested it and since then her tumors shrunk. You can read the rest of her story here.
As a result form her sister's disease, Tia's family invested in a medical dispensary in Los Angeles.
Tia Shah studied at Syracuse University from 2012 until 2014. In 2015 she studied Professional Baking at Academy of Culinary Education. She is a 2012 graduate from Sierra Canyon School.
You can find the Tia Sha on Instagram here.