Tina Ball 
Tina Ball is the beautiful wife of LaVar Ball and the proud mother of three talented sons, including UCLA star Lonzo Ball. Her other sons are Lamelo and Liangelo Ball.
Lonzo's dad raised some brown when he said Lonzo was already a better player than Stephen Curry and that he could have defeated Michael Jordan. Mr. Ball hasn't been shy about his sons' skills or money.
Each of them has their own $100.000 BMW.
"To get my boys a little $100,000 car, that's nothing," said LaVar Ball, a personal trainer. "I don't have to pay for education. I'm saving over 1 million dollars."
LaVar a former basketball player at Washington State and California State University who averaged 2.2 points and 2.3 rebounds added that he is planning on getting an insane shoe deal for his boys hopefully with Nike or any other big company.
"A billion dollars, it has to be there," Ball said. "That's our number, a billion, straight out of the gate. And you don't even have to give it to me all up front. Give us $100 mil over ten years."
Ms. Ball a  personal trainer who in hopes of getting his boys a tv shop has dedicated unlimited time photographing and videotaping his three stars. If you ever feel like having a taste of the Ball Family, perhaps the easiest way is to purchase on Big Baller Brand, their sports apparel website. Check it out here.
Mrs. Ball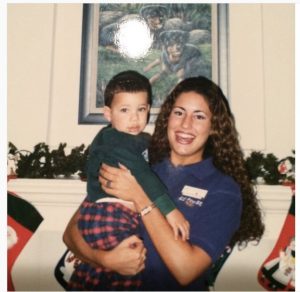 6'1″ Tina Ball was like her husband and her boys a standout basketball player. Tina was born Tina C Slatinsky on December 11, 1967, to  Bert and Catherine Slatinsky from Florida.
She attended at California State University when one day met a cocky guy in the hall.
She played basketball at Cal State LA. I transferred from Washington State and saw her in the hall. Wow. She knocked me off my feet. I stopped her in the hall and said: 'I don't know what we're going to do together, but we're gonna do something.' She was like, 'is this guy cocky or what?'
She and that cocky guy have been married for the past 21 years.
In addition to managing her family business, Tina Ball is a middle school physical education teacher. According to media, Tina suffered a stroke on February 21, 2017, and underwent threatening skull surgery to relieve brain pressure; this probably explains why she stayed off the public eye until July. (Video below).
LaVar Ball arriving to his BIG BALLERS AAU game with his wife, Tina: pic.twitter.com/rUW8DUVCRi

— Jovan Buha (@jovanbuha) July 14, 2017
More photos below