Meet Jasmine Winton; she is the drop-dead gorgeous wife of NBA player Tobias Harris the 6'7 small forward currently signed by the Philadelphia 76ers. Harris previously played for The Los Angeles Clippers, Detroit Pistons, Orlando Magic, Milwaukee Bucks, and college basketball with the Tennessee Volunteers at the University of Tennessee.
Tobias Harris NBA Career
June 23, 2022: Tobias Harris was drafted by the Charlotte Bobcats in the first round, 19th overall in the 2011 NBA draft.
June 23, 2011: Charlotte traded Tobias to the Milwaukee Bucks.
December 11, 2011: Tobias Harris signed his rookie-level contract with Milwaukee.
January 7, 2012: Debuted with Milwaukee against the Los Angeles Clippers.
October 24, 2012: The Bucks exercised a third-year team option on Tobias' rookie scale contract through the 2013–14 season.
February 21, 2013: The Milwaukee Bucks traded Harris along with Beno Udrih and Doron Lamb in exchange for Ish Smith, JJ Redick, and Gustavo Ayon to the Orlando Magic.
October 26, 2013: The Orlando Magic exercised a fourth-year team option on his rookie scale contract through the 2014–15 season.
July 14, 2015: Tobias Harris signed a contract extension with the Orlando Magic.
February 16, 2016: Tobias Harris was traded to the Detroit Pistons in exchange for  Brandon Jennings and Ersan İlyasova.
February 19, 2016: Harris debuted with the Pistons against the Washington Wizards.
November 13, 2017: Tobias Harris was named Eastern Conference Player of the Week.
January 29, 2018: Harris, Boban Marhanovic, Avery Bradley, a future-protected first-round draft pick,, and a future second-round draft pick were traded to the Los Angeles Clippers in exchange for Willie Reed, Blake Griffin, and Brice Johnson.
February 3, 2018: Harris debuted against the Chicago Bulls with the Clippers.
November 26, 2018: Harris was named Western Conference Player of the Week.
December 3, 2018: Tobias was named  Western Conference Player of the Month for October and November.
February 6, 2019: Tobias Harris, Mike Scott, Boban Marjanovic were traded to the Philadelphia 76ers in exchange for Mike Muscala, Wilson Chandler, Landry Shamet and a future draft picks.
February 8, 2019: Harris debuted against the Denver Nuggets for the Sixers.
On July 5, 2019: He signed a contract extension with the Philadelphia 76ers.
Tobias Harris Contract and Salary
On July 5, 2019, Tobias Harris signed a five-year, $180 million contract with the Philadelphia 76ers. Harris earns an annual salary of $46 million.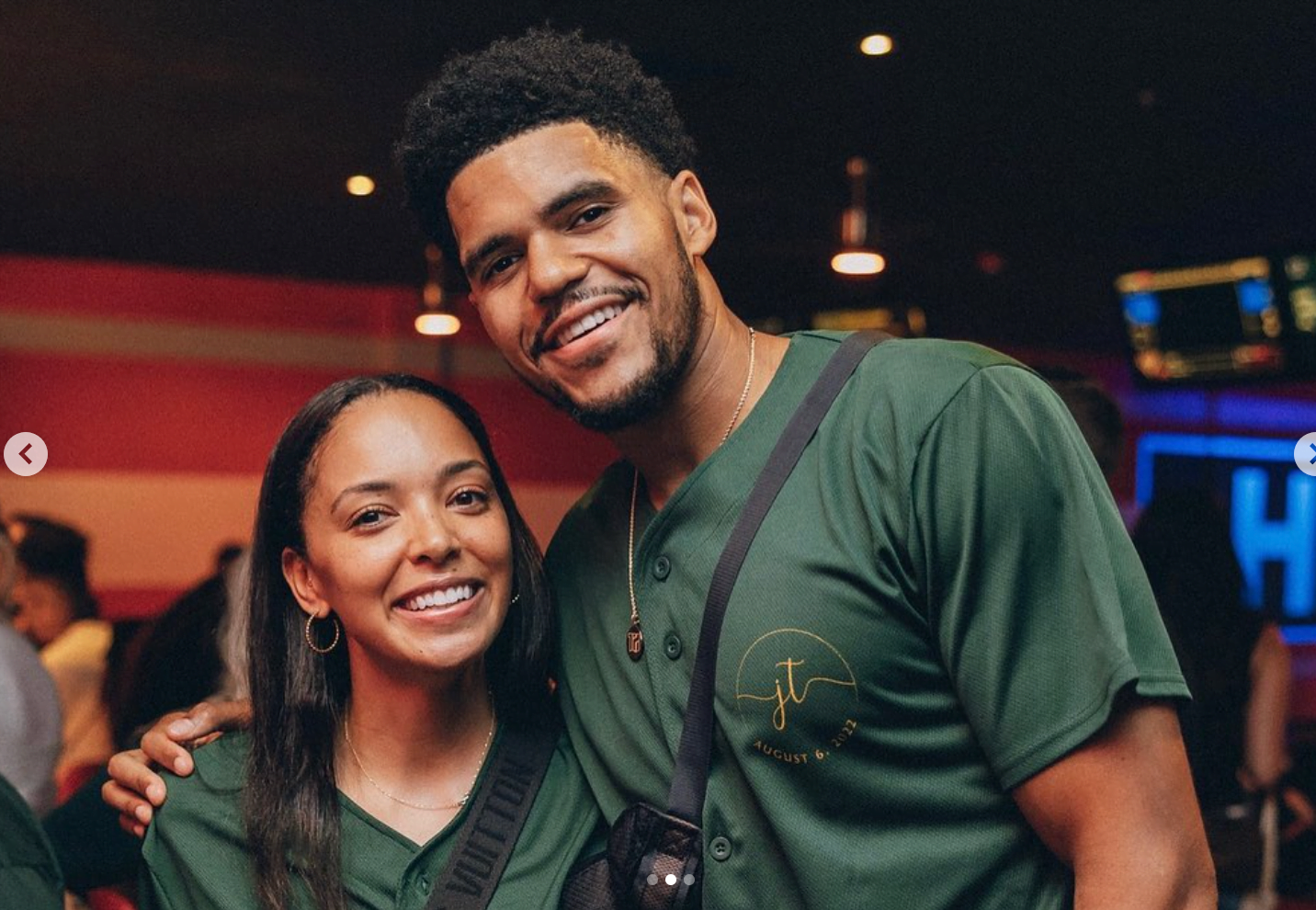 Tobias Harris Net Worth
According to Celebrity Net Worth, as of 2023, Tobias Harris' net worth of $30 million has been estimated.
Tobias Harris Wife
Tobias Harris married his longtime girlfriend Jasmine Winton, on August 6, 2022, at Oheka Castle in Huntington, New York.
"I was like, 'I like this person, she's cool,' " when they first met, Harris says. "But over time, I just knew and saw this calmness to her that like allowed me to understand like where she came from, who she is. I grew up very sheltered my whole life. So when I met her, we kind of kicked it and we had a good vibe to just our relationship. She just opened my eyes up to perspectives on understanding life and what people come from."

Jasmine Winton says for her, "I don't think that there was one specific moment," when she knew Harris was the one, "but I think through our relationship, there were just all these instances where you could just see how nurturing he was or how thoughtful he was or is with just planning a dinner date or picking up my favorite snack at the store. Just all of these little things that just really showed how thoughtful and caring he was that made our love grow."

People Magazine has exclusive photos of Tobias and Jasmine' wedding.
Jasmine Winton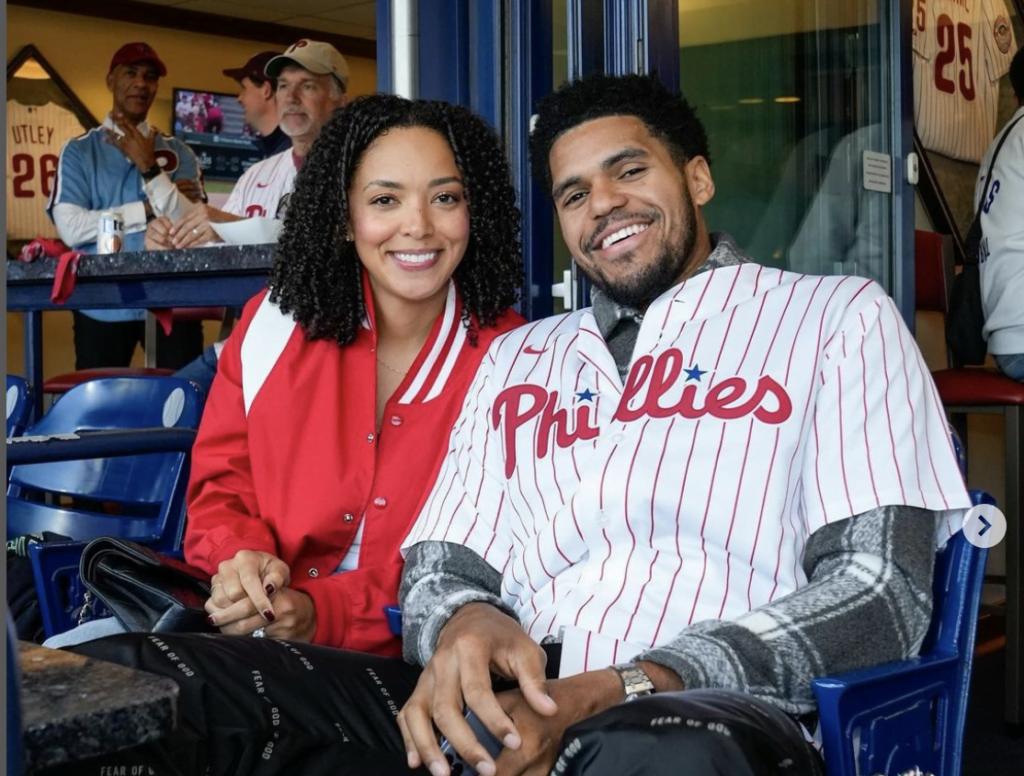 Jasmine Winton aka Jasmine Harris was born on September 26, 1989. Jasmine Winton graduated with a Bachelor of Arts in Adverstising from Michigan State University where she was also was a member of the Alpha Kappa Alpha Sorority, Incorporated, and March of Dimes.
Tobias Harris wife, Jasmine is the senior customer success manager at LG Ads; before that, Jasmine Winton was the senior customer success manager at Sizmek. She worked for three years at Rocket Fuel, Inc in Chicago.
From 2012 to 2014, was the marketing planning and operations manager at Walgreens. She also was a marketing intern at Celect Media.
Related Story: Tobias Harris Mother Lisa Harris