Tre Mason
Tre Mason is dating a stunning girl named Natasha, he defended himself and his relationship with gal pal Natasha when he was outed by Meagan Marciante who said Tre Mason was sleeping  with her at the time time he was dating Natasha, Yikes!! Girlfriend Drama!!
As if!!!! #1 football player Tre Mason and the cuttest thing has an official girlfriend or maybe not..?
There is al lot of rumoring around town about Tre`s GF, but at the end of the day, there is no exact source or at least a truthful one so I might not even say names, and I don't know either….
I just have heard that this guy is a womanizer……But who blames him? I mean, I don't want to sound sexist or whatsoever but he got the looks, he got the bling, he got the fame….so it is not bizarre to think the man is made of stone!
Have you seen those thighs?!!! !! they are  pure rock! this dude is so hard and stiff….;) Jezzz….I would be one standing on the line to date him at least once!
This guy is pure dynamite!
Did you know he also got the softy side? He loves animals! So sweet…
But ehem, again, the good stuff, I've seen pics of him on many parties…..ice cube……hot chicks in hot pants! If you know what I mean…and they ain't no hooters….
See more on his stats here….
*********************************UPDATE***********************************
Meet Natasha, the girlfriend of over a year of player, Tre Mason. Things didn't exactly began quite smoothly for the couple. Last year Natasha's man was accused of getting down and with her and another girl at the same time!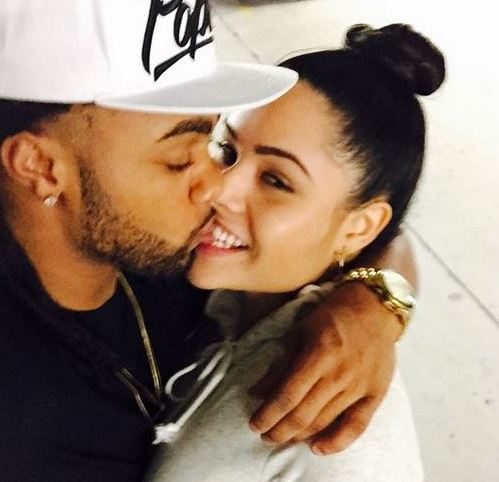 He and Natasha have been dating since 2015. At the time, he proudly posted a picture of his new girl but an ex-girlfriend by the name of Meagan Marciante –also known as Meagan Batter –wasn't happy. Meagan claimed she and Tre had been dating for years and with her Tweets led to believe there was still something between them!
Tre declared his love for Natasha in a Tweet that said "My love is for Natasha and no one else." And things got ugly, cause Meagan then responded by posting a picture of Tre sleeping on her bed!
The St. Louis Rams running back, was then, exposed for having two girlfriends at once. Did he learned the lesson? Did he remained with one of the two girls?
According to Larry Brown Sports, he indicated things between him and Natasha were ok, despite the incriminating image. He tweeted "Happy with the decisions I made with my family, my woman, and football #GODISGREAT"
Will Natasha stick to her man, now that he has been arrested? Tre Mason was caught over the weekend. He is facing four charges: resisting an officer, possession of 20 grams or less, reckless driving and failing to register a motor vehicle.