Marc and Sharron Manuel
Marc and Sharron Manuel are the proud parents of US swimmer, Simone Manuel. Their 20-year-old daughter grabbed herself a gold medal at the Rio Olympics.
Marc and Sharron Manuel's only daughter, made history in Rio, becoming the first African American woman to win gold at an individual swimming event in the Olympics. She's also the first American woman to have won the women's 100 meter freestyle since 1984. As if that wasn't achievement enough, she also broke and Olympic record.
Though Marc and Sharron Manuel's daughter is also a student at the elite Stanford University, her recent win has been overshadow by some who say she didn't get the spotlight she deserves because of skin color.
Manuel who is looking to major in communications, played a lot of sports including volleyball, running, soccer and ballet, but swimming was always her favorite. You see, her parents made her try a bunch of sports never imagining they had an Olympic athlete on their hands.
Below we see Simone next to her lovely mother, Sharron.
Simone's father played basketball in college while Sharron Simone was a competitive athlete throughout high school. The wife and mom of three played basketball and volleyball in high school but did not followed an athletic career in college.
Sarron Manuel and her husband, Marc; are also the parents of Simone's two older brothers. During an interview Sharron spoke about her daughter's introduction to the sport:
She always loved the water and thoroughly enjoyed swimming. When she was 4 years old she asked to join the swim team. I didn't think she was ready so to appease her, I told her she had to take swim lessons first (as her brothers did). We enrolled her in swim lessons that summer and on the 2nd day of lessons, the swim instructor had her swim across the pool. That was the 1st eye opener for me. Simone continued to only swim summer league and experimented with other sports and activities but swimming was her favorite.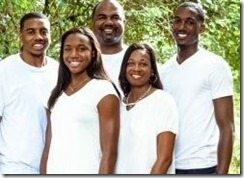 Sharron Manuel, is originally from New Orleans, but raised Simone and her two older brothers in Texas. Due to her and her husband's affinity with sports, it was only natural for the couple to introduce all three of their children to all sorts of sports.
The swim mom, told Swim Swam, she and her husband always supported their three children, whether it was a basketball tournament for her sons or a swimming meet for Simone, they were always there for each other. The family motto is "Do your best"
She also revealed the best part of having star athletes as children, is being their 'number one cheerleader" adding: "It's rewarding as a parent to support them, cheer for them, offer words of encouragement, and watch them grow and mature."
Any thought on the skin color controversy? Do you think she has received enough attention?