Valerie Perry
Valerie Perry is the estranged wife of former NFL great William Perry. The former defensive lineman known as "The Refrigerator" has fallen on hard times in recent years and makes for one sad story for one of the memorable and famous players of the 1980's.
According to reports, the 53-year-old lives alone in a retirement facility and barely has a connection with family.
The iconic player is said to be at least 150 pounds overweight­—around 430, even 450. He doesn't work with physical therapists, or wear the compression socks or orthopedic shoes that he should. His hearing is terrible but he won't wear his hearing aids, so he ends up virtually reading lips unless you are close to him and speaking loudly.
Williams Perry was married twice. His first wife was Sherry Ann Broadwater with whom was married from 1984 until 2004. His second wife, Valerie Perry married him in 2007. He has four children –including son William –that he doesn't see much and both of his ex-wives are out of the picture. William Perry is the father of one son and three daughters, Norie Perry, Latavia Perry and Sherria Perry.
William Perry was born December 16. 1962 in Aiken, SC. He is the older brother of another former NFL defensive lineman, Michael Dean Perry. William was a consensus first team All-American as a junior at Clemson and was a first round pick in the 1985's NFL draft.
The former Chicago Bears defensive tackle from 1985 to 1993; helped the Bears win Super Bowl XX and retired with 29.5 sacks in 138 games.
Perry's descent into alcoholism, and his battle with serious illnesses, have been both long and painful. In 2008 he developed Guillain-Barré syndrome. He stayed for five months at the hospital. Valerie Perry revealed:
'He had a tube down him, and I could hear him calling my name,' 'He wanted me to stop them from hurting him. He kept calling me, "Help me! Help me!" I mean, you can't help him. I just could hear him crying and howling and I couldn't do nothing for him.'
He was discharged months later and warned to stay away from alcohol, following his 2008 diagnose.
In the following year his weight dropped to 190lb, he developed pneumonia and had further spells in hospital and rehab.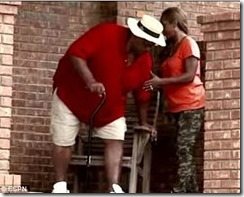 Pin
Eventually, the real breakthrough was aquatic therapy. Perry's brother Michael Dean -was appointed as his guardian –would literally lift him into the pool, and Perry's legs began to respond. Life was creeping back into his gaunt face.
In September 2010 he returned to Aiken but by November, Perry's old demons had returned to haunt him and he was drinking again.
The Fridge was one of the most popular players to ever play for the Bears; at the height of his fame, he could command fees of up to $25,000 for personal appearances, he did ads for several products and there was even a G.I. Joe action-figure doll of him. He appeared on David Letterman's show, the "Tonight Show" and a Bob Hope Christmas special.
Accoridng to the Daily Mail, back in 2011, Valerie Perry was heartbroken at the fact that Perry, then 48, just wouldn't listen when she would constantly plead with him to exercise and take his medication.
The family is embroiled in dispute over who should be taking care of him.