Joanie Ryan
Joanie Ryan was married to legendary NFL coach, Buddy Ryan –who sadly passed today at age 82 after a long illness. James Solano, Mr. Ryan's agent, said he died in Kentucky but did not give a cause. Mr. Ryan lived on a ranch in Shelbyville, Ky. According to multiple reports Buddy has been battling cancer for a number of years.
James David "Buddy" Ryan was born born February 17, 1934 in Frederick, OK. Buddy Ryan, was the defensive coordinator for the 1985 Bears, widely regarded as one of the top few defenses of all time. When the team won Super Bowl XX, Ryan was hired by the Philadelphia Eagles for his first coaching job.
A longtime assistant and defensive coordinator with the Jets, Vikings and Bears, Mr. Ryan got his first head-coaching job with the Eagles in 1986. As an assistant, his teams reached Super Bowls in New York, Minnesota and Chicago. But as a head coach with the Eagles and for two years in Arizona, his overall record was .500, 55-55.
In his last job, as a Houston Oilers defensive coordinator, he famously punched his offensive counterpart, Kevin Gilbride, in the face during a nationally televised game.
Retired on his farm, where he raised horses and followed his twin sons' NFL coaching careers, Mr. Ryan had been confined to a wheelchair since a 2011 stroke.
Joanie Ryan was Buddy's second wife. She died in 2013 after a long battle with Alzheimer's disease. Her famous hubby was first married to Doris, the mother of his three sons, Jim and fraternal twins, Rex and Rob. Ryan and Doris divorced in 1962.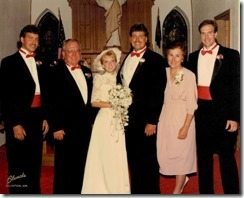 Sons, Rex and Rob Ryan followed into his father's footsteps into football coaching. The Ryan twins, began their coaching career in 1987 at a small Kentucky school. Rob has been with six teams in various roles in his career, including the Oakland Raiders and New England Patriots. Rex Ryan is the current  head coach of the Buffalo Bills while Rob Ryan serves as assistant head coach.
While oldest son, Jim, is an attorney in the St. Louis area. He has a Juris Doctorate from St. Louis University, as well as his Masters in Business Administration from The University of Notre Dame.
Joanie Ryan met Buddy in 1968 when the two lived in the same apartment building in Bayside, New York while Ryan was an assistant coach with the New York Jets. The couple tied the knot two years later in 1970 and were married for 43-years until Joanie's passing in 2013.
Joanie Ryan became the stepmother to Bubby's children and she followed him through his coaching career. In 2003, Joan Ryan was diagnosed with Alzheimer's.
According to the NY Daily News, when Buddy could no longer care for her on his own, arrangements were made for Joanie Rayn at an assisted-living home in Louisville, Ky. Buddy sold their horse-and-cattle farm in Anderson County and moved to Shelbyville to be closer to her. He named one of his horses "Bayside Girl" in honor of Joanie Ryan.