Meet lovely Victoria Hall, currently Mrs. Beleskey, the wife of NHL Canadian player, Matt Beleskey. Her 26-year-old guy currently plays as a left wing with the Anaheim Ducks, and last night he scored the overtime winner on a rebound off a shot by Ryan Kesler for the Ducks just 45 seconds into the extra session of game 5!
Victoria is mostly seen at charity events by her man's arm. Recently the couple attended the Lady Ducks Fashion Luncheon at the Hilton Anaheim, where the blonde helped raise money for the Anaheim Ducks Foundation, which does activities for kids. According to Playerwives, they raised $315,000 in one night.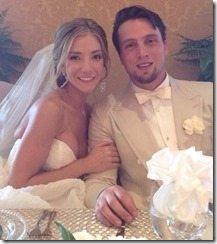 Victoria and Matt are also known to reach out for other causes, including mental health in the "Bell Lets Talk" program.
The couple had been dating for years before they tied the knot on mid-August 2014. According to FOX sports, they had the ceremony in Canada and then went on a honeymoon to Tahiti. The couple sure enjoys the exotic getaways, in 2013 they gushed about spending their summer in Jamaica.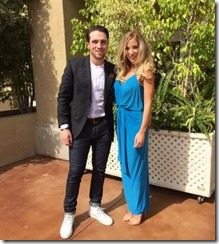 When her hubby is not busy playing, Beleskey likes to enjoy his favorite things, like golfing. He also enjoys watching movies with his gal, which include Dumb and Dumber . Matt can also be entertained by action packed dramas like Sons of Anarchy.
Apparently Victoria, is not into social media, but you can find her guy on Twitter here.