Mary Stevens
Mary Stevens is the longtime wife of prominent venture capitalist and part owner of the Golden State Warriors, Mark Stevens.
Mary's husband is a billionaire who is reportedly worth $2.5 billion. Mark was a partner at Sequoia Capital when the firm invested in hits like Google, PayPal and LinkedIn.
He holds a master's degree from USC, and an MBA from Harvard.
Stevens is now managing partner of his family office, S-Curbed Capital, according to his online profile, and minority owner and executive board member of the Warriors. According to Forbes, Stevens joined Sequoia in 1989 after stints at Intel and Hughes Aircraft.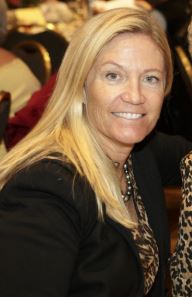 He serves on the board of fabless semiconductor firm Nvidia. He and his wife Mary, are known to be big into charity. The couple donated to his alma mater, USC. In 2015, the two donated $50 million to name the USC Mark and Mary Stevens Neuroimaging and Informatics Institute.
Mark and Mary Stevens have been married for decades. Together they are the proud parents of three adult kids.
Mary Stevens grew up in a middle-class home in Portland, OR. She and her husband started out careers in Silicon Valley in the 1980's and participated in the fabulous growth of the technology industry during the 1990's.
Mary spent 14 years in the commercial real estate industry in Silicon Valley.
Mary attended Santa Clara University graduating in 1984 and where she's a trustee. Mary Stevens has been a member of the Santa Clara University Board of Trustees since 2012. Before which she served on the Board of Fellows for more than a decade. A soccer player while at SCU, she served on the president's athletic commission.
Is no surprise that she and her husband have also donated to her alma mater. The couple gave $7.7 million to Santa Clara to build an athletic center. The have also directed millions to Sacred Heart Schools, Atherton in the Bay Area.