Naijiel Hale
Naijiel Hale, a junior cornerback and the son of a late rapper, doesn't sound like the combination to get in trouble, or it does.
Naijiel is one of six children left behind by Nathaniel Dwayne Hale best known by his stage name, Nate Dogg. He is currently a junior cornerback at Montana State.
The Long Beach, California native, allegedly set up multiple drug deals with buyers who turned out to be undercover police officers back in February.
His father, Nate Dogg, who died in 2011 after suffering numerous complications from previous strokes, was one of the most prominent features during the uprising of the West Coast hip-hop scene. While Nate Dogg released three solo albums before passing, his most famous works were as a hook man and featured artist on other rappers' hit tracks. He most famously sang on Warren G's 1994 hit "Regulate" and 50 Cent's Billboard chart-topper "21 Questions" in 2003.
Hale has not tried running from his father's fame, either. He and his older brother, Lil' Nate, told TMZ in 2011 they were planning on pursuing music careers.
He ultimately decided to choose a path of his own.
Hale, a graduate of St. John Bosco High in Bellflower, Calif., appeared in all 14 games for UW for his sophomore season, making two starts. He was expected to compete for a starting job until he was kicked out.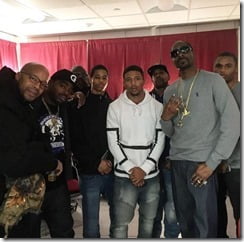 It appears Hale has a history of getting in trouble on and off the field. In 2015, he was dismissed from the Washington football program for a disciplinary matter. At the time he wrote on Instagram:
"I would like to announce that I will be taking my football career elsewhere and thank the university of Washington for everything they've taught me," "I Thank you coach Lake and Coach Peterson (sic) for being there for me and understanding everything that I go through. Nobody in this world will understand my life yet I'm still moving forward. I'm so thankful to play and start many games as a True Freshmen in the PAC-12 and those memories will stick with me forever. New chapter ahead…. Ride with me."
Naijiel Hale signed with the Huskies in February 2014 as part of coach Petersen's first recruiting class at UW. He had originally made a verbal commitment to play for Arizona before changing his mind. At the time he was listed as the No. 313 overall recruit in the nation and considered the 23rd-best cornerback, per 247Sports' composite rankings.
Hale has now been charged with 2 counts of felony distribution of dangerous drugs and 1 count of misdemeanor possession. The felony charges carry a maximum penalty of life in prison.
No word of a girlfriend for the young football player, he appears to be currently single.
Check him out on Instagram here.