Doug Martin
Doug Martin, the running back for the Tampa Bay Buccaneers has made his way into rehab! The 27-year-old California native was deactivated by the Team recently and now, we know the reason why.
According to reports Martin has been suspended for the team's next four games by the NFL for violating the league's drug policy.
In a statement issued today, he indicated that he plans to enter rehab.
Douglas Matthew Martin was born to Leslie and Doug Martin Sr. on January 13, 1989. Martin attended St. Mary's High School. In his senior year in high school, he amassed 1,234 yards on 171 carries and 14 touchdowns winning the team's MVP award.
He played college football at Boise State University for 4 years. As a senior, rushed 263 times for 1,299 yards and 16 touchdowns, while adding 28 receptions for 255 yards and two touchdowns.
Martin scored an impressive 43 touchdowns during his college career. He became the first player from Boise State University to be drafted by the Buccaneers.
He was drafted by the Buccaneers in the first round of the 2012 NFL Draft.
The NFL running back ran for a Tampa Bay Buccaneers franchise record 251 yards against the Oakland Raiders on November 4, 2012. During his rookie year in 2012, head coach Greg Schiano selected him as his starting running back after his great play during the pre-season.
Martin ranked second in the NFL in rushing last season, and he signed a five-year, $35.75-million contract in the offseason, but he has slumped to 2.9 yards a carry this season. Yahoo News reports.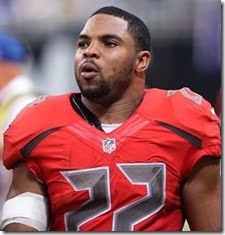 Is certainly not good to be Doug Martin right now, is never easy to admit when a player is messing up. He could use someone on his side, but we can't confirm if he is in a relationship or not.
Accoridng to playerwives, he dated a gymnast during his days at Boise State. His ex, is allegedly the one who gave him the nickname 'muscle hamster.'
Aside from that, Doug apparently hasn't had much luck with the ladies, that we know of. He's also vanished from Instagram.
Do you know Who is NFL Doug Martin's Girlfriend? Comment below!