Brazilian UFC Middleweight Fighter Thales Leites will face UFC star Michael Bisping tomorrow at UFC Fight Night 72.  Though Bisping is a fan favorite, he faces a tough task as Leites has won all five of his fights since returning to the UFC fold in 2013.
According to his bio, a typical day for Leites consist of physical preparation in the morning, jiu-jitsu and boxing in the evening and some wrestling at night. He began jiu-jitsu training when he was 17 and by 2003 he had started training MMA and the other martial arts.
Leites –who has a degree in Physical Education –says is a dream to fight in the UFC and has been very good at it. In the 2001 world championships he came in the third place, in 2002 he was the Jiu-Jitsu – champion of the Copa do Mundo, in 2003  he became the Jiu-Jitsu – champion of the Copa do Brasil absolute.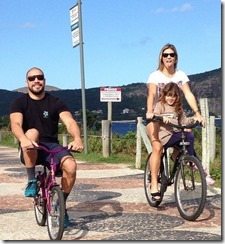 He is also an MMA champion Rumble on the Rock. He competed in Storm Samurai, MARS, Jungle Fight, Shooto Brazil, and Vitória Extreme Fight. He has a BJJ Black belt under Welton Ribeiro.
Other highlights in his career include: 14 wins by submission and defeating Jose Landi-Jons, Ronald Jhun, and Clay Guida's brother Jason in non-UFC action. The Brazilian is also one of only two fighters to extend Anderson Silva the full five round championship distance.
According to his website, he made his comeback in 2013, following two surgeries on his knees. He won by unanimous decision against Tom Watson.
As far as his personal life, the 32-year-old is the father of an adorable 6-year-old girl. He and his then girlfriend welcomed Valentina in 2009, thought is not clear if he and Valentina's mom are in a relationship.
The 6 ft 1 in fighter is surely a dedicated father, just by looking at his Instagram you can see he is head over heels  for his little girl –whom he takes even to trainings.
You can find him on Twitter here.