Meet 28-year-old Rosa Isern, the lovely wife of Spanish footballer Francisco "Kiko" Casilla Cortés. Rosa's hubby just agreed to a deal to re-sign Espanyol goalkeeper Kiko Casilla for £4.2m to Real Madrid!
Kiko –who came through the youth ranks at Real –had three years left on his contract with Espanyol; he started 37 league games for the club in 2014-15 and kept 13 clean sheets, according to ESPN.

Born and raised in Alcover, Tarragona, but currently he resides in Selva del Camp, one Tarragonés village of 5614 inhabitants with his family.
When it comes about his personal life, Kiko and his wife are the parents of an adorable 3-year-old girl whom they named Ainara. According to ABC, once his uniform is off, he is just like any other regular guy who picks up his daughter from the day care and spends the afternoons with his daughter and wife.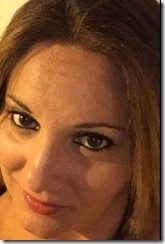 Rosa is a lucky woman huh! During an interview with Esport3, Kiko spoke of his daughter: "She wants me to play. I have always loved children and now I am lucky to have a girl. I really enjoy being with her, play with her and everything she tells me I do. "
Despite what we may think Kiko describes himself as a shy and reserved man. The goalkeeper also revealed, what was most overwhelming about playing with the Real Madrid was the massive following of the press. He likes to live in peace, away from the spotlight and with his family.
Kiko has always avoided the scandals and eccentricities both in private life and in the game. Therefore, his inevitable return to the capital and the epicenter of the outbreak would force Casilla and Rosa and their daughter to adapt to the busy Madrid life.
Would they keep being the quiet family?
Find Rosa on Facebook here.