Candice Wiggins
Candice Wiggins is the former basketball star who spent eight years in the league and called it quits in 2016. What has happened to her since? Is she married, dating someone perhaps?
Wiggins was born Candice Dana Wiggins on February 14, 1987. The Maryland native grew up with two siblings Alan and Cassandra. Her mother is Angela Wiggins and her father is the late Alan Wiggins, a former MLB player. Alan Jr., was a four-year letterwinner with the San Francisco men's basketball team.
Candice played college basketball at Stanford University, where she graduated as the all-time leading scorer in Stanford and Pac-10 women's basketball history.
Candice went on to have a decorated career after being drafted in 2008 by the Minnesota Lynx. The WNBA veteran played eight WNBA seasons, the first five with the Minnesota Lynx and the last three with the Tulsa Shock, Los Angeles Sparks and New York Liberty.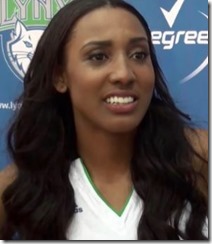 The 5 ft 11 in; player snagged Sixth Woman of the Year honors during her rookie season and averaged more than 13 points per game in each of her first three years in the league.
She also faced challenges in the form of a ruptured Achilles tendon in 2010 –which would limit her in the years that followed. However, in 2011 she won the WNBA title with the Lynx.
Her last season playing with the New York Liberty was recorded as the team's best season in franchise history.
Candice Wiggins left as one of seven women's basketball players ever to be named an All-American four times.
The outstanding player and teammate, also dedicated much of her time to service her community.
Candice who holds a degree in communications from Stanford is yet to be married. The successful 30-year-old recently addressed sexuality within the league.
Candice revealed why she decided to end it all, last year. She recently told the San Diego Union-Tribune, that part of her decision came due to the "toxic" environment in WNBA, saying she was bullied for being straight.
Candice is yet to appear publicly with a special someone, and now that she's training to become a professional beach volleyball player, will she ever have time to date?
Follow her on Twitter here.