Joana Sanz
Joana Sanz is the stunning girlfriend of Brazilian soccer star, Dani Alves. Her man currently plays for the Italian club, Juventus. You might be a Dani Alves fan but after meeting his girl, you might want to follow her on social media as well!
Joana's soccer stud was born Daniel Alves da Silva on May 6, 1983. The Brazilian right back also serves as the captain of his country's national team.
He spent eight years with Barcelona after joining from Sevilla.Prior to Sevilla, he played with Bahia for one season.
Alves spent a successful six-year spell with Sevilla, winning two UEFA Cups and the Copa del Rey with the Andalusian side. He signed with Barcelona in 2008. During his time with the Barcelona, he helped the Spanish club two league titles and a UEFA Champions League.
With the Brazilian team, he won the 2007 edition of the Copa América, as well as the 2009 and 2013 Confederations Cups.
Being one of the most decorated footballers in European competitions certainly, pays off. Alves is currently in a relationship with the gorgeous Joana Sanz. Meet her below!
Joana Sanz doesn't need Dani's fame one bit. The leggy brunette happens to be a Spanish model. The 23-year-old hails from Tenerife, Spain and has been modeling since her teens. She moved to Barcelona after winning the Ford contest, 'Supermodel of the World'
She was born September 6, 1993 –meaning there is a 10-age difference between the love birds.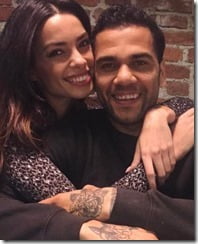 Sanz has a decent following on social media, in which she is super active. The model often posts about her daily life which includes work, hanging out with friends, working out, eating healthy and of course spending some quality time with her man by traveling the world. The normal life of a wag.
Joana Sanz is best recognized for her print work, she has appeared in editorials for Elle magazine and starred in important advertising campaigns for brands like Jimmy Choo. She is currently signed to Sight Management.
Sanz has also worked runway shows, most recently she graced the catwalk at Mercedes-Benz Fashion-Week Madrid.
Joana and her athlete star beau, currently reside in a luxurious pad located in Torino.
He previously dated Thaissa Carvalho –a Brazilian actress. You can read all about Thaissa here.
You can follow Joana Sanz on Instagram here.