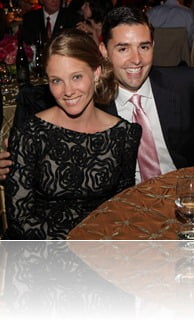 49ers owner Jed York is married since 2011 to Danielle Belluomini. He and his wife, Danielle, who taught in a public school in Hunters Point and who now volunteers at a charter school in East Palo Alto, have mainly kept a low-profile.
Danielle and Jed had a relationship for a long time before getting married in July 24, 2011. The couple had a calm wedding service and afterward honeymooned in the Florida Keys.
Until moving to Los Altos, they lived in a Marina District apartment.
33-year-old Danielle was born on Feb. 01, 1979, in San Bruno, California. Her parents: Craig Belluomini, 58 years old (died on August 9, 2008) and Debra Belluomini, 56 years old.
Mrs. Belluomini- York graduated from San Francisco State, and she is currently an educator at MLKAMS.
The couple welcomed Jaxon Edward York on Oct. 27, and his first outfit were  49ers baby booties or a onesie with football laces. The baby already has a Twitter account. York tweeted:
"Jaxon Edward was born healthy today. Jax and mom are doing great."
Jax is at least the fourth boy born into the "49ers family" in the past three months. Also fathering sons with their wives were coach Jim Harbaugh, guard Mike Iupati and long snapper Brian Jennings.
Jax's proud papa will have left another mark on the 49ers as the guy who had fun rebuilding a dynasty and constructing a new stadium befitting a classy organization.
"I am not stupid enough to think that I didn't have a lot of help in getting to this position and fortunate about my family but I also have to be respectful of that knowing that I had different opportunities than someone else and live up to that expectation," York said in a phone interview.
Follow Danielle Belluomini on Twitter here.