Abigail Ottinger
Abigail Ottinger is the young woman who appears in a video being mistreated by NFL player, Kareem Hunt -until recentyl a player wiht the Chiefs.
Ottinger is seen being attacked by Hunt at Hotel in Cleveland back in February. The 23-year-old who is 5 ft 10 in and weighs, 216 pounds –is said to have pushed, kicked and slammed the young woman after she refused to hook up with one of his friends.
Though the incident took place months ago, footage of the attack was released last week, as result, Hunt was released by the Chiefs.
Born August 6, 1995; as the son of parents Stephanie Riggins and Kareem Hunt –Kareem began playing football in high school. In his junior and senior years of high school, he combined to rush for 5,204 yards and 83 touchdowns.
Following a successful college career at Toledo, he was selected in the 3rd round of the 2017 NFL Draft by the Kansas City Chiefs.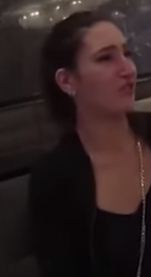 He led the league in rushing last season. He rushed the ball 181 times for 824 yards and seven touchdowns, while adding 26 catches for 378 yards and seven more receiving scores. But, seeing him kicking a woman is definitely a stain in his good name and has definitely damaged his career.
Hunt can be seen approaching the woman and engaging in a verbal argument before shoving her back with his right hand. He then tries to free himself and charge toward her –after multiple people try to restrain him. He ultimating ely walks over to her and kicks her with his right foot.
19-year-old Abigail Ottinger, from Berea, Ohio; is a college student at Ken State. According to the man who filmed her – Derek Szeto –following the incident with Hunt –and who by the way was the only person arrested that night –Ottinger really had a bad time. In the video Abigail Ottinger is seen complaining to police officer about the Hotel's staff –who had allegedly denied her the use of a phone. She also added that a staffer had said to her 'that's what you get for being a '
According to Szeto, the young woman had visible cuts on her body. The two met when she approached him following the incident with Hunt, and he also added that the Hotel did mishandled Ottinger.