Adrian Rodriguez
Adrian Rodriguez is the Pro boxer/mixed martial artist husband of MMA Bec Rawlings. His wife will be taking on Paige VanZant on the UFC on FOX 21 main card.
Rawlings, a former Invicta strawweight title challenger was born Rebecca "Bec" Rawlings but in the fighting world she is known as "Rowdy."
Rawlings –who was raised in Tasmania –was always active in sports. Growing up she practiced basketball, gymnastics and athletics. She began MMA training as a way to loose weight she had gained in her teens. That was around the time she met ex-hubby, Australian professional MMA fighter Dan Hyatt –who helped her become an MMA fighter chick.
The couple separated but have one child together. Rawlings is the mother of two kids, Zake –from a previous relationship and Enson, whose father is Dan Hyatt. Bec alleged Dan was abusive towards her, thus ending their relationship.
Bec Rawlings had her first professional fight in 2011, nine months after giving birth to her youngest son Enson.Before becoming a mom and full time professional athlete, Rawlings worked in hospitality and hairdressing.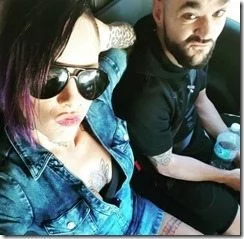 The 27-year-old Aussie MMA fighter has been dating Adrian Rodriguez for a while. It's easy to imagine this two came together through their love for the sport.
Adrian "Road Rage" Rodriguez was born March 25, 1990 in Australia.
He might not be as famous as his lady but last year, he captured the Queensland state middleweight boxing title by knocking out the previously undefeated Sam Banney.
Adrian Rodriguez is a former XFC featherweight champion. He also began training with the intention of losing a bit of weight. He used to be 224 pounds, thought his commitment and dedication, he managed to shed close to 77 pounds.
After he cut the weight he wanted, his dedication, switched to striving to be the best fighter that he can be.
During an interview he said he had been training for over three years before he began training for MMA. He has competed under Australia's Xtreme Fighting Championship banner. He can also be found as Adrian "el lobo" Rodriguez.