Alex Reid
Meet Miss Alex Reid; she is the girlfriend of Canadian small forward with the Minnesota Timberwolves. Wiggins played college basketball at the University of Kansas, Andrew Wiggins.
According to TerezOwens.com, Wiggins has recently started dating Reid, a singer/songwriter currently living in Los Angeles. While their Twitter timelines don't offer us even the slightest hint that there is a romantic relationship here, they do follow one another. Reid is also an unabashed Jayhawks fan, often tweeting and posting pictures in her support of the school.
Her boyfriend was a favorite in the NBA draft; after all, he was the first overall pick selected in the first round of the 2014 Draft by the Cleveland Cavaliers who subsequently traded him to the Timberwolves.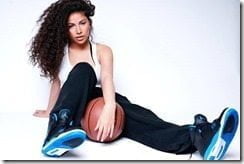 The 6-8 tall, almost 200 pounds player has mad skills, but he was also blessed with his parent's genes, being the son of former NBA player Mitchell Wiggins and Canadian Olympic track and field sprinter mom, Marita Payne. He has two older brothers Nick and Mitchell Jr., they both play basketball. He also has an older sister, Stephanie and two younger sisters, Taya and Angelica. Each member of the family possesses the great athletic ability. Andrew is extremely close to all of them.
Meet Alex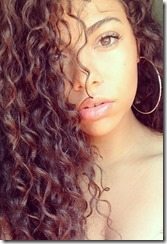 So Alex shouldn't feel bad if he doesn't have many pictures of them together, right! Her 19-year-old boyfriend is all about his sisters and family when it comes to posting.
Many sites weren't sure about the two of them and their status giving the fact they are not very affectionate at least on social media, but Reid has shown up to many of the Kansas home games, and had many fan interactions, so we can say they are legit.
Other than her looks, Reid –who is also a model –has her voice to offer, she is a singer, and on Instagram, she claims she also writes songs
Chillin writin songs in a bra and blue jeans
We also find out Alexandra "Alex" Reid is a former contestant on Endurance 3: Hawaii. She appeared on the show2 when she was just 15-years old. Alex is originally from Plano, Texas. Most recently she has appeared in an episode of MTV's "Made" as a mentor to two aspiring singers.
In addition to that, she appeared in print ads for Heineken, Adidas, and was personally selected by Jay-Z to appear in a nationwide campaign for Rocawear. She made it past initial auditions for the X Factor but did not make it to the live shows. She continues to work on her music, currently, splits her time between New York and L.A.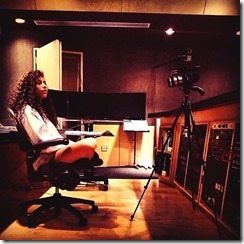 And by the way, have you seen her man jumping Freakishly High? Wiggins will not be participating at the NBA Combine but is
expected to be one of the first three players taken in the loaded 2014 NBA Draft. You can see the insane photo P3 –the company he is working out with –posted. The word is, Alex is anxious for him to get drafted so they can spend more time together.
What are your thoughts on the couple?
You can find Alex on Twitter here –where she has over 25k followers –and on Instagram here.
UPDATE: Andrew Wiggins is currently dating Mychal Johnson.