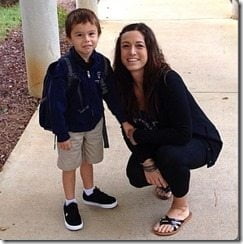 A very sad news hit us today, Jason Leffler the charismatic and very talented NASCAR race car driver passed away when he succumbed to the injuries sustained in a sprint car race at Bridgeport Speedway in New Jersey. He is survived by his beautiful son Charlie Dean and his ex-wife Alison East formerly known as Alison Leffler, but another came came to our ears that is that of Julianna Patterson a stunning girl who some described as Jason Leffler's new girlfriend.
37-year-old Jason Leffler was born in Long Beach, California, he was currently living in North Carolina with his beloved son Charlie Dean.
Jason was involved in a terrible car crash on Wednesday night  in a 410 sprint car race at Bridgeport Speedway in New Jersey, he had to be extricated from the car after striking a wall around 8:30 p.m he was then transported to Crozer-Chester Medical Center, where he was pronounced dead shortly after 9 p.m.
Media didn't said anything about Jason's wife Alison, mother of his son Charlie Dean, his marital status on his website is under single so Jason Leffler and Alison should have divorced at some point, even if that is the case we think we need to know more of Alison, as she must be devastated by this tragedy, not just because of her son's sorrow over his daddy's death, but also because of the place Jason once had in her heart as her husband and continued to have as Charlie's father.
35-year-old Alison Courtney East was born on April 10, 1978 in Indiana to Janice East and Bob East,  a well known in the racing world for his Beast Midget chassis design, her siblings are Amy East Cook married to the NASCAR Craftsman Truck Series driver Terry Cook is a former ESPN broadcaster who covered USAC racing, the NASCAR Camping World Truck Series, and the Indy Pro Series, Alison's brother Bobby East became the youngest National Midget champion, Bobby is a USAC driver.
Mrs. East became Alison Leffler when she got married to Jason  in Hawaii on December 11, 2001. Alison and Jason welcomed their son Charlie Dean now aged five on August 16, 2007.
There is no mention about what happened to Alison, Charlie lived with his dad, and we couldn't find any divorce papers either, you won't find her under Alison Leffler  but under Alison East, currently dating motocross driver Alex Ewing.
But what about Jason Leffler, did he moved on, was he dating someone else? we can't be 100% sure about this but records online showed that he was somehow involved with a pretty 27-year-old girl named Julianna K. Patterson.
Follow Jason Leffler's ex Wife Alison on Facebook here and Twitter here