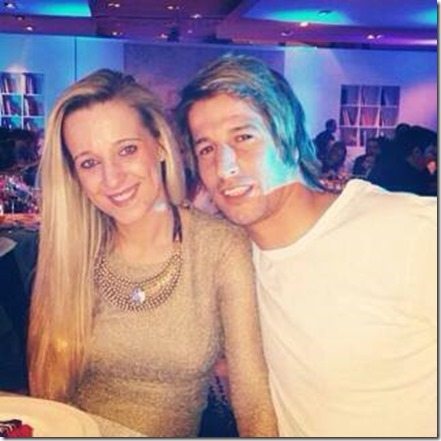 Pin
GOLF PARTNER
THE LARGEST GOLF CHAIN STORE IN THE WORLD
MAKING GOLF A SPORT FOR EVERYONE.

Andreia Santos is the beautiful blonde wife of Portuguese footballer Fábio Coentrão. The couple has been married for almost four years and are the proud parents of an adorable little girl. Before trying the knot Santos was his long time girlfriend, she got pregnant and things became more serious between the couple. She is also Portuguese and has been described in the media as coming from a humble family just like her man.

Andreia and Fabio were first introduced at someone's wedding anniversary. They got married in May 2010 at Fabio's aunt's house.

In that time Andreia was seven months pregnant. After wedding they welcomed their first baby daughter Vitória in July of 2010.

Fábio said about his beloved wife Andreia, "We've been together a year and she lives with me in Lisbon. She is beautiful and is an excellent person, which gives me stability and it is not easy to find a woman like her."

Andreia's husband Fábio Alexandre da Silva Coentrão was born on 11 March 1988 in Vila do Conde, Portugal. He plays in Portuguese national team. He is also plays for Real Madrid in Spain, and the . Mainly a left back but he can also operate as a left winger, and occasionally as a central midfielder.

Her hubby is recognized by the way that surrenders to the game, the will, the determination, the race, he does leave everything on the field, Fabio Coentrao is now touted as one of the best left-backs in the world.

Since joining Benfica, has been touted as one of its biggest stars, consecrating themselves national champions in 2009/10.

In 2011 he joined Real Madrid and was soon considered the best in the field in the first game in which he participated.

Last year Andreia and her hubby went through a rough time after her father-in-law passed away from a long illness, leaving the player and shattered family. It was said during that time the couple was even separating but Fabio cleared up the air saying
I just read totally unfounded stories about me. It is a lie, I am not separated from my wife and I ask you to respect this difficult time I'm going through.
Last April Andreia Santos, celebrated her 30th birthday with a party surrounded by friends and family. The speech therapist, who is pregnant with her second child, shared many moments of the night on her Instagram page, which took the opportunity to make a declaration of love to the footballer.
Find her on Instagram here.