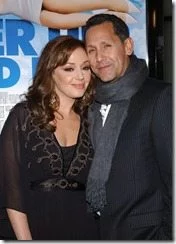 Who is Angelo Pagan? Well meet Leah Remini hubby on season 17 DSWT show!
Let's talk a little about these two. Remini has made her career mostly in comedy but her mom still can show off on her. In addition to the 1998-2007 run opposite Kevin James in CBS' "King of Queens," Remini has worked progressively in a string of sitcoms as well as "Cheers" and "In the Motherhood." She was a co-host on "The Talk" for a year and is venturing into reality TV production with her husband, actor Angelo Pagan.
On the other hand, Angelo Pagan is not only Leah's husband, did you know he proposed in a candle-lit in a Los Angeles restaurant? This happened on December 24, 2002.
His wife, gave birth to a baby girl, Sofia Bella, in Los Angeles at 3:01 p.m., who weighed in at 6 pounds, 4.7 ounces and measured 18 inches. [16 June 2004]
He is son-in-law of Vicki Marshall and stepson-in-law of George Marshall. He is also brother-in-law of Nicole and stepbrother-in-law of Shannon Farrara.
He did get married with Leah on July 19, 2003. This was aired on the VH1 series Inside Out. Remini was also showcased on The Rachael Ray Show throughout a stage of time she was trying to wean her child of pacifiers and drinking from a bottle.
Angelo was born in the Bronx , New York , Pagan got his start in music but rapidly transitioned into film and television. He began working in television commercials and worked with The California Shakespeare Company and The Berkley Repertory Theatre Company as attending college. While living in San Francisco , he wrote, produced and acted in six films that were financed by the University of California , San Francisco . Between those projects, produced in partnership with the medical University, were two award winning dramas. Honors included: The American Film Festival Blue Ribbon, National Educational Film Festival, American Public Heath Association Honoree and Planned Parenthood Film Festival Honoree.
Pagan began performing on the club circuit with his band Salsa Caliente. In 1988 he was signed to Nasty Mix Records. In 1995 Pagan joined Johnny Polanco's Conjunto La Amistad and in 1998 he was a part of Orquesta La Palabra.
He worked in in Kiss Shot, starring Whoopie Goldberg and Dennis Franz. Other high profile TV projects embrace Robin Cook's Virus starring Nicollette Sheridan and Lansky starring Richard Dryfuss, Beverly D'Angelo and Anthony LaPaglia. Television series credits include Dharma and Greg, 24, The King of Queens and Without A Trace, just to name a few. Pagan was Associate Producer on the VH-1 documentary Inside Out: Leah Remini and he Executive Produced VH-1's follow up Inside Out: Leah Remini the Baby Special.
Now see him in DWST!!!!
His FB here.