Gabe Chuckran
Gabe Chuckran was once a lucky man as he is believed to be the former boyfriend of gorgeous media personality and sports reporter, Erin Kate Dolan.
Gabe's ex-girlfriend is an up and coming reporter who is currently employed at PointsBet Sportsbook, who recently experienced a distasteful scene while reporting live.
Dolan who was reporting live ahead of Monday Night Football between the New England Patriots and New York Jets at Metlife Stadium this week -was doing an interview to a male Patriots fan when the latter lunged to kiss her.
The blond was able to dodge the disrespectful fan and though things didn't escalate she took to Twitter to express her anger 'I laughed off this fan trying to kiss me at MNF, but I was PISSED!' -she wrote.
Unfortunately, Erin is not the first broadcaster to experience this type of on the job behavior.
Erin graduated summa laude from Penn State in 2018. She began her career working as a freelance sports reporter at PHL17 in Philadelphia and as the Philadelphia Wings sideline reporter.
According to a website, Erin is currently the on-air talent and global face of PointsBet, America's fastest growing online bookmaker. You may have seen her as she hosts the "Pick 6" with Adam Caplan, "Behind the Lines" with Michael Lombard, and the "NCAA Pick 6" with Max Meyer. In addition, she is the lead reporter for the "Blitz" -And did we mention the beautiful lady keeps her fit figure since she is a certified personal trainer? Well, she is.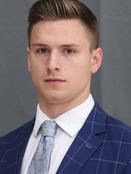 Truth be told, she seems like a great catch and any guy would be lucky to date her. It appears she and Gabe Chuckran were an item for a while but its unclear why the couple split. The two seemed pretty tight back in 2017, this from social media photos.
Gabe Chuckran was born to parents Elaine Bassill and Russ Chuckran. He has four brothers, Michael, Nathaniel, Daniel and Emanuel.
Chuckran happens to be a hockey player who earlier this year signed a professional contract. Over the summer Gabe was signed to the Pensacola Ice Flyers.
According to his LinkedIn, he attended Penncrest High School and later played college hockey at the University of Massachusetts Boston. He graduated with a Bachelor of Science -BS -Finance, General degree.
While in college, he was also a member of the Student Atlletic Advisory Committe.