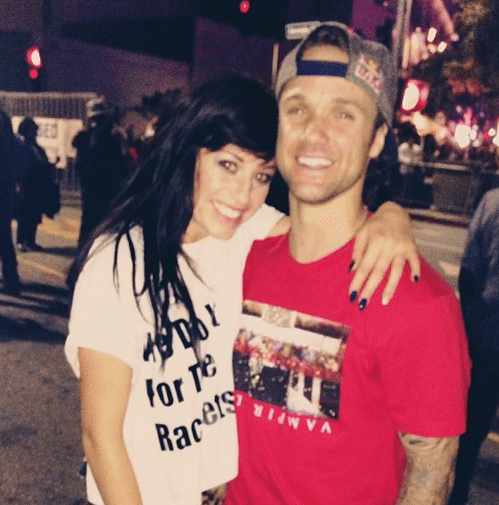 Meet professional dancer and entertainer Ashley CinqMars. Besides being super successful at what she does she is also the girlfriend of hot snowboarder Louie Vito.
Ashley Cinq-Mars was born on April 19 and raised in Norco, California. Her profile at BLOC Agency says she began dancing at the age of three, training in all styles of dance including, ballet, contemporary, modern, jazz, hip-hop, and musical theater.  As an advocate of her Community, she has performed with Kids for Kids Charity, the Riverside Festival of Lights Tea Party, benefitting the children at the Riverside County Hospital, and Aids Walk and Benefit.  She completed her training at Just Plain Dancin and Company in Corona, California where they were involved in many competitions and conventions.  She won various top awards at many competitions including Miss Headliners and trained under amazing choreographers at conventions and master classes.
Her first edge class was with Sonja and at the beginning she says she felt intimidated but by the end of the class she felt free as a bird. On danceplug.com she reveals she is very visual saying every time a song comes on, no matter what genre, she is  always picturing a dance with choreo, lighting, costumes, hair/make-up and props.
Her resume includes gigs on TV, music videos, print ads, stage and more. Ashley reveals
getting called out to dance by myself to "i just can't stop" by ne-yo, was incredible and the support was amazing.
Cinq-Mars is also knonw for her acting jobs, including #1 Cheerleader Camp (2010), Victorious (2010) and iCarly (2007). On twitter she describes herself as
Entertaining is my gig…find me on the web or in la with my friends achieving goals
Definitely the outgoing type. Although they couple don't have many pictures together-probably because of their crazy schedules-rumor is they are an item. The snowboarder and Cinq-Mars exchange tweets from time to time and last year Vito tweeted her a happy birthday wish. Her man, will be competing in this year's X Games and doesn't think balancing the two jobs will be a problem, referring to his new gig as co-host alongside Brandon Graham.
You can find beautiful Ashley on Facebook here or follow her on twitter here. See more of her pictures on instagram here.