This handsome guy is Luke Untermann; he is the amazing husband of the U.S. Olympic surfer Carissa Moore, four-time WSL Women's World Tour Champion, six-time ASP Elite, and 11-time NSSA National titleholder.
Carissa Moore Parents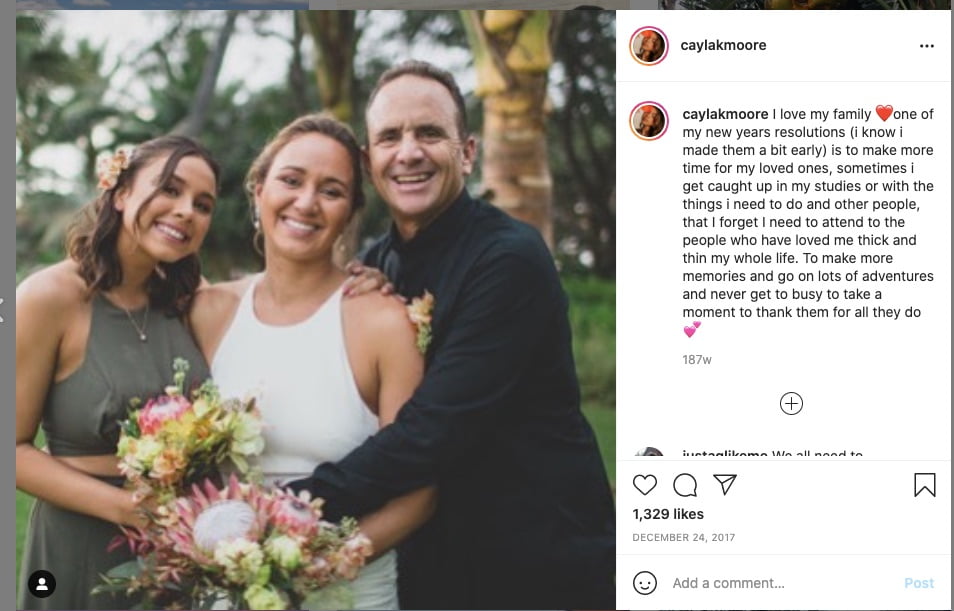 Carissa was born Carissa Kainani Moore was born in Honolulu, Hawaii, on August 27, 1992; she is the daughter of Chris Moore and Carol Lum. Carissa's dad Chris Moore a former competitive open water swimmer, introduced her to surfing at an early age.
He wanted to find a way to keep me home, she says. If I fell in love with the ocean, I wouldn't move very far. Dad taught me how to surf when I was about four or five years old at Waikiki Beach and I was immediately hooked.
Chris and Carol Lum divorced when Carissa was ten, surfing wasn't possible for Carissa when she lived with her mom, but things were totally different when she stayed with her dad.
"I didn't surf when I was with my mom," she says. "Just on my dad's days."
Surfing was a bond between Carissa and her dad; sadly, her relationship with her mom Carol deteriorated when surfing was no longer an after-school activity and turned competitive.
"And just, feeling like you want that acceptance from your mom and that love from your mom, but you guys are on two opposite ends of the spectrum,"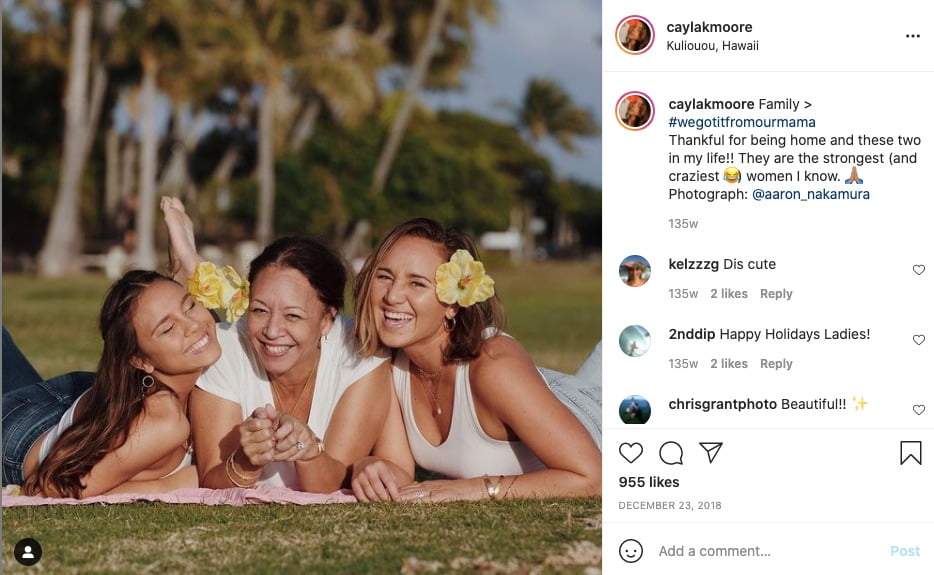 Fortunately, things got better between Carissa and Carol, who for the first time was at the 2015 Target Maui Pro was sitting with Carissa's friends in Honolua Bay in Maui.
"Things really came full circle for me and her in 2015," says Moore.
Carissa Moore sister Cayla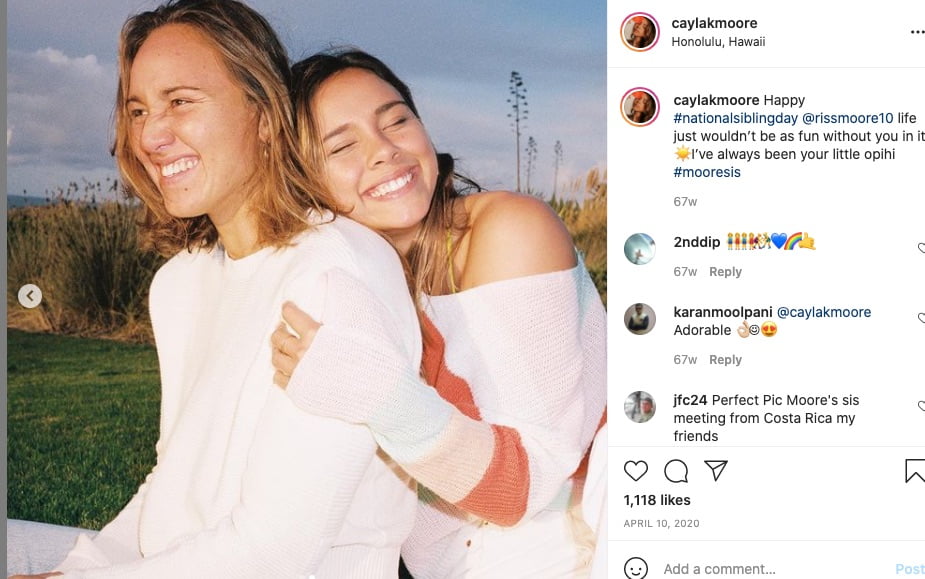 Cayla Moore is Carissa's younger sister; like her famous sister, Cayla is a surfer, but she is also an artist.
Art is how I express myself," she explains in the video above. "It says more than my words ever could."
Kamehameha High School graduate Cayla Moore won the 2018 NSSA collegiate, plus four additional National Titles; she holds a degree in business administration from Santa Barbara City College and Pepperdine University. She is the Owner of A Mua Loa, editorial coordinator at the World Surf League, and founder of her clothing brand Luana Lounge Wear.
Carissa Moore Height/ Weight
Carissa Moore's height is 5'7 in /170 cm. She weighs 64 kg or 140 lb. She struggled with her weight, and eating disorders followed.
"Look at the surf industry at that point in time," she says. "They're like, 'Hey if you gain too much weight, you're not going to have sponsors and if your are too big, your surfing is going to be off.' "

"No one really understood why I was gaining weight, because I wasn't really truthful about it. I was still working very hard," she says. "But because people were judging a book by its cover, they didn't see all that training behind the layers of fat that were there because of a lot of different things that nobody understood."
Carissa eventually won the battle with her body.
Hey, this body has won me three world titles," she laughs.
Carissa Moore Net Worth
Carissa Moore has a net worth estimated at $4 million; she has earned over $2.1 million in career earnings; the rest of her fortune comes from her many endorsements deals.
Carissa Moore and her husband Luke live in a beautiful house in PaloloValley in Oahu, Hawaii.
Our house is the very last house in the valley, so you can't see another house from my porch. Behind my house is this beautiful green valley. It's quiet and there's a stream that runs through it.
Carissa Moore Sponsors
Carissa Moore earns over $2 million from her endorsement deals with Red Bull, Nike, Hurley, Subaru Hawaii, Target, and Visa.
Subaru Hawaii became a part of her life in March 2016. Carissa and Target announced their partnership in 2009.
 "I love Target and I am honored to make my relationship with them official," said Carissa. "Target opened two stores in Hawaii this year and it's been great to have one so close to home. I'm really excited and am looking forward to working together. I know we'll have a lot of fun."

"Carissa is a phenomenal athlete as well as a terrific ambassador of women's surfing. We are excited about the partnership and to be supporting her in ways that will assist her continued progression," said Troy Michels of Target lifestyle marketing.
Carissa Moore Husband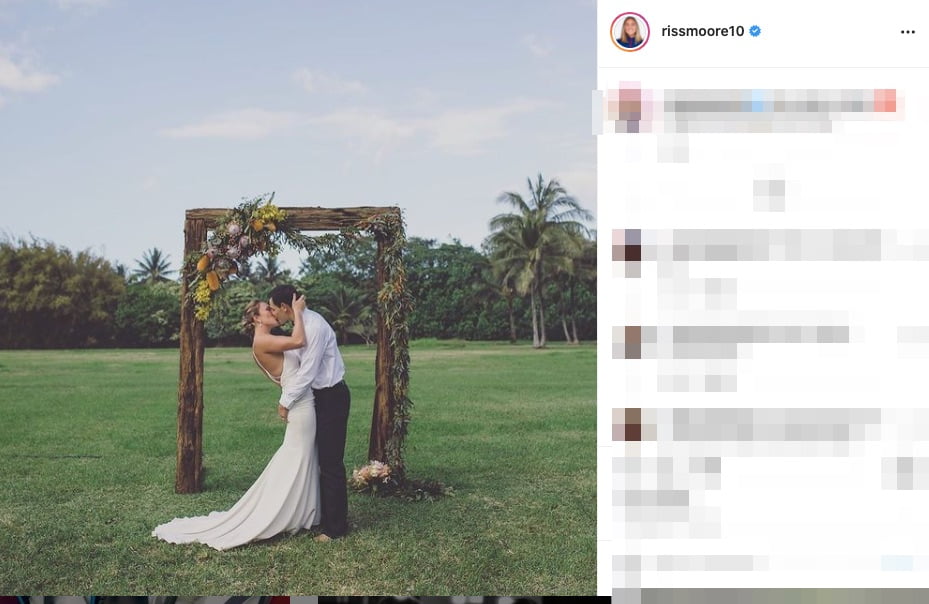 Carissa Moore's husband is Luke Untermann, her high school sweetheart who became her husband on December 16, 2017.
"I'm so happy with how everything turned out!" Moore said in a statement after the ceremony and luau. "Luke and I are so grateful. We're just high school sweethearts who are so excited to be starting this next chapter of our lives together."
Luke Untermann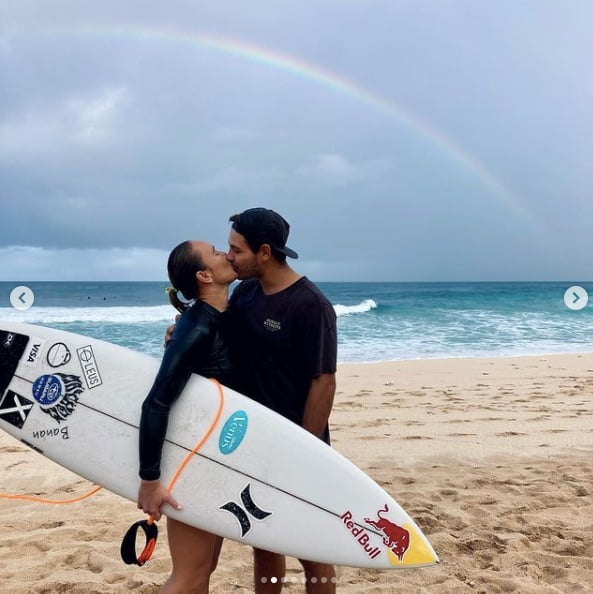 Luke Thomas Untermann was born on January 28, 1992, in Honolulu, Hawaii; he attended Punahou School and later at the University of Hawaii. Along with childhood friends Zak Barry, Galen McCleary, and Matt Hong, Luke founded Banan in 2015.
What we do We turn local bananas and other island-grown ingredients into a frozen fruit soft serve! Our Mission Here at Banán we strongly believe in supporting local farmers and boosting the local economy. Why? Because by consciously making the decision to buy local, people become more connected to themselves, their communities, and the land they live on. Banán strives to build a happier and healthier world by bettering these three spheres of our customers' lives.