This pretty gal is Meghan Dressel; she is the beautiful wife of Caeleb Dressel, the U.S. Olympic swimmer, member of the USA Men's Olympic Swimming Team. Swimming in the freestyle and butterfly strokes, Dressel represents Cali Condors Swimming Club.
Caeleb Dressel Parents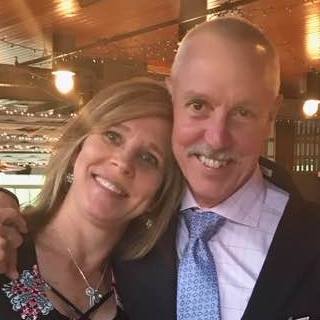 6'3 Caeleb Remel Dressel was born on August 16, 1996, in Green Cove Springs, Florida. He is one of the children born to Michael Dressel and Christina Dressel. His siblings, also competitive swimmers, are Sherridon, Tyler, and Kaitlyn Dressel.
Caeleb Dressel Mother Christina Dressel
Caeleb's mom Christina Cooper Dressel was born on May 18, 1967. She is an office manager in Green Cove Springs. Christina was out of words when Caeleb got the chance to represent the United States at the 2016 Olympics.
"Well he wants to make it to Rio and represent his country," she said. "That's his ultimate goal. That's why the other part of his tattoo is the American flag and he said it's a constant reminder of him wanting to represent his country."
"I don't think a parent can put it into words. There's no way," she said. "I've never left the country. It's on my bucket list and to have your own kid fulfill that would be unreal."
Caeleb Dressel dad Michael Dressel
Caeleb's dad Michael Andrew Dressel was born on August 16, 1956; he attended John Dickinson High School, the University of Florida, and the University of Delaware 9where he swam for the Men's team). Dr. Michael Dressel is a veterinarian at Chimney Lakes Animal Hospital in Jacksonville, Florida.
Caeleb Dressel Siblings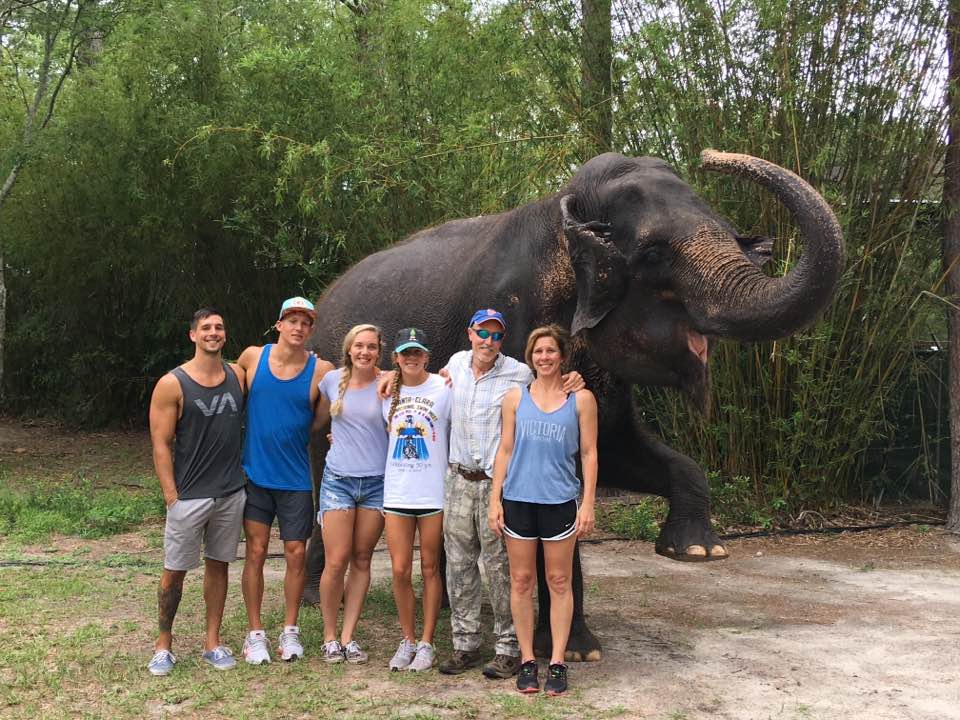 Caeleb Dressel's three siblings are Sherridon Kaitlyn and Tyler; as previously noted, they all are competitive swimmers.
Sherridon Dressel
Sherridon Louise Dressel was born on July 20, 1998; she attended Clay Junior High and later went to the University of Florida, where she was a member of the women's swimming team and graduated in 2020 with a bachelor of science in public health education and promotion; she hopes to work as a nurse.
I am an aspiring nurse looking to fulfill a position where I can utilize my four years of health education experience and specialized skills to support and inform the community on public health. I have dedicated countless hours to visiting healthcare facilities such as Shands Children's Hospital, specifically the pediatric unit for patients who are waiting for treatment. I am an efficient and timely person who craves order and organization.
Sherridon won a silver medal in the 100 backstrokes and a bronze medal with a new personal-best swim of 51.20 in the 100 flies.
Kaitlyn Dressel
Kaitlyn Elizabeth Dressel was born on May 25, 1993, on Green Cove; Kaitlyn, a sprint freestyle swimmer,  qualified for the 2012 Olympic Trials in the 100 freestyle. She enrolled at Florida State University, broke the school record in the 200 free (1:46:26), placed 16th at the NCAA Championships, won her bronze medal at the 2013 ACC Championships in the 100 freestyle. Kaitlyn Dressel graduated from FSU with a major in studio art.
Tyler Dressel
Tyler Andrew Dressel was born on January 25, 1992. Tyler graduated in 2015 with a Bachelor's degree in English and literature. Tyler started his working experience with his father at Chimney Lakes Animal Hospital; in 2011, was an impact team member at Abercrombie & Fitch; from 2012 to 2016, was a technical communicator at Mitchell Hammock Pet Hospital.
After that, he was an editor for the CoventBridge Group in Orlando; Tyler worked freelance writing for Ultius in Wilmington, Delaware; since March 2018, has been a copy writer for Colonial House Press, in Winter Garden, Florida.
Caeleb Dressel College
After Caeleb Dressel graduated from Clay High School in 2014, he attended the University of Florida in Gainesville.
Named to the 2014 First-Team All SEC.
Three-time SEC Freshman of the Week.
Was invited to the 2015 NCAA Championships
He was named the 2015 SEC Freshman Swimmer of the Year.
Caeleb was a runner-up in both the 50-yard free and the 100-yard free.
Won the NCAA title in the 50-yard free.
Dressel  earned Honorable Mention honors in the 100-yard free and 100-yard butterfly.
Caeleb Dressel Olympics
Caeleb Dressel became the youngest swimmer at the 2012 U.S. Olympic Trials, where he placed  145th in the 50-meter freestyle, 52nd in the 100-meter freestyle, and finished the 200-yard free relay in 19.82 seconds.
He won his first gold medal in the 4×100 meter freestyle relay at the 2016 Summer Olympics in Rio de Janeiro and a second one when the Olympic team finished first in the finals. He finished sixth in the 100-meter freestyle with 48.02, recorded a freestyle split of 47.74 in the heats.
Caeleb Dressel Instagram
Caeleb Dressel is pretty active his Instagram account, where he has over 312k followers. Caeleb gives us an intimate look into his life and career, he will without a doubt give us all a closer look into the 2021 Summer Olympics in Tokio.
Caeleb Dressel Tattoo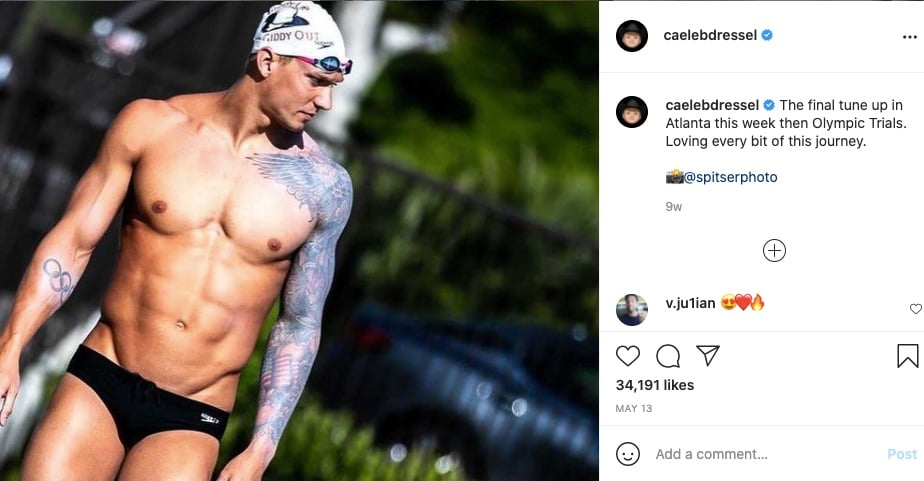 Caeleb Dressel has five tatoos in total, but certainly one that stands out in his massive left arm tattoo,  that includes a gator from his days at the University of Florida, an eagle on his shoulder, the American flag, and a ferocious bear. He added the Olympics rings to his right upper arm.
Caeleb Dressel Net Worth
According to records online, Caeleb Dressel has a net worth estimated at $3 million; Dressel has endorsement deals with Coca-Cola, Reese's Chocolates, Speedo, and Toyota.
Caeleb Dressel Married
Caeleb Dressel is indeed married; his wife is his longtime girlfriend and fellow swimmer Meghan Haila, now, Meghan Dressel. This is what we can tell you about her.
Caeleb Dressel Wife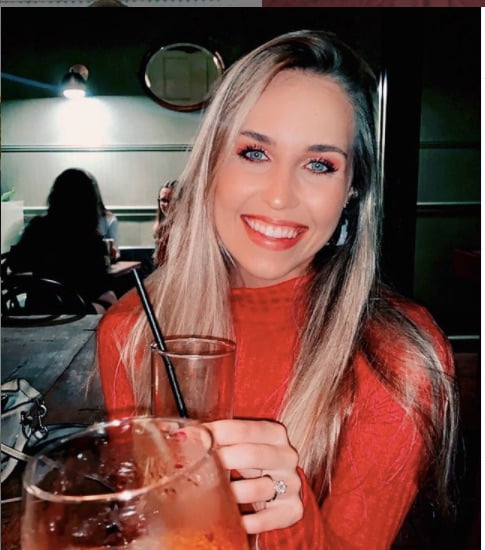 Meghan Dressel
Meghan Dressel was born Meghan Amanda Haila on May 18, 1996. She is the daughter of Jeff and Sue McCauley Marrinan. Her dad Jeff graduated from Southern Illinois University in Carbondale in 1990 and is nowadays a regional asst VP at Home123 in Saint John's, Florida. Meghan has one younger brother named Danny Haila.
Meghan Dressel attended Creekside High School in Florida before attending Florida State University and subsequently at the University of Florida; she holds a double major in Family and Child Sciences and Psychology from FSU and a Master of arts in education, marriage and family therapy, and counseling.
From 2016 to 2018, Meghan was an adult and child swim instructor at the Tallahassee Swim School; around that same time, she worked at the Tallahassee Aquatic Club. Meghan and Caeleb trained together at the Bolles School Sharks club program; they started dating in September 2013.
Caeleb asked Meghan to marry him on November 29, 2019, at Shands Pier.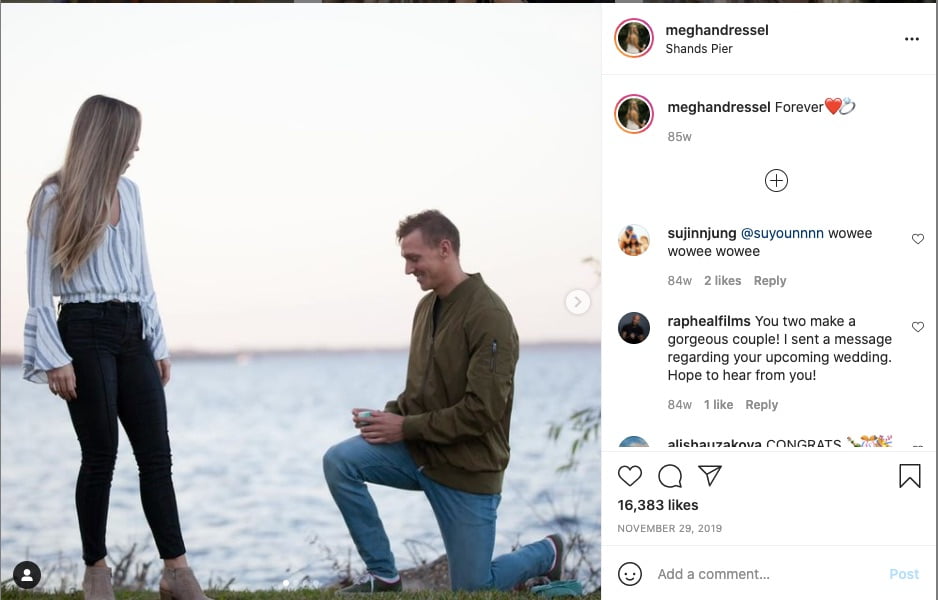 They got married on February 13, 2021, at the Bowing Oaks, in Jacksonville, Florida.