Kenneth Ferguson
Kenneth Ferguson is the loving, caring, and handsome husband of Olympic medalist Allyson Felix. The track and field sprinter and four-time recipient of the Jesse Owens Award won two gold medals in addition to her three silvers medals in the 400 meters at the 2016 Summer Olympics in Rio, Brazil.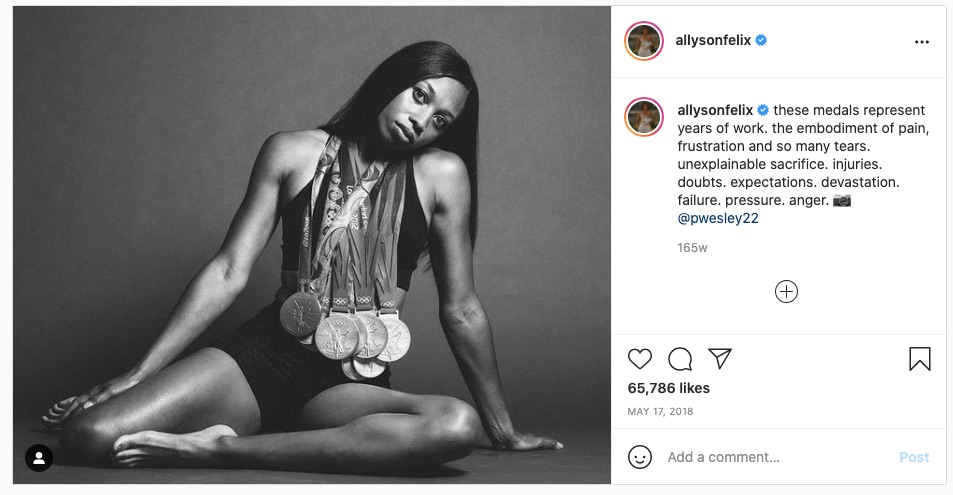 Allyson Felix Net Worth & Endorsements
As of 2021, Allyson Felix has a net worth estimated at $4.5 million. Allyson has an endorsement deal with Pantene, FIJI Water, Gap's athletic brand Athleta, the same brand endorsing Simone Biles after she too ended her partnership with Nike.
Allyson Felix Instagram
Allyson Felix is pretty active on social media; she has over 866k followers on Instagram and 729.3k followers on Twitter; she gives her followers an intimate look into her life in the running track and her life with her husband and their daughter.
Allyson Felix Nike
Allyson Felix had a deal with Nike, but that changed after the birth of her daughter when Nike wanted her back on the track as soon as possible and a 70% pay cut.
"I was told to know my place. That runners should just run, that it's just business," Felix recalled.
Allyson accused Nike of being unsupportive towards athletes during their pregnancy.
"One of the deciding factors for me in signing with Nike nearly a decade ago was what I thought were Nike's core principles. I could have signed elsewhere for more money," the sprinter wrote. "But when I met with the company's leadership in 2010, one woman told me about a Nike-sponsored initiative called the Girl Effect that promoted adolescent girls as the key to improving societies around the globe. By joining Nike, she said, I could help empower women. She told me Nike believed in women and girls, and I believed her. Which is part of why my recent experience has been so heartbreaking."
Allyson suffered from severe preeclampsia and had to undergo an emergency c-section at 32 weeks.
"If that's what they think I'm worth now, I accept that," she admitted. "What I'm not willing to accept is the enduring status quo around maternity. I asked Nike to contractually guarantee that I wouldn't be punished if I didn't perform at my best in the months surrounding childbirth. I wanted to set a new standard. If I, one of Nike's most widely marketed athletes, couldn't secure these protections, who could?"
"I've been running my whole life. I'm good at it, and I've got a lot of medals to show for it. I was scared to stop running. I wasn't sure I would fully know who I was without it. Like many women, I was afraid that starting a family would be a 'death sentence' for my career. I did it anyway. During my pregnancy, I faced a gender injustice that I couldn't run away from. My employer did not support my maternity and my colleague's maternity in a way that I could be proud of. I was told to know my place…Instead, I spoke up. I used my voice to fight for maternal protection for female athletes. No woman should have to choose between being a professional and being a Mother. Now, because of that fight, sponsorship contracts look different for a lot of athletes," wrote Felix.
"My disappointment is not just with Nike, but with how the sports apparel industry at large treats female athletes," she explained in the op-ed. "This isn't just about pregnancy. We may stand behind the brands we endorse, but we also need to hold them accountable when they are marketing us to appeal to the next generation of athletes and consumers."
Allyson Felix Brand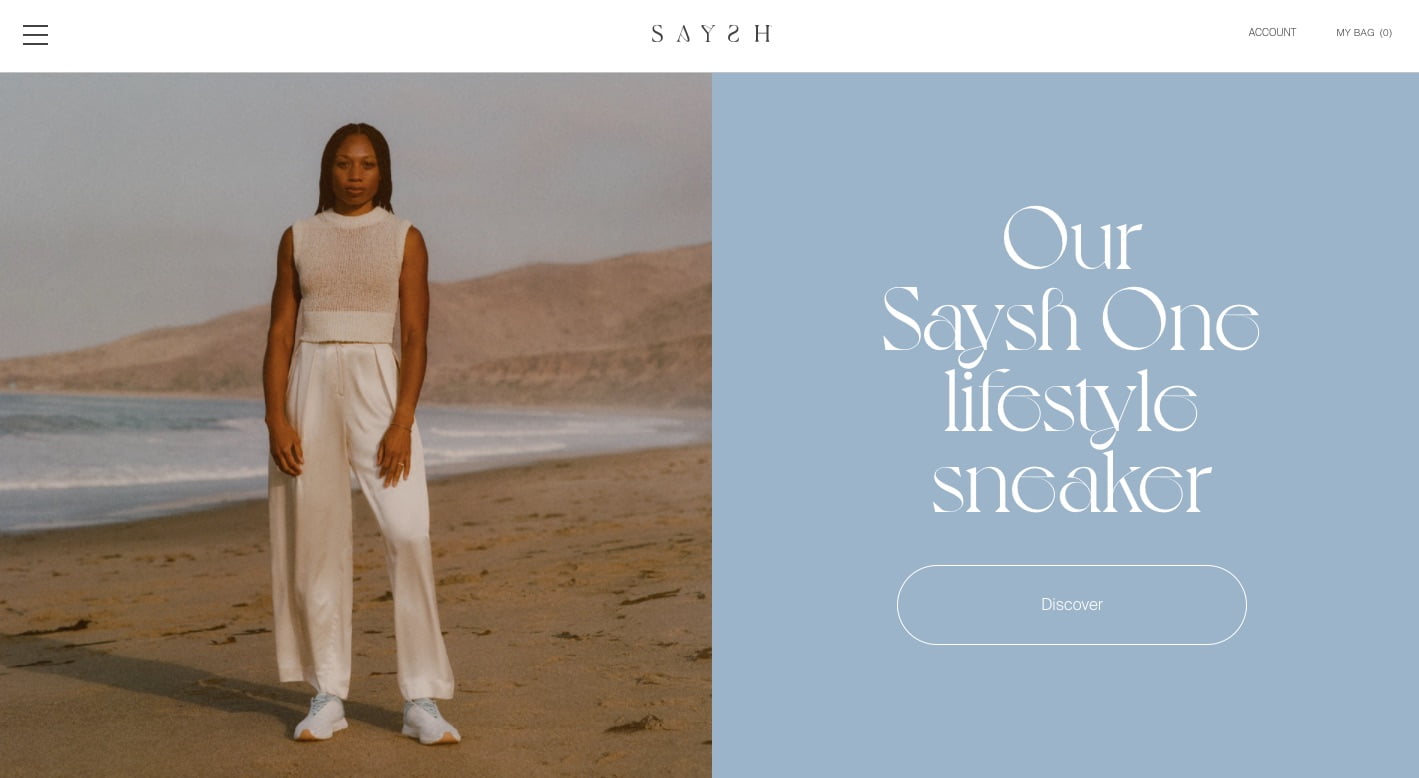 The Allyson Felix brand was born after her split with Nike; Felix's brand is Saysh in partnership with her brother Wesley Wes Felix and Darren Breedvelt; all of Saysh's shoes are specially made for women and designed by women who previously worked with Nike.
"Every person who buys a pair will receive a lifetime membership into the Saysh Collective, a digital subscription service offering perks, workout videos, conversations with Felix, and more. She donned a pair of Saysh spikes while securing her fifth Olympic spot, and she'll make sure she wears them again in Tokyo."
Is Allyson Felix Married?
She sure is; Allison Felix is happily married to gold medalist Kenneth Ferguson, the Detroit native is a sprinter, hurdler, and father to Allyson's beautiful daughter.
Allyson Felix Husband
But you all know about the lovely Allyson. Therefore we will spill the beans about her husband Kenneth Ferguson; for years, there was speculation about their wedding, many were even sure Allysonand Kenneth were married or just dating, but it's pretty clear that Felix is a married woman; here is what you need to know about her husband, Kenneth Ferguson.
Kenneth Ferguson Biography
6'2″ Kenneth Ferguson was born on March 22, 1984, in Detroit, Michigan; he is the son of  Kenneth and Jeaynell Ferguson.
He graduated in 2003 from Mumford High School, before he graduated from the University of South Carolina in 2006, where not only did he pursue his major in Computer Science, but he also became a star sprinter for the South Carolina Gamecocks track and field team.
Ferguson, specializing in the 400 meters, 110, and 400-meter hurdles, won three gold medals at the 2003 Pam American Junior Championships in Bridgetown, Barbados.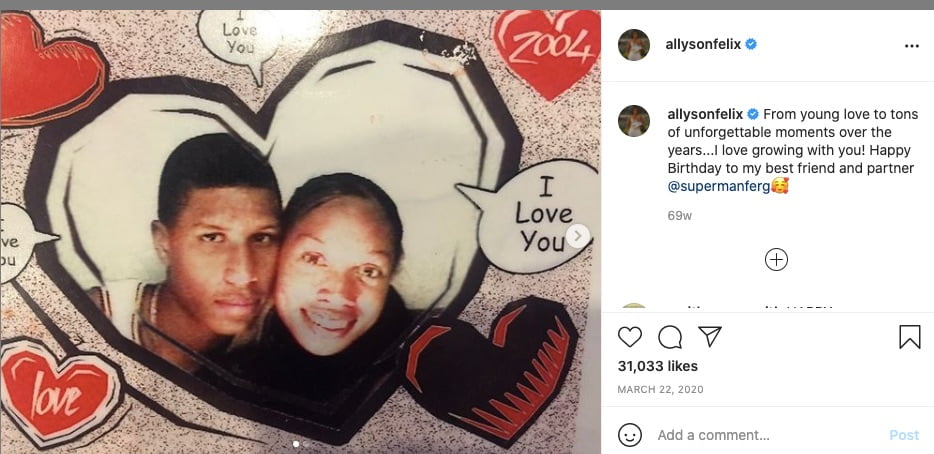 Before Allyson and Kenneth started dating in 2004, it was rumored she allegedly dated NBA player LeBron James, but I doubt it as Allyson and Kenneth started dating when they were pretty young.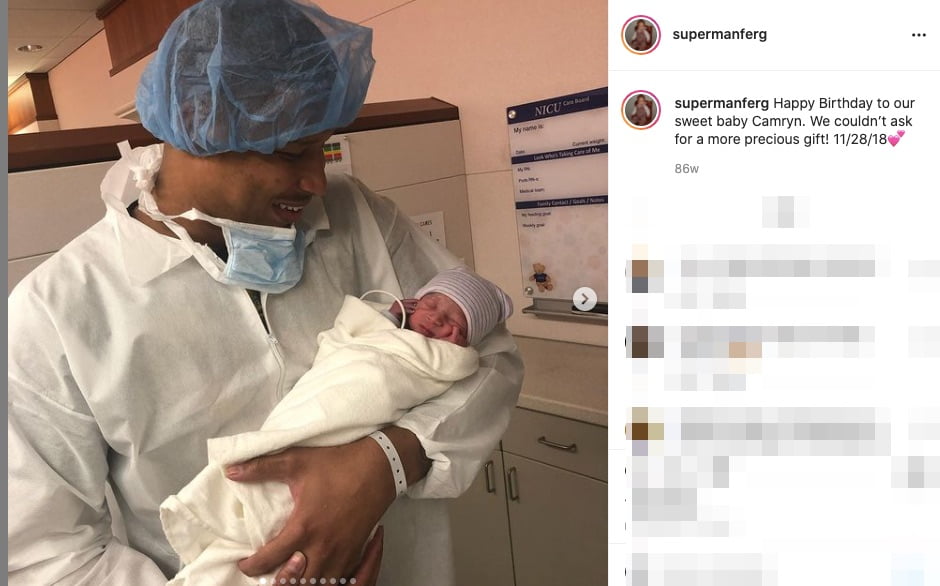 Kenneth Ferguson and Allyson Felix welcomed their beautiful daughter Camryn Grace Ferguson on November 28, 2018.
Read: Sydney McLaughlin Boyfriend Andre Levrone