Meet Ryan Hunter-Reay's beautiful wife Becky Hunter-Reay also known as Becky Gordon the little sister of racecar driver Bobby Gordon.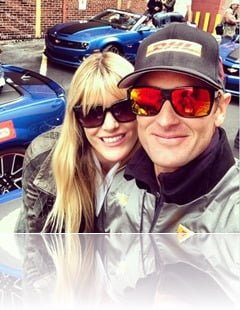 Beccy Gordon or Beccy Hunter-Reay was born to a racecar drivers family her grandfather is Huntley Gordon, her father Baja Bob Gordon, her mom Marlene Gordon who ran the Baja 500 while she was heavily pregnant with Becky and her older sister Robyn Gordon who became famous after she became the only woman to win the Baja 1000.
Between 2004  and 2005 she was a pit-reporter and feature host for the Champ Car World Series , then in 2006 Beccy joined her sister Robyn in the creation of their an all female off-road race team, All-American Girl Racing, in  2008 Toyota Pro/Celebrity race, that same year she raised money for "Racing For Kids".
But Beccy didn't stop there she was part of the U.S Olympics Softball Team that participated  at the 1992 Olympics in Barcelona, Spain.
Mrs. Hunter Reay's impressive good looks didn't go unnoticed and soon she was modeling swimsuits for Ralph Lauren, Roxy, Quicksilver, Speedo and Victoria's Secret,
Beccy graduated with a Bachelor f Arts degree from Chapman University, last year she drove electric Mitsubishi "i" car when she made her first appearance at the Pikes Peak International Hill Climb, she is currently working as a spokesmodel for NASCAR and Phoenix International Raceway.
Beccy and Ryan got married on July 3d, 2011, they are the proud parents of their 5month-old son Ryden.