Betsy Gonzalez
Meet gorgeous Betsy Gonzalez, the wife of the amazing Adrian Gonzalez, known by the nicknames A-Gon and Gonzo, he is the MLB first baseman with the Los Angeles Dodgers. he previously played with the San Diego Padres, Texas Rangers, Boston Red Sox and the Miami Marlins. Prior to the MLB, Gonzalez played at Eastlake High School in Chula Vista, California
Betsy who's been married to the talented player since 2003, must be very proud of her hubby; her hubby has driven in 100 or more runs, additionally he is a two-time Gold Glove winner and four-time All-Star selection.
But what we really want to share with you is about his lovely wife.
Betsy Gonzalez Bio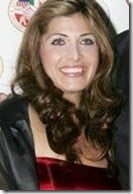 Betsy met her hubby while in high school. Back then, everybody knew her by her maiden name,  Betzabe "Betsy" Perez, the picture perfect girl from Chula Vista, California.
The high school sweethearts graduated together and became inseparable.
Adrian and Betsy Gonzalez have one of those romantic stories you all like to hear about. Besides being the athlete that he is, Adrian was pretty swept away by Betsy and the feeling inspired him to do something that Betsy described as both romantic and embarrassing.
The story goes like this, during graduation day at Bonita Vista High, an airplane with a banner caught everybody's attention, it said "I Love Betsy, #19."
"I was embarrassed, but it was a cool thing. Very nice indeed" she said. "The plane had to go around a second time before I could get what it was saying. It was kind of surreal."
That was enough to melt everyone's heart but Betsy didn't say "I Do" until their wedding in 2003. The couple have two adorable children together. Betsy gave birth to their first child, a baby girl in 2011 and another baby girl followed.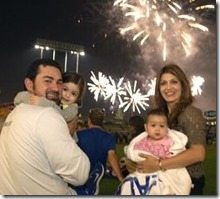 His #1 fan
Betsy is very supportive of her husband, the couple shares an interest for helping those in need. The couple created "The Adrian and Betsy Gonzalez Foundation.
Created  to empower underprivileged youth in areas of athletics, education,  health and other essential parts for the development of any child's future.
Betsy, also worked with the Red Sox Foundation, she and Adrian donated and gave out toys to children at the East LA Annual Winter Wonderland Holiday Celebration.
They are always together for their foundation gatherings. That's a wrap, guys, not much else out there about this the lovely mom, wife and sports wag but whenever you see Adrian, you keep an eye for Betsy, she is always by his side.