33-year-old Anne Marie Carbonneau, is the wife of NHL vet Brenden Morrow. Her 36-year-old hubby currently plays for the Tampa Bay Lightning and will face later today the Chicago Blackhawks to get one step closer to what would be his first Stanley Cup!
Brenden was drafted in the Entre Draft of 1997 by the Dallas Stars, team he's mostly known for having played with them for 13-seasons. He also played briefly for the Pittsburgh Penguins and St. Louis Blues. He was signed as a free agent to a one-year-deal with Tampa in July 2014.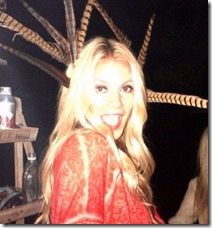 Anne Marie has a famous last name, that's because she's the oldest daughter of former coach Guy Carbonneau –who has been long-known as a fantastic hockey player and coach in both Montreal and Dallas.
Anne Marie and Morrow tied the knot in 2002 and have three children together. The pretty blonde gave birth to daughter Bryelle and in 2008 the couple welcomed twins, daughter Mallory and son, Brody. The family of five, currently reside in Florida.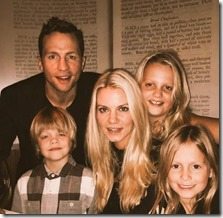 Anne-Marie is a busy mom, in charge of three small children but we give her props for keeping her updated her social pages. She keeps pretty active on social media, we'd say she prefers Twitter but both her Twitter and Instagram accounts go head to head. She's constantly posting about daily life and of course about hanging out with friends and her family.
The mom of three is super supportive, like a true hockey wife she sends little encouragement messages to her hubby of 13-years. After all those years and three kids, the hot blonde sure keeps things spicy, don't miss her photos below!