What is Cam Newton's net worth in 2021? NFL quarterback Newton played 9 seasons with the Carolina Panthers before signing a one-year contract with the New England Patriots following Tom Brady's departure. Although Cam and the Patriots didn't have a good season together Bill Belichick had the nicest things to say about Newton, prompting us to think he will play for New England this season as well. Having said aren't you curious about what is Cam Newton's net worth?
Cam Newton Net Worth Time Line
In July 2011, Cam Newton agreed to a four-year contract, worth over $22 million, with the Carolina Panthers.  That year Cam made $14,893,544. He received $1,376,159 in 2012, $2,377,318 in 2013, and $3,378,477 in the last year of his rookie contract.
He agreed to a five-year, $103.8 million contract extension with the Panthers on July 2, 2015, that year he got $24,000,000; a year later took $20,000,000, in 2017, received $23,666,666. Earned $15,000,000 in 2018 and $16,701,357 in 2019.
On July 8, 2020, Cam signed a one-year, $1,750,000, a base salary of $550,000, playing time bonuses, and incentives that sum roughly $7.5 million.
On Marg 12, 2021, Newton signed a contract extension with the Patriots; the one-year deal was worth $13.6 million; sadly the Patriots released him on August 31, 2021.
On November 11, 2021, Cam Newton and the Carolina Panthers agreed to a one-year, $10 million deal including a $1.5 million roster bonus and $4.5 million guaranteed.
Cam Newton Net Worth 2021
Cam Newton's net worth in 2021 has been estimated at $75 million. In addition to his NFL income, Cam receives $5.5 million in sponsors' deals. Cam experience a drastic reduction of his salary in 2020, from his $16, 700, salary in 2019 to $1,137, 500 a year later. Forbes magazine ranked him #97 in their 2020 World's Highest-Paid Athletes issue.
What is Cam Newton Salary?
Cam Newton's salary was $1,750,000 annual salary starting salary of $1.05 initial salary, $43,750 per game, and a $2 million playing time incentive. He signed a one-year contract worth up to $7.5 million with the New England Patriots.
Cam Newton Sponsorships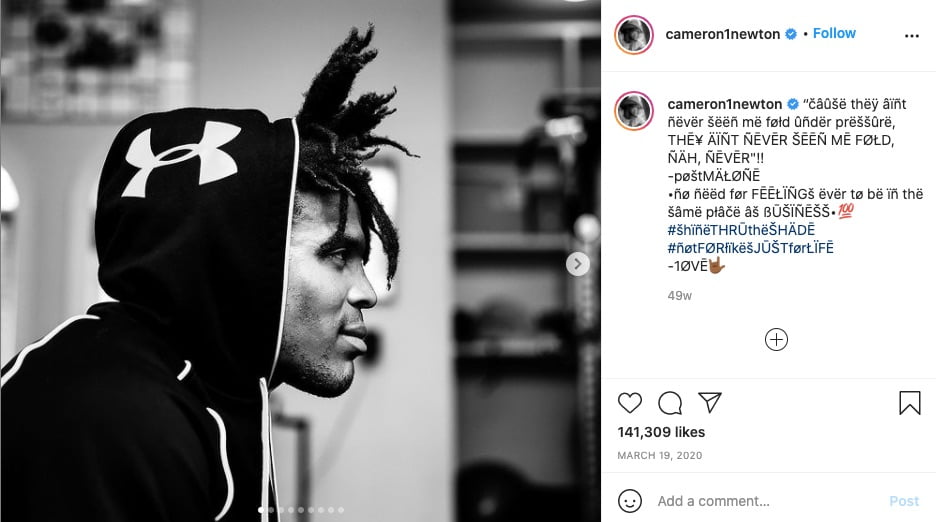 Cam Newton's fortune added a couple of zeros thanks to his sponsorships deals with Vinta Supply, Under Armour,  Gatorade, Downy, Atrium Health, and Beats. Back in 2017, his comments about a female reporter  Jourdan Rodrigue of The Charlotte Observer cost him his sponsorship with Dannon. Dannon and Cam started their business together in 2015.
Cam Newton Parents and Brothers
Cam Newton was born Cameron Jerrell Newton on May 11, 1989, in Atlanta, Georgia; he is one of three sons born to Jackie and Cecil Newton Sr. His father Bishop Cecil CNewton born on August 8, 1960, played safety for the Dallas Cowboys in 1983 and for the Buffalo Bills in 1984, he is now a bishop at Holy Zion Center of Deliverance.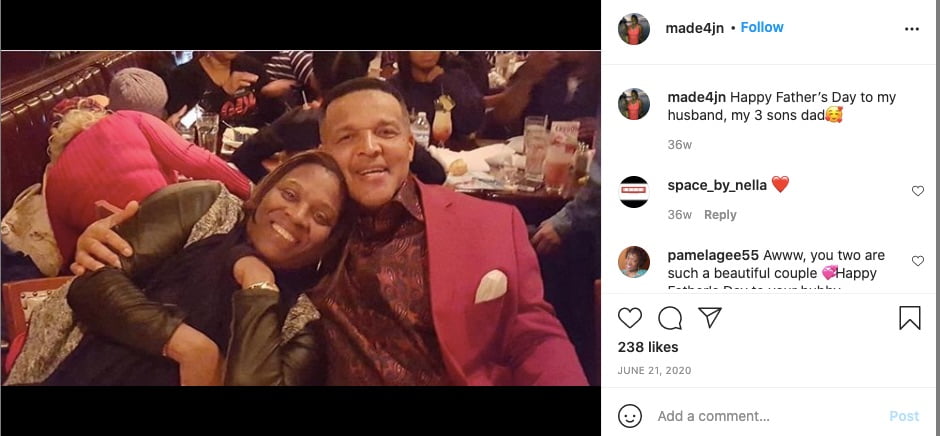 Cam Newton's mother Jackie who also runs Holy Zion Center of Deliverance was born on September 11, 1959; Jackie and Cecil welcomed their first child together, Cecil Newton Jr. on March 20, 1986, in Savannah, Georgia; then came Cam and then Caylin born on August 6, 1998.
Cam's eldest brother Cecil, a former NFL center played college football at Tennessee State before he signed a contract as an undrafted free agent with the Jacksonville Buccaneers on April 26, 2009. In 2011, played for the Hartford Colonials of the UFL before returning to the NFL and played with the New Orleans Saints and Green Bay Packers in 2011 and with the Baltimore Ravens in 2012.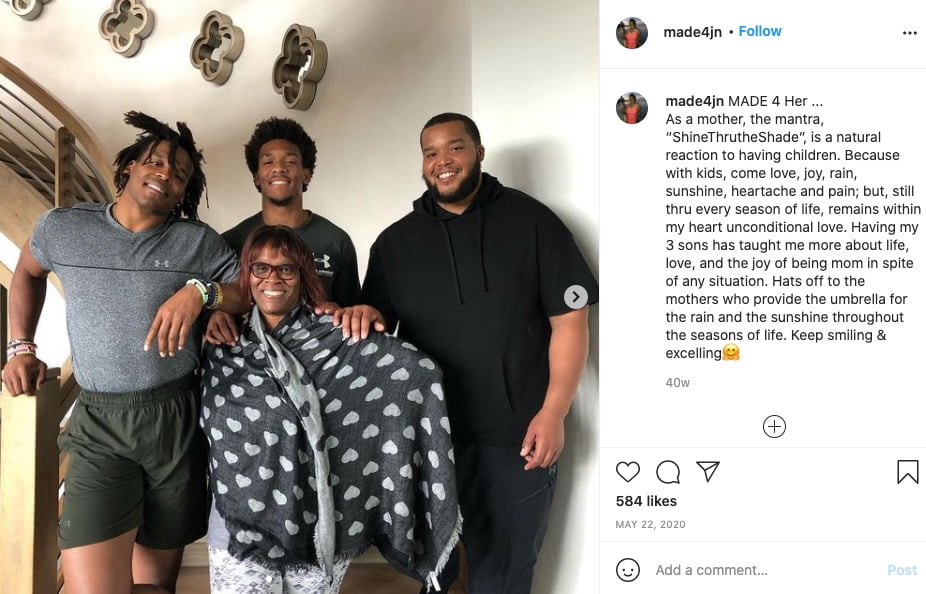 Cam's youngest brother 5'11 Caylin a wide receiver at Auburn University, previously played at Howard University from where he earned his bachelor's degree in sports management and a minor in sociology. Caylin recorded 2,629 yards and rushing for 504 and 26 touchdowns at Howard. Before that, Caylin played at Henry W. Grady High School where he threw 3,322 yards, rushing for 1,000 yards and 33 touchdowns.
Cam Newton Career
Cam Newton started his path playing at Westlake High School in Atlanta, he committed to play at the University of Florida, over scholarship offers from Virginia Tech, Ole Mis,, Georgia, Mississippi State, Oklahoma, and Maryland. In addition to football Cam played baseball and basketball.
After two seasons with the Gators, he transferred to Blinn College and subsequently to Auburn. Cam was the first overall selected in the first round of the 2011 NFL draft, selected by the Carolina Panthers, that same year he was named NFL Offensive Rookie of the Year and 3-time Pepsi NFL Rookie of the Week
Cam had an amazing rookie year,  made most combined touchdowns for a rookie in NFL history, most combined yards for a rookie in NFL history, became the first rookie in NFL history to pass for more than 400 yards in back to back games, the first rookie to pass for at least 4,000 yards as well as the first and only rookie to pass for more than 4,000 yards and rush for more than 700 yards.
The Carolina Panthers gave him permission to seek a trade on March 17, 2020, but didn't find one, so they released him a week later. After three months as a free agent, Cam signed a one-year contract with the New England Patriots on July 8, 2020; he tested positive for COVID-10 on October 3, 2020. With New England, Newton passed for 2,657 yards, eight touchdowns, and ten interceptions to go along with 137 carries for passed 592, rushing yards and 12 rushing touchdowns, 8 passing TD.
Cam Newton Career Awards & Highlights
BCS national champion (2008)
First-team All-SEC (2010)
Consensus All-American (2010)
Sporting News College Player of the Year (2010)
Heisman Trophy (2010)
Maxwell Award (2010)
Walter Camp Award (2010)
Davey O'Brien Award (2010)
AP College Football Player of the Year (2010)
Consensus All-American (2010)
BCS national champion (2010)
PFWA All-Rookie Team (2011)
NFL Offensive Rookie of the Year (2011)
3× Pro Bowl (2011, 2013, 2015)
Bert Bell Award (2015)
First-team All-Pro (2015)
NFL Most Valuable Player (2015)
NFL Offensive Player of the Year (2015)
First-team All-Pro (2015)
Cam Newton Charities and Philanthropy
The Cam Newton Foundation created in 2012, has the mission of enhancing the lives of young people by addressing their socioeconomic, educational, physical, and emotional needs. Back in January 2020, Cam won the Nationwide Walter Payton Man of the Year Charity Challenge.
"I appreciate the fans for showing support in helping Nationwide's Charity Challenge," Newton said in a statement. "I'm using this platform to enhance programs and grants that will greatly impact the community. To be nominated for the Walter Payton NFL Man of the Year award is something that I really appreciate – because it's bigger than football. God has blessed me and all I'm trying to do is bless others."
Cam Newton Business and Investments
In 2013, Cam Newton launched his clothing line, MADE Cam Newton. He owns a restaurant in Atlanta called Fellaship and owns a production company called Iconic Saga Productions, which he created with Magical Elves in 2016
There are 𝐆𝐎𝐎𝐃 ships, 𝐖𝐎𝐎𝐃 ships and ships that sail the 𝙎𝙚𝙖, but the best ships are 𝑭𝑬𝑳𝑳𝑨𝑺𝑯𝑰𝑷𝑺, and may they always be!"

Founded by New England Patriots Quarterback Cam Newton and Cecil Newton Jr. From their infancy stages, fellowship has always been a foundational principle of their upbringing. Anchored in family, football and fellowship, the brothers embarked on a journey to bring their hometown of Atlanta, Georgia a space to they can call their own. A space where culture, cigars and quality cuisine can meet under one roof. A space you can call YOUR home away from home. Welcome to Fellaship.ATL .
Cam also worked with designer Alberto Hernandez of Meshika for his first hat collection.
Cam Newton Favorite Quotes
Yes, Cam Newton is still young, but he knows the struggle and he has some pretty awesome motivational quotes we think you might like and find helpful.
You don't go into the game to compete. You go into each game to win.
I'm an example of why people deserve second chances. I'm a living testament that anything is possible.
A person that says, 'Losing is not difficult,' I don't even want to be around that person. And obviously, that person has never won anything relevant in their life.
The thing that makes the great players great, and that separates players from different players is, when you going out there whether being prepared or not, you have to react.  And if you're thinking, you're already a step behind
I think we all have unbelievable potential.  But a wise man once told me potential has never won a game
My pop always said, 'one day you can be on top of the world, and the next day the world can be on top of you.
The only thing that's going to get you away from all the talk is winning, Winning excuses everything
Control what you can control.  Don't lose sleep worrying about things that you don't have control over because, at the end of the day, you still won't have any control over them
Cam Newton Cars
Just like expensive clothes, Cam likes expensive cars, he has a custom-made 24-karat gold-plated 1970 Oldsmobile 442 Cutlass.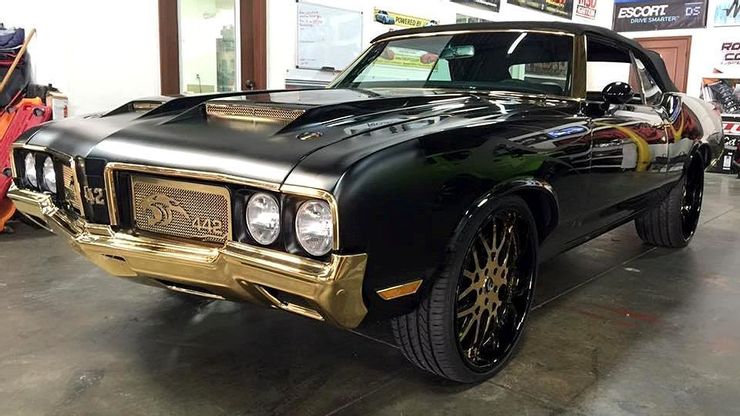 He has a $300,000 Ferrari F12 which he crashed against a dump truck in April 2018, and let's not forget his beautiful Rolls-Royce Ghost.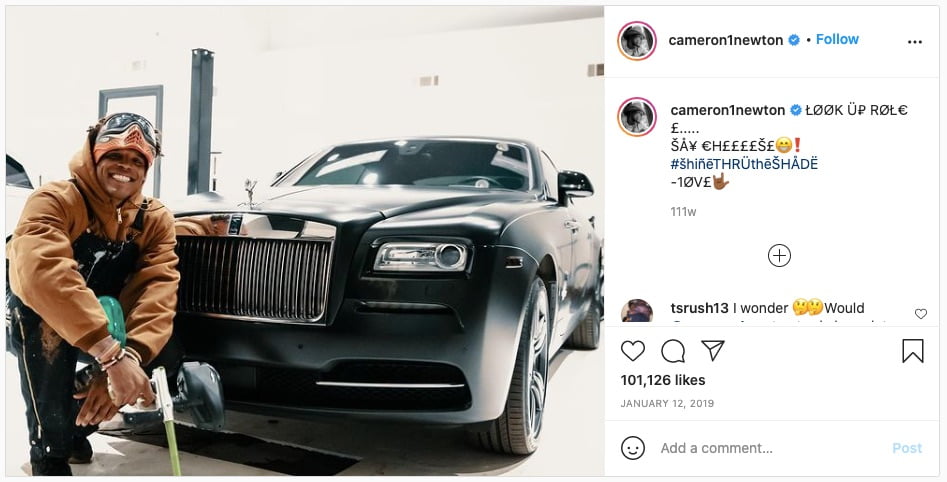 Cam Newton Stats
Below are Cam Newton's college stats, first at Binn College, then Auburn University, and below that are his NFL stats with the Carolina Panthers and New England Patriots.


Cam Newton Outfits
When it comes to dressing up for the occasion, Cam Newton goes the extra mile and he has said of spending thousands and even millions in clothes, that sometimes he wears once or even twice and then forget about them, but he then said he wants to change that, and start buying his clothes at drift stores and even antique stores. No favorite fashion designer for clothing but he likes dress shoes by Christian Louboutin and Giuseppe Zanotti.
"One of my New Year's resolutions is to not buy high fashion," Newton said. I want to be more of a thrift-store shopper," Newton said. "I want to be more of a vintage shopper. I want to be more of a person that finds gems in stores that are less expensive and to still be able to give it its fine look, but I'm still myself.
"I've spent thousands and thousands of dollars, maybe even millions of dollars on clothes that I only wore once, so to be able to recycle the closest, so to speak, is something that's challenging. But at the same time, it's going to be fun to do so throughout this whole year."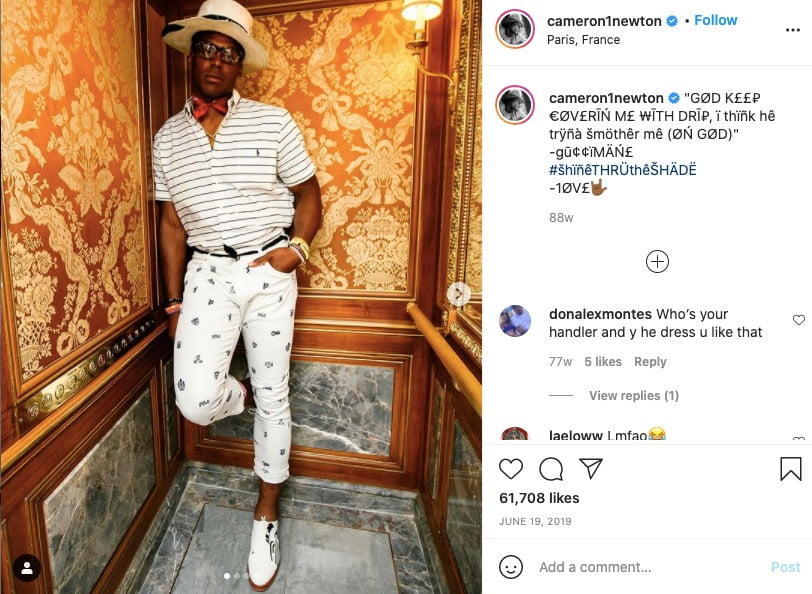 Cam Newton Tattoos & Piercings
Cam Newton didn't have any tattoos and zero piercings for a while, but he sure likes to have fun with his hair! Cam's no tattoos or piercings first came as a topic of conversation in 2011, when then Panthers' owner  Jerry Richardson asked him about it.
"No sir, I don't have any," Cam responded. "Good. We want to keep it that way." Mr. Richardson  told him.
Newton got his first tattoo on his left hand in 2019, the tattoo artist who dis it didn't say what Cam's got, and he wears all of those bracelets all the time that it has been impossible to see it.
"He NEVER said I could NOT get a tattoo or grow my HAIR," Newton posted Thursday on his Instagram story after news about his tattoo surfaced. "I was free to do WHATEVER I wanted to do! I should have said something the first time this came up years ago but I can not let this fly this time! I KNOW FOOTBALL SEASON IS OVER AND REPORTERS ARE SCRAMBLING FOR NEWS STORIES BUT THIS AIN'T IT! Stop with the s—s! 1OVE."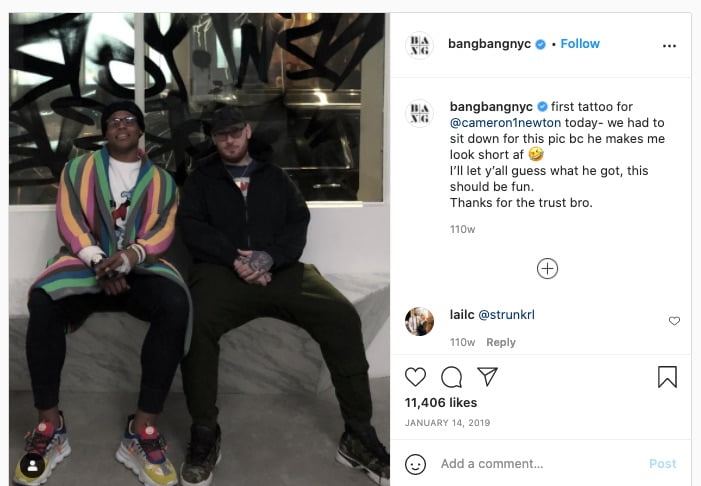 "I actually enjoyed spending time with him," McCurdy from Bang Bang NYC tatooo studio said in a telephone interview. "We had a fun little banter about football. I told him six months ago I was cursing him and saying, 'f—ing Cam Newton' because they were playing the Eagles and he kicked our in the fourth quarter.
Cam Newton Personal Life
Cam Newton is a proud father to five amazing and beautiful children; he welcomed four children with his ex-girlfriend Kia Proctor and has another son with Instagram model La Reina Shaw. Supposedly Cam Newton is still dating his baby-mama La Reina Shaw, who back in June 2020, moved into an apartment located above Cam Newton's restaurant Fellaship, which he opened in Atlanta along with Cecil Newton Jr. in January 2019.
Cam Newton Wife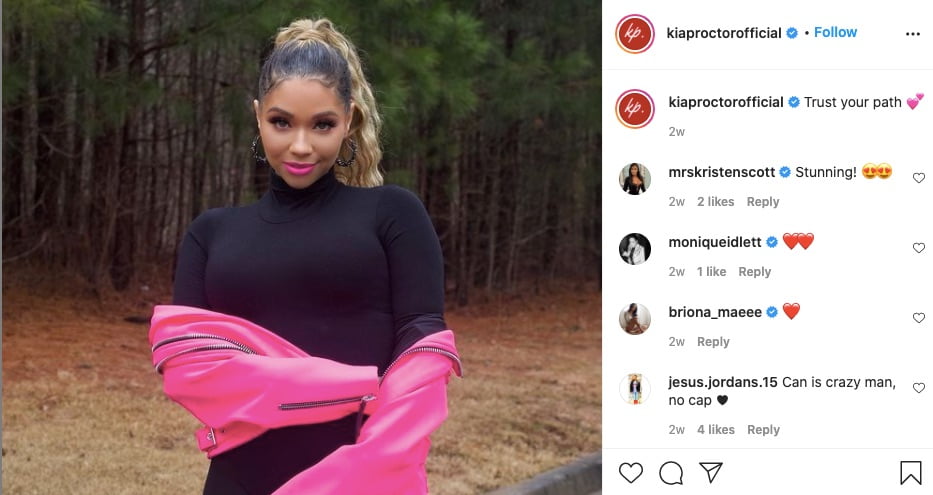 Cam Newton doesn't have a wife, he hasn't been married either, but he dated model Kia Proctor for several years before they split up in 2019; according to sources online Kia and Cam split up after his relationship with La Reina Shaw was revealed that same year.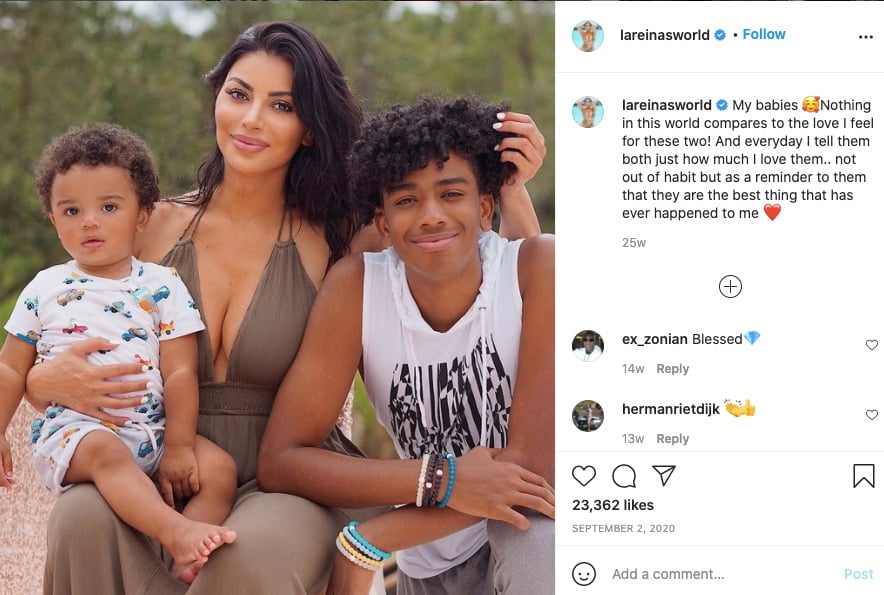 Cam sued Kia after their split, seeking joint physical custody of their four children; Kis responded with a countersue demanding primary custody and support above the normal guidelines of their kids. The custody battle lawsuit was first reported by Bossip.
 Cam Newton children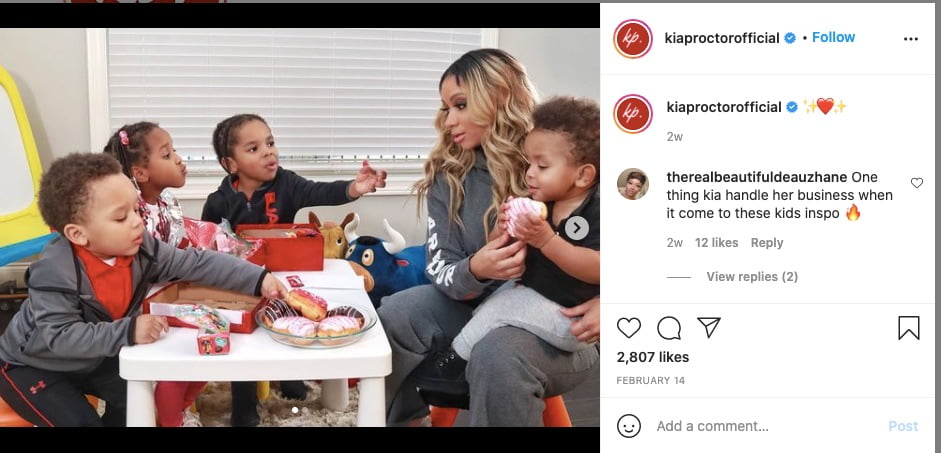 as previously said, Cam Newton has five drop-dead gorgeous children; Camidas, Chosen, Sovereign-Dior, and Cashmere born from his relationship with ex-Kia Proctor, and Caesar born from his relationship with La Reina Shaw.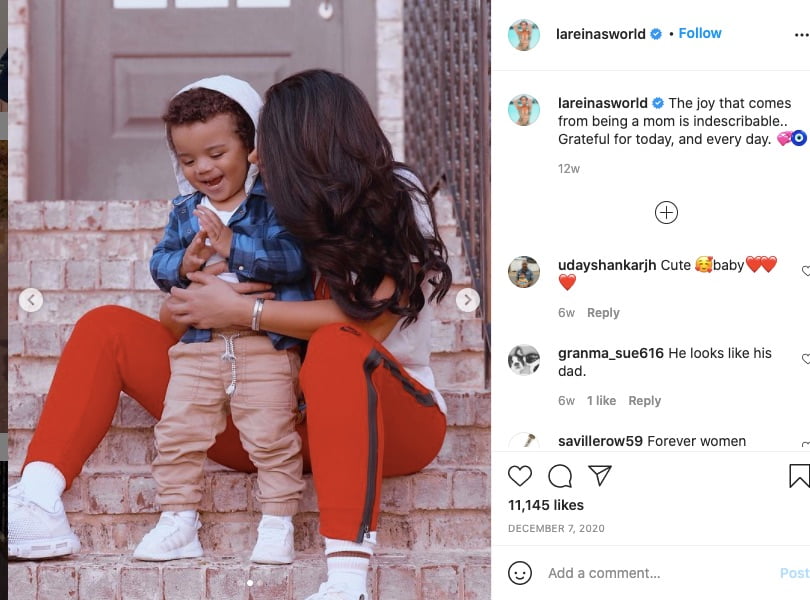 In addition to his five biological children, Cam considers Kia's eldest daughter Shakira his own daughter, and the same applies to La Reina's eldest son Jaden.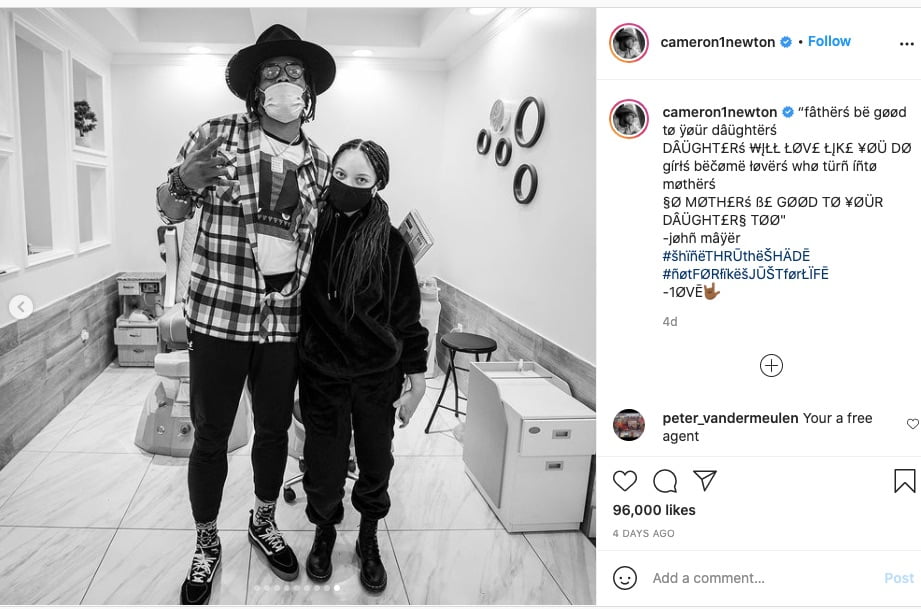 "I'm a proud father of 7. A daddy isn't defined as the man who makes the child (not in all instances) but rather a man who extends his hands and time to help with the child's raising and his heart to love the child through anything!!!"

"Blood doesn't always make you DADDY. Being a dad comes from the heart." Anybody can make a baby but it takes a real man to raise a child. Kudos to all the real men worldwide!! Happy Father's Day to us."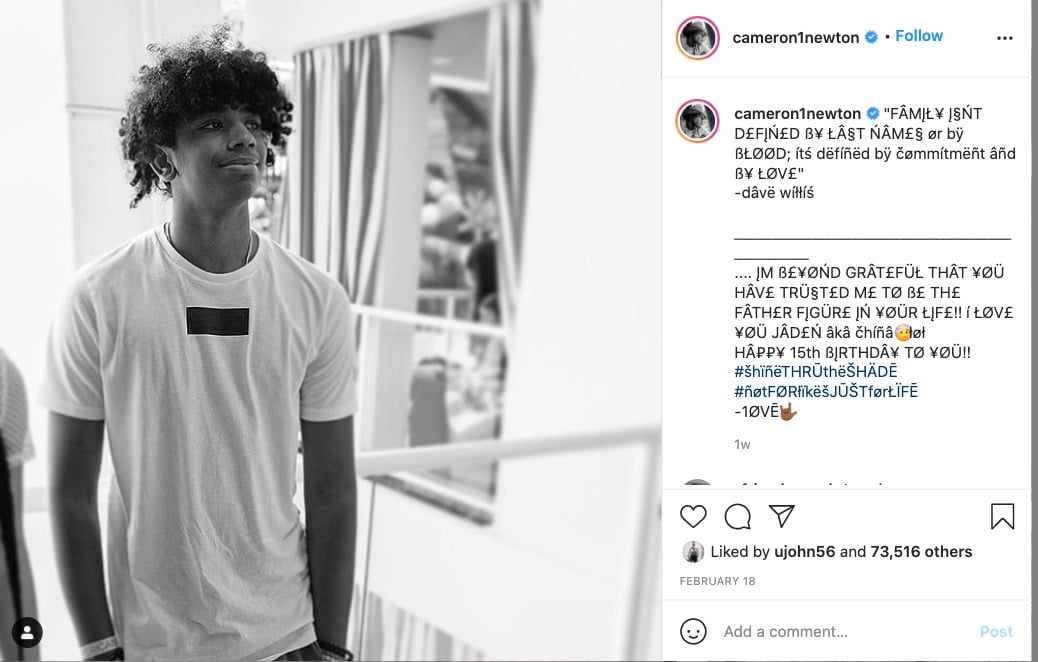 Is Cam Newton Vegan?
Yes, Cam Newton is Vegan! he became vegan in 2019, well actually Cam is a pescetarian so when he is home for Thanksgiving or Christmas with his parents, his momma Jackie has to change the menu.
"It's going to be kind of weird not eating the ham, the turkey, the chicken or what have you," Newton said on Monday, 24 hours after leading Carolina (8-3) to its seventh straight win. "It's kind of challenging my parents and my grandmother to think outside the box to try to incorporate fish."
"I'm officially a pescatarian, which is you only eat fish," Newton explained. "It's been challenging at times, especially being around the locker room where you get guys eating hot wings, nachos, hot dogs, and hamburgers all the time."
This offseason I was like I don't want want to try something different on you, I'm vegan now!! vegan big beaded so I'm giving up about a month now some of the strongest animals or some of the strongest species on this earth are vegetarian; look at your realism look at you know really elephants you know me they find their resource of protein in plants and O do the same thing I'm loving how feeling you did."

"Ever since I gave up the meat … I like it. I like the way I was feeling. I stuck with it ever since."
Cam Newton Morning Routine, Fitness & Workouts
Cam Newton is an early riser, he wakes up at 4:20 a.m., leaves his home ten minutes later, around 8:00 a.m drinks a cup of strong coffee, works out, does his training, and by 11:30 p.m. he is in bed.
That's been my schedule for 90 percent of the time I've been here," Newton said. "So you can kind of understand the frustration I do have when I don't have the outcome, because I'm sacrificing so much. [You're] talking to a person who ain't seen his kids in three months. Obviously the contract is what it is. Submitting myself to this team is something I've been doing since day one.
Being accessible. Yeah, it's frustrating. It makes you mad. It makes you angry knowing that to be a trusted teammate you first have to submit to authority and submit to what the coaches are asking you to do. I feel like I have done that. I'm not in the place of blame. I'm more or less venting right now because, yeah, I've sacrificed so much this year. I mean, it hurts when you have the outing that you have tonight, just to go home, then start it over for a whole 'nother week, yeah."
6'5 Cam Newton weighs 245 lbs.; he focuses on building muscle mass, rotational ability, mostly his core strength.
According to JackedGorilla, Newton's core routine consists of:
2 sets of kettlebell power pull (2, 3, 4, 6 reps).
2 sets of kettlebell single-leg squats (2, 3, 5, 8 reps)
1 set of TRX inverted row (2, 3, 10, 15 reps)
1 set of single-arm dumbbell bench press (2,3, 6, 10 reps)
1 set of single-leg good morning (2, 3, 6, 10 reps)