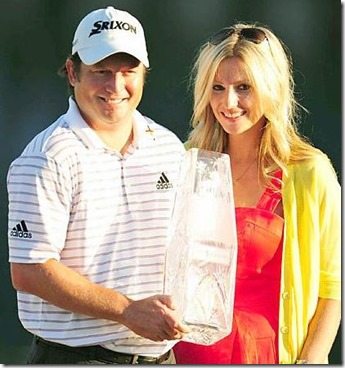 Tim Clark sealed his victory at this year's Canadian Open with a five-foot putt on the par-4 18th hole to avoid a bogey and then embraced his wife, Candice! Let's get to know her better!
Isnt' just great that he won! We are ecstatic for two reasons, first because is not easy to win with his condition, and second because we get to see his gorgeous wife!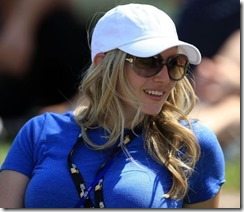 Candice's hubby has a genetic condition that affects his golf swing. Tim can't turn his forearms and wrists inward which is a death sentence on the course . That is why Tim was one of the PGA players who argued against the new rule that bans anchored putters. Guy can't even hit a proper wedge shot because of his condition. He was born Timothy Henry Clark December 17, 1975 in Durban South Africa, he attended North Carolina State University and turned pro in 1998.
She must be really excited for her husband, this is his second PGA Tour title and first victory in over four years! Candace and Tim are the proud parents of two young children.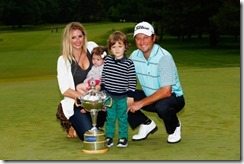 We really don't know what the South African native did to get Candace to go out with him, let alone to convince her to marry him! The mom of two is super hot thus her unexplainable connection with the 38-year-old golfer is a recurrent matter.
Candice actually hails from Canada so her hubby's latest victory comes as a nice touch for the relatives, he said
My wife has a lot of family here in the Montreal area. I've always enjoyed coming up here and playing. I have a lot of Canadian friends. It's a big honour."
Candice was born in Toronto, her man won his first pro title at the New Brunswick Open on the Canadian Tour in 1998 and followed a week later with a win at the CPGA Championship. He said
The irony of it is Canada could be the location of my first win and my last one," "To come back here, it's full circle. That was 16 years ago when I was just cutting my teeth as a professional golfer and I was fortunate enough to be given some starts up here, so I have fond memories.
Candice is super supportive of her husband, she takes care of the children and runs the household while her hubby focuses on his game. Although she is often seen hanging out with him during tournaments she seems to let her hubby get all the media attention.