Maria Ochoa Mora
Meet Maria Ochoa Mora; she is the lovely wife of Colombian pro golfer Camilo Villegas aka Spider-Man. Her PGA golfer stud started playing golf when he was just a child in Medellin, continued playing at the University of Florida where he got in on a golf scholarship and turned pro in 2004.
During his years as an amateur, Camilo won the  2001 Colombian Open,  2002 Mexican Open and the Players Amatur a year later. Since turning pro, Villegas won the 2007 Japan Golf Tour and his first PGA Tour title at the  BMW Championship in September 2008.
He subsequently won the Wyndham Championship in 2014 and earned an invitation to compete at the 2015 Masters Tournament.
He planned to compete at the 2016 Summer Olympics in Rio de Janeiro, Brazil but decided to withdraw because there was concern over the Zika virus.
Maria and Mia
Camilo Villegas and his lovely wife Maria Ochoa Mora welcomed their adorable daughter Mia Villegas on October 3, 2018.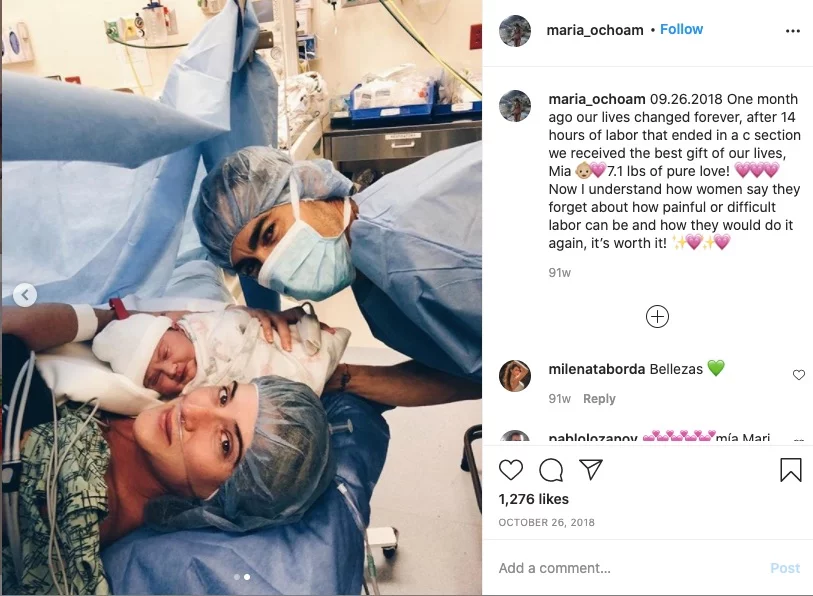 Mia was usually a happy and active girl, her father said he usually went with him to the gym; she was always climbing on things, like a little monkey he recalled, but one day Mia was not her usual self. They thought it was because she was teething, sadly what was happening was far from teething.
"She always went to the gym with me; it was one of our bonding spots," Villegas recalled. "She was always like a little monkey, climbing on everything. But then one day, I noticed she had not been climbing on anything. She had also been crying a little more than normal at night. She had been teething, so we took her to the pediatrician, thinking it was that."
Medical exams taken at Nicklaus Children Hospital showed Mia had tumors growing on her brain and spine and had to have surgery in addition to chemotherapy.
"After the surgery, when it was time to remove the stitches, they learned the growth had become pretty aggressive," he said. "We were told we needed to start treatment right away, so they kept us there. Physically, though, she wasn't ready to get the kind of chemo doctors were hoping for."

"My wife has been very, very strong," Villegas said of Maria. "But, at the same time, I've also known that there is no option other than to be strong. You can either be strong or you can give up. … I do not want anyone to feel sad for the Villegas family. This is our reality and all I want is to receive the good energy."
Her mother Clemencia Mora works in real estate along with Mari's sister Manuela Ochoa; and her other two sisters, twins Amelia and Elisa Ochoa are fashion bloggers, owners of
Sisterly Style.